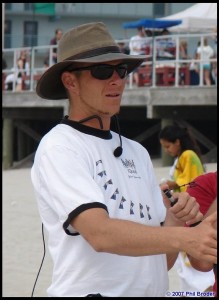 Howdy folks, thanks for coming back to browse our 54th issue of Kitelife! We got it in just under the wire, working well into the night before it was due… Having been on the road for the better part of the past three weeks, we've relied mainly on event reports and the indispensable help of our volunteer staff and Assistant Editor while I've been traveling to events around the country in my own attempts to help promote kiting nationwide.
Most recently, I've returned from the Great Lakes (Michigan) and Wildwood (New Jersey) Festivals, where I've seen a new level of excitement creeping it's way into the community (look for reports in our next issue)… Thanks to a variety of elements, fliers and organizers seem to be finding a new source of motivation and excitement, as well as a renewed sense of camaraderie.
One of the most exciting things we're seeing is an explosion of interest in Rev team flying… Not for competition, but rather for demonstration, leisure and all around fun! Be sure to check out the REVisions article in this issue for more information, as well as links to resources for anyone interested in this fast growing pastime.
Celebrating my 32nd birthday today, this marks roughly 17 years for me in the kiting community, and I'm pleased to see what I strongly feel is an increased spectator interest in the events I've been attending this year… Frankly, it seems cyclic, which is a good thing on the whole.
We're brewing up a couple of new projects for later in the year, and still have 16 more events on our tour schedule for 2007, with several more in the works on top of that… We're going out of our way to make a presence in as many areas of the country as possible, and hope to meet many of you on your local kite field very soon.
Cordially yours,
John Barresi
Publisher/Editor
Kitelife Magazine
Next Prize Drawing to be held June 10th, 2007!