What? WHAT? An AKA/NWSKL sanctioned Kite Competition – right in my own back yard? Gosh, it just doesn't seem quite "proper" somehow… I mean, NOT having to drive through rain forever, stay in some motel or condo (or camp out), taking my meals "pot-luck" at restaurants I've never been to before, paying ridiculous prices at the pump to fuel the kite-van to get there and back, and living out of a duffel bag for a few days… What's this NONSENSE? It can't be a real "competition" if I don't travel – can it?
Well, I guess it happened that way anyway… But lemme 'splain!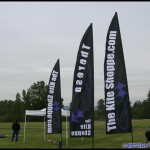 For Twenty Five Years (25 – yup!) the Northwest Stunt Kite Championships were organized by Eric and Genny Forsberg and held on the beach right at the Bolstad Entrance in Long Beach, Washington. Yes, those two fine people have been through thick and thin with kiting – and with that event! But, it finally got to the point where Eric and Genny wanted to do some other things with their time – and it turns out that the annual NWSKC event was running their lives for about six months out of each year. Well, besides the fact that they felt that THEY should control their own lives (NOT some event, regardless of how much they loved kiting in the Pacific Northwest), there's also the idea that they might like to do a little traveling to see family and friends, or maybe they'd just stay around home and actually "do nothing" for a change… So, last year, they "gave notice." Essentially, they said – "We ain't gonna do it anymore!"
Okay – on the other side of the coin, there's been a "waiting list" for an event to open up in the NWSKL for a few years. Indeed, there was a hint of some serious discussion when the Washington State International Kite Festival said they wanted to offer a Competition at WSIKF last year. But the sponsor who was at the head of the line at the time, The Kite Shoppe, graciously chose NOT to demand their rightful due – which was the opportunity to sponsor the next available competition. But when the Forsbergs threw in the towel later on, The Kite Shoppe was pretty eager about picking up the option to host a Comp! And, being the fine folks that Eric and Genny are, the Forsbergs "gave" the name of – Northwest Stunt (renamed "Sport") Kite Championships – to Theresa Norelius of TKS!
Soooo… we had a Competition, right in our own backyard this year. It seemed kinda odd, though – – – sleepin' in my own bed, and drinkin' my own coffee, and all…
I have to tell you, it's a lot of work putting one of these things on. Sure, the Northwest Sport Kite League (NWSKL) helps a fair bunch. If you provide a field, they'll come in, add lines, bring a sound system, provide a scoring system, and bring all the paraphernalia to make the Competition actually happen. But – first off, you need a field!
So Theresa set about renting West Delta Park from Portland International Raceway, just off I-5 and just south of the Washington/Oregon state line, which is the Columbia River. Mark Wigginton, the PIR Track Manger and Mel Ott, the PIR Track Coordinator, were a huge help. From them Theresa obtained the use of two fields for the weekend, on-site security, a certain amount of publicity – in the form of adding the NWSKC to their web site calendar and putting up signs for the Festival – plus a couple of Port-a-Potties, 200 parking spaces, overnight camping on the field, electrical power hookups, and the on-site concessions… And they even mowed the field preceding the event (twice).
And, then she set about finding the "other" stuff… A place to hold an Indoor Comp. A decent place where people could stay inexpensively. More Port-a-Potties for the field. And so forth… Well, needless to say, she got it all done – some of it with some help from her friends, but some of it all by herself, too…
So, on May 5th this year, at West Delta Park just west of I-5 and just a mile or two south of the Columbia River, the "Reborn" Northwest SPORT Kite Championships emerged. Whew… That's ONE Sport Kite Competition we won't lose to attrition!
The Kite Shoppe kicked it all off with an open house at the store on Friday night, which seems to be a tradition for events sponsored by a kite shop in the Northwest. Theresa had spent the better part of a week using every spare minute to clean and prepare, and those of us who happen by the store pretty regularly helped out a little in the process. I had a bunch of "antique" kites – not really antiques, more kites of an earlier generation than anything else – so we assembled what we could and hung 'em up and wrote a few notes to accompany the kites. And Theresa's daughter organized the food – except she'd never been to the "all you can eat weenie-pot and potato chips" kind of buffet we frequently see, so she just laid out what she thought SHE'd like to eat if she attended an open house somewhere… so the food wasVERY well received. And there were plenty of folks that showed up and said "Oooo" and "Ahhhh" over all the pretty kites – and shared some food and drink (even some beer and wine!) and good conversation and a little camaraderie too. All in all, I guess you'd say it was a success, and the folks who came were mostly polite and said "Thanks" too.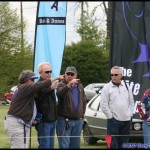 And at 9:00 AM sharp on Saturday morning, the whole event got underway. Yup – all the required "stuff" was there – lined field, sound-tent, fliers, judges, and announcer – and NO RAIN! So with the Pilot's Meeting in the bag, we're off to the next order of business – Flying Kites! Oops, someone forgot to order one of the required commodities – WIND! So while there were fields full of people, lots of fine kites, and sunshine and a certain amount of warmth – breezes would rise and fall between zero and three MPH for most of the weekend, and finally rising up to as high as 5 or maybe even 6 MPH on Sunday afternoon! Yes, it IS inland wind. And, yes – we did check – and, yes, they had exactly the same thing out on the coast, 75 miles to the west of us.
Well, what can anyone say? You simply fly whatever wind you have available, so that's what transpired. As usual, the flight schedule had Individual Precision disciplines on Saturday Morning and Individual Ballet and Team disciplines in the afternoon. Saturday Evening saw everyone indoor for the Open Individual Indoor Unlimited event and Sunday was the day for Pairs disciplines and any special competitions – including Hot Tricks to end the entire event!
So the NWSKL, being old pros at this kind of stuff, simply reeled these events off – one after another. Without belaboring anything too much, I'll simply report the following Winners here and let you go look at the Northwest Sport Kite League's website for a more complete listing of all events, participants, and scores by clicking right here.
Now, lest you think that a full AKA Comp event was all that occurred, I'm pleased to note that we saw OTHER fliers in attendance as well, and a fair amount of "play" ensued IN ADDITION to the normal tomfoolery and camaraderie that occurs at any Comp event.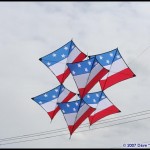 In a small open space adjacent to the Competition area, whoever wanted to throw a kite into the air was heartily encouraged to do so. And Theresa had done enough local publicity that several local pilots – whether AKA members or not – used that area the entire weekend. That actually turned out to be a nice location for continuous free-flying, since the pilots could fly to their heart's content, and then pull their kites down and walk no more than 50 feet to watch a friend fly in competition. That area saw nearly as much flying time as the main Comp field!
And – directly across the road – a long and fairly deep field was taped-off into three fields.
The area closest to Interstate 5 was the site of Bob Serack's wonderful Banner Farm – and Bob (and his banners, of course) got plenty of looks from passers-by on I-5! And it got even better when he pulled his rainbow-colored Rev 1.5 stack into the air a time or two.
Directly west of Bob, Theresa had created a "Multi-Line Field" – which was used almost constantly by Team iQuad, but also saw a decent amount of use by some other Rev pilots too.
And further west still, Carl and Lisa Bragiel had the third field set pretty much aside for Carl's "One Man Kite Team" – and Carl struggled with "lack of wind" nearly the entire weekend. He DID finally get his kites into the air on Sunday for a while, and he certainly did put on a fine show while they were aloft.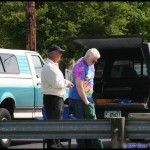 Carl DID share that fairly large field with a couple of other Northwest "notables." Dave Gomberg showed up and brought some of his smaller inflatables. I think David tried to get them airborne over there with Carl, but I think he also used the "free-fly" field over by the Comp field for a while too, if I'm not mistaken.
And Phil and Barbara Burks had been busy on Saturday, but joined us on Sunday with a huge Sutton "American Flag" FlowForm with some very long and very pretty tube-tails attached. Phil and Barb battled with the low-wind demons like everyone else, but they eventually managed to get the FlowForm airborne and looking good! Thanks, folks – a fine show!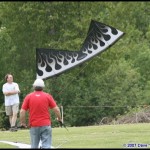 But, eventually, the Northwest Sport Kite Championships had to end. The final event on the Comp schedule was the ever-popular Hot Tricks event, where pairs of fliers competed to WOW the audience (and the other pilots who were judging) with their "tricks" ability. This time, eight pilots worked their way through the single-elimination tourney, with Steve Smith, a "newbie" from Eugene, OR taking the top prize – and beating both Lam Hoac and John Barresi in head-to-head matches in the process… Yeah, needless to say, Steve was pleased!
Finally late Sunday afternoon saw the all-hands tear-down exercise in full force and cars began to head toward their respective homes. Yeah – we all had fun. And the weather held, so nobody froze or got soaked. And all scheduled events got flown too. So, in the final analysis, the first NWSKC in the Portland area was a "done deal" and put to bed.
But I expect we'll see some more Sport Kite flying at West Delta Park again at next year's NWSKC Competitions. It was a fine event this year, and we saw some masterful flying. And we certainly hope to see YOU out there flying with us next year!
Fair Winds and Good Friends,
Geezer