New competitors and seasoned flyers alike traveled to Huntsville in March to compete in a two-day, three-round Tricks Party showdown.
The event was the brainchild of Randy Greenway, Keith Galeano, and Alan Crow. The trio proved to be organizers extraordinaire.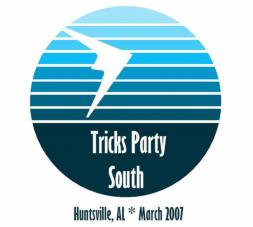 Long before the flyers arrived on Friday, March 16, the signs pointed to a memorable event. A sharp, custom-designed Tricks Party South logo made its appearance on announcements during the months leading into the event. Ron Graziano and Dave Smith donated a custom-built Machine and Instigator respectively to the fund raising effort. Raffles for those kites quickly sold out, and Randy Greenway provided internet-streamed footage of the drawings.
The event itself took place at Intergraph Field, which was spacious, open, and even scenic. The venue was bordered on one side by a pond, and on Sunday, the flyers were joined by a few radio-controlled sailboat enthusiasts. For an inland venue, one would be hard-pressed to find a site better suited.
Trick Party South marked the first time a three-round Tricks Party event has been hosted in the South, and only the second of such events in the U.S. It was also only the second time that the pairs discipline has been offered on U.S. soil.
The weekend offered a challenging array of wind conditions. On Saturday, the winds were gusty and variable, with some flyers opting for vented kites. Meanwhile, on Sunday, there were wafting breezes, and, by the end of the event, ULs were the order of the day . . . and even those sometimes lacked power. In those conditions, some flyers were thankful for the three-round format of Tricks Party which allows competitors to discard their lowest score. At the closing ceremony, the only thing left flying in the air was a UFO.
Veteran organizer and field director Stephanie Hiebert kept the schedule running like a well-tuned clock, and a triumvirate of seasoned judges was headed by Dave Hansen and rounded out by Beth Bowen and Ari Contzius. Local flyers Danny Helms and Thomas Self pitched in as line judges and announcing duties were capably handled by our favorite chef, Mark Williams. Handling scoring for Tricks Party South, for the first time ever, saw Sandy Smith and Joan McKelvy do an outstanding job and amazed even the veteran staff at how quickly the scores for each round were tabulated. Señor Clipboard made the trip to once again assume the pit boss duties and he did not disappoint.
Competitors haled from Alabama and Georgia, with a contingent of Florida flyers also making a 14-hour road trek to throw in their hats.
Arriving in the U.S. less than two years ago, Tricks Party has had its share of critics. Some have blanched at the new rules and restrictive trick definitions it imposes on competitors, while others have objected to the diminished role style and choreography play in the scoring. In addition, with Tricks Party, there are no experience classes, which has caused some flyers to feel that only the masters can partake of the fun.
What is perhaps most amazing about the actual experience of events like Tricks Party South is how mature, seasoned, and inviting the competition actually is.
One of the many small revolutions Tricks Party U.S.A. is bringing to the world of sport kite competition is the philosophy that schedules should be adhered to and that scoring should be tabulated with due haste. Ron Graziano and Stephanie Hiebert, the co-founders of Tricks Party USA, have from the start made organization and professionalism a cornerstone of their outfit, and one effect of this is to bring a level of seriousness and authenticity to the events that take place under its umbrella. For those wishing stunt kite competition to be considered a genuine sport, Tricks Party is helping to blaze the trail.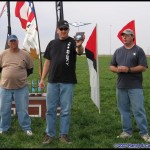 Moreover, even as it is moving to add rigor to its events, Tricks Party is a format that tries to make things fun and fast-moving for spectators. Competitors are allowed to fly on and off the field, so when a round starts, there are quick transitions between flyers and briefer moments of inaction. A number of curious spectators, some of whom were completely new to sport kites, made it to the event and commented on how entertaining the competition was to watch, even if they didn't know the ins-and-outs of the tricks they saw executed. Once things start moving in Tricks Party, the action comes fast and furious.
Above all, Tricks Party South proved that this new competition format embraces a variety of styles and levels of experience. Two novice competitors took the field during the weekend to battle it out for a French Connection donated by New Tech Kites. Brian Sumpter edged out Alan Crow for that prize. Both flyers were excited about doing it again next year.
And on the style front, the weekend saw a vast array of choreographies and musical selections ranging from classic rock to funked up jazz to a blistering drum line arrangement. We even saw one routine flown to a hip electronic remix version of the children's classic "Do Your Ears Hang Low?"!!!
During a debriefing, the judges noted that the flyers had much work still to do in perfecting their ballet routines, but one can already see choreographic styles and vocabularies developing.
Yes, there were the so-called "French tricks" occasionally on display at Tricks Party South, but a scan of the scorecards shows that the flashy yo-yo moves are emphatically not the bread and butter of most routines. The old school flat spins, two-point landings, slides, and spikes are maintaining their place as staples of the Tricks Party weekend.
From the start, Rob Autrey, flying his "Wonderbread" Machine, established himself as the flyer to beat with a first-place finish in the opening round. It was a lead that he would never relinquish. His solid scores in rounds one and two proved unbeatable despite the bold run that Randy Greenway, with his stable of R-Sky kites, made in his final two rounds.
Keith Galeano rounded out the list of top finishers with some impressively consistent and controlled performances.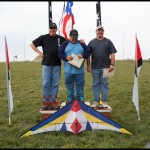 It's also worth noting that a wide range of kite makes and models took to the sky over Tricks Party South. In addition to Autrey and Greenway's weapons of choice, we saw the teen-wonder Spencer Meeks flying his Spike (AirOeuvre), Keith Galeano brandishing his Vendetta (Shawn Tinkham), and Robbie Boerth scoring well with his French Connection and Desire UL (New Tech Kites).
This variety suggests that, while Tricks Party demands a kite that is generally trick-capable, there isn't just one style or make of kite that is required to do well. As always, flyer ability ultimately trumps the equipment and the artistry of the maker wins out over the tools of his or her trade.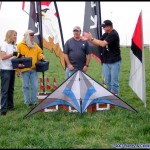 In pairs competition, Perfect Strangers (Keith Galeano and Randy Greenway) bested Flight Risk (Spencer Meeks and Robbie Boerth). Both teams managed to make it into the double digits with their final averages, and the fact that they showed steady, incremental improvement in each round suggests that we will see some more refined Tricks Party pairs performances as the season and years progress. For the winners, there was more than just glory involved.
Avia Sports Composites donated certificates for framesets to the top three individual finishers, and R-Sky and the Kite Shoppe provided an R-Sky kite bag to the top flyer overall.
For the top pairs team, there were two supply boxes filled with goodies, including R-Sky caps, an R-Sky and HQ Pheonix t-shirt, and sundry winders and straps provided by Gone with the Wind. In an outpouring of good spirit for their Florida competitors, Greenway and Galeano ceded this prize package to the second place team.
All top finishers received custom-built trophies designed and hand-made by Candice Greenway, and no one left empty handed, as Trick Party South gave everyone a memorial trophy featuring a hand-built mini stunt kite. Those intricately detailed "MLK's" or" Mini-Little Kites" as they came to be called amongst the organizers, were painstakingly designed, built, and donated by Danny and Sandy Smith.
At the end of the weekend, pre-planning for next year's Tricks Party South was already in the works. So if you missed out on these two days of unbridled sport kite fun and competition, be looking for a date in March 2008 to go to Huntsville and fly.
Robbie Boerth