On the 19th to 23 April 2007, the Weifang International Kite Festival and 3rd World Stunt Kite Championships were to be held at the impressive stadium facility and recreation grounds 20 kilometres west of Weifang City centre. I had travelled to Weifang, China, 8 years earlier, and I was impressed to see the development of the world's largest kiting festival over the past few years evolve since my last visit. The wonderful work that has been done in constructing the World Kiting Commemoration Park by the Chinese federal and local government's, with the Weifang International Kite Festival Committee, and also the Weifang Kite Museum. Is something that all kiteflyers around the world should take the time to visit, and see for themselves at least once in their lives. To also take in the enormity of what kiting means to the people of Weifang, and China in their culture as a whole. It was certainly an honour, and a very proud moment to see the Queensland Kiteflyers Society plaque, that had been placed on display at last years opening ceremony. With the other World Kiting Organizations around the centre monument and fountains, in the Weifang Kite Capital Commemoration Park.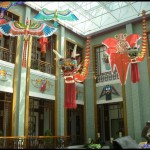 Having lived in Asian countries from a young age, I had an understanding of the deep cultural link to kiting throughout the Asian region. Though, it was very fulfilling to be able to observe the first time International kite visitors, taking in so much information about the history of Chinese traditional kite making, and how kiting is embroided into the earliest fabric of Chinese culture. My counter part for the trip to China this year, was Alan Bayley, the President of the Queensland Kiteflyers Society here in Australia, who had the shock of his life. As this was Alan's first journey out of Australia anywhere overseas in his 60 something years on this planet. For a towering man of his size and stature, I think the cultural learning of his China experience, changed him forever, and gave him a greater appreciation of more traditional aspects of world kiting in general. As I mentioned to Alan, "it is great the Chinese are embracing modern kite designs, but I hope that the Chinese never lose their wonderful traditional kite making styles and methods also". This was to be echoed by many international kiting competitors over the next few days as well.
We arrived at Weifang a few days earlier than most kite flyers, after touching down at Qingdao airport. Where we were met by a very interesting man who couldn't speak a word of Australian (English), and also my Chinese was very limited..?. But his observance of our large kite bags made him very excited as he had found his "holy grail for the day".. His flailing arm gestures were asking us to stand still, which was enough for us to halt our advances out of the terminal and wait in situ. As he then proceeded to run frantically out of the terminal for some reason..? All became clear soon after, when we were met by Wendy one of Mr Liu Zhiping's translation staff for the Weifang festival. We then met up with our very excited driver again outside the terminal at the vehicle. Where I offered the fellow and Wendy a home favourite confectionary of ours here in Australia, "a Buderim Ginger Bear sweet"..? Wendy declined, but the driver was very enthusiastic, and took one from the packet and proceeded to munch away. I failed to mention, that these confectionary's are very strong in natural ginger taste. And the look on his face on realizing the confectionary had a very strong bite of ginger, was a priceless, "Kodak moment" in fact.. ! He later declined my offer of a second Buderim Ginger Bear…, I was left wondering why…..
After 2 hours of driving along the highway northwest, and dodging many an over laden truck, much horn blasting, and also taking in the huge construction evolution taking place along the way. We arrived at Weifang, and wow how things have changed in modernization, though with this came the ever-obvious increased air pollution. We were to be accommodated in the Oceanwide Hotel ( Fan Hai Hotel) near the Bailang River. Which was certainly very good indeed, and the staff very friendly and helpful at all times.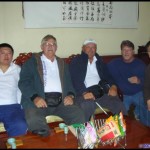 Soon after, we met up with Mr. Liu Zhiping the organiser of the Weifang International Kite festival, who had plans for us that night with a tea ceremony to welcome us. Alan and I then met up with Troy Gunn and his interpreter Frank, and from that moment on, we pretty much formed "a posse" for the next 6 days. Mr Liu's very generous gesture at the teahouse was absolutely great, and the young lady who was to perform the making and interpretation of the customs of the traditional ceremonial tea, was very professional, and very delightful company as well. Much green tea and conversation was partaken in this night.
Over the next day, prior to the arrival of the main International group arriving, Alan, Troy, Frank and myself took in a leisurely tour around the Weifang Kite Museum, and the Kite Capital Commemoration Park.
We met up with an absolutely wonderful Kite master Mr Chean and his lovely wife, who work at the Weifang Kite Museum building traditional Chinese Kites. Mr Chean is also a master kite flyer, specializing in single line bird of prey kites, which he performs perfectly indoor as well as outdoor demonstrations of kite flight. I met Mr Chean in the park across the road from our hotel earlier this particular morning, and he mentioned that he watched me flying my Aetilier Double Zero in no wind and was in awe. So much so that we struck up an immediate friendship, and he invited us all back to his home that afternoon for tea.
This was to be a privilege, and an honour for us all, as to be in Mr and Mrs Chean's presence at the museum was great, but an honour for us to be in a Kite masters residence. Sharing tea, and also being taken through Mr Chean's very intricate process and refined detail for making his bird of prey kites. I know Alan, Troy and I were enjoying the copious amounts of green tea, but Frank being Chinese had pretty much had his fill.
The next day the 18th, all the International Teams arrived, it was great to meet up with people I hadn't seen for years, and also make acquaintance with many new people who became friends over the next few days with us all together. Ida Bagus and his charming wife Elli, who are both a prince and princess in Bali, and their counterparts James Kekenusa, and his lovely wife Eva from the Jakarta Kite Association befriended us, and we spent many a meal together, and time out at the kiting field side by side in our tents. We also met our interpreters for the rest of the time in Weifang, Angela and Michelle, who over the next few days together were to be very helpful, very tolerant and also very kind to us. As I am sure, all translators were to all International competitors. Rossi from Aquilonisti Alta Quota, Italy was another great fellow, and a livewire who became "very popular with the ladies", with his suave sophistication… At the local K TV Karaoke bars..! It was so great to see the International family mix of kiting people uniting, and enjoying the Weifang experience.
It was also great to catch up with David Gomberg and his lovely wife, who had brought a touring group from the US to China to take in the Weifang festival and other festivals afterwards. Troy and I went down to the local park to get some flying in. While there, we also met a very enthusiastic group of school children who wanted to teach us how to "flog the daylights out of a spinning top with a rope whip"…? I watched, as the consequences of getting it wrong, were too devastating to think about. Though I was later roped into a pseudo yo yo competition. The children had a great time with us both, as we goofed around, and had them all laughing at our antics. Troy walked away with a rope whip and top, and I with a yo yo, both presented to us by the children in appreciation of "our apparent performances making them laugh"…?
On the evening of the 19th, was the opening ceremony for the Weifang International Kite festival. This was to be held in a stadium that housed usually 70,000 people, some 10 kilometers from our hotel. We all arrived by bus early, and we were to be warmly applauded, and welcomed by the many 1000's of cheering Weifang locals. I have been to 3 different Olympic opening ceremonies, and I must say, that the Weifang opening ceremony was as impressive if not better than any of those Olympic ceremonies. The whole formal opening, and then the march out of all the competing countries was brilliant. It was very humbling for us in Team Australia to walk out first, to an amazing roar of applause from the crowd. I think all International participants there this night would say the same, as we were well and truly welcomed by the city of Weifang and the people of China. The next 4 hours were amazing, so many top acts in China performed, and my favourites were the Chinese version of the Pussy Cat Dolls, and also the finale performed by these amazing gymnasts traversing and tumbling, then landing inverted, between 2 vertical, 15 metre high poles. The massive 300 metre long dragon kite train which was launched above the stadium totally illuminated, which was something to see also. As it soared, and reached at least the 4000 feet mark over the stadium.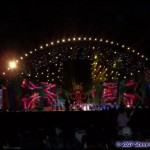 The fireworks were also impressive, and so very loud as you do expect in China. Mind you, hearing anything was optional after the 4 hours of very loud concert noise by then. I remember seeing Billy Idol, and then Van Halen in concert within one week of each other in Australia in 1987, and they were the loudest rock concerts I had ever been to. The noise from the sound system at the Weifang Opening Ceremony was deafening, and you certainly heard everything that needed to be heard that's for sure…! This night though, was absolutely superb, and a credit to the organisers. I am sure I can speak for all International competitors, when I say congratulations to the organisers, the performers, and all who were to be involved in making us all feel so very welcome.
On the 20th, it was another sight seeing day, most decided to prepare for flying competitions the next day. While there were many judges meetings, and also the International Kiting Federation held the official meetings in the hotel. Discussion's pertaining to the sport of kiting to be a demonstration sport element at next years Beijing Olympics were discussed, and highly favourable recommendations were to be forwarded onto the Beijing Olympics' Committee for final consideration and approval, so stay tuned…
Over the past few days the weather had been a very warm 23 degrees Celsius, and the nights down to 12 degrees Celsius. This was to change on the 21st, when a cold change came through Weifang, and after lunch out at the kiting field the winds exceeded 35 knots, peaking at 50 knots by mid afternoon and a temperature drop to a chilly 8 degrees Celsius.. The crowds were huge, and I am sure the 300,000 people expected each day was attained easily. The first day of competition was mainly for the local Weifang people's kites to be judged, and for the International single line exhibition kite judging. There were many very impressive single line kite designs aloft. The winds became very strong and a number of tents were to be demolished by the very strong winds. In some cases, the term, "tent kiting" could be applicable…
Troy with Calamari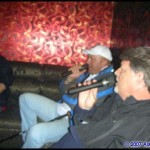 On the 22nd, this would be the day for the fighter kite teams, and sport kite team competitions to be battled out. On discussion with Troy, due to the limited number of Teams for the sport kite competition, and the limited level of competition experience, the strictness of the rules, and the criteria component were to be eased somewhat. In saying this though during very trying conditions, the competing teams did their best with all considering weather wise. Shenzen, Xiamen, and Team Korea fought out the best team positions throughout the compulsory element, and then the Team Ballet. The fighter kite competition was also closely fought, and some very impressive line cutting manoeuvres by competitors were on display. Our friend Carmello from Columbia, was outfoxed very quickly but I am sure he learnt from the experience for next year.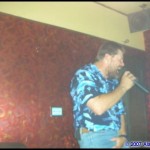 The Boys from Brazil, were very impressive, and Ezequiel de Souza Gomes was a joy to watch, as were the competitors from the Hong Kong Team. Their reel spinning techniques, and masterful control of their fighter kites was brilliant, and a pleasure to watch. The kite train competition was also very good to see, with many very long and intricate trains filling sky. The Largest Kites were also impressive, and it was good to see our close New Zealand mate Craig Hansen from across the Tasman with his Peter Lynn creations gracing the skies also. Even in the trying conditions, and very cold winds that kept up all through the second day of competition. It was nice to meet Rolf Zimmerman from Germany, our thoughts are with you Rolf, and we hope to see you again in the future too. This same night was also for the winners, and the competitors, where the presentations were given out, and the accolades and experiences over the past few days were reminisced.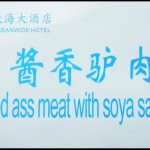 The banquet this night, like all meals at the Oceanwide Hotel (Fan Hai) was first class. Though I know between Alan, Troy, Frank and myself, we were left scratching our heads at one particular dish on display…? "Stewed Ass Meat in Soya Sauce"….? I do recall a few jokes about, "there being no way anyone was going to eat any form of rectal meat from anywhere, stewed or otherwise…! Argggggghhhh..! But then again, looking at Troy's tongue in one of the pictures provided, you have to be inquisitive sometimes I suppose..? We all decided it was time to hit the local Karaoke scene, and by the end of the night, "we had all flogged our throats hoarse"..! Mind you, the "Bee Gees Award for the highest male voice", has to go to our mate Craig Hansen, for a "nutcracking rendition of immense proportions"…!
Well done mate, It seemed the owners enjoyed our International version of "Waltzing Matilda" at the end of the night as well..
On the 23rd, it was to be another tour day, where the International guests were to be taken to the Weifang Kite Museum, and also a Chinese traditional village and kite making display. Then onto a beautiful park with many gardens inside a Chinese high walled fort with towers. Where 2 trees, recognizing "World kiting friendship" were planted, and then the International guests and Weifang Committee filled in, and watered the trees for prosperity. We were then moved onto watch a group of Chinese circus performers, including an impressive trapeze act with a young lady sitting balanced on 2 legs of a chair while swinging on the trapeze. Then all were taken to a traditional tea house to partake in traditional Chinese green tea, and to see many intricate and different art forms on display by attending artists.
On the morning of the 24th, we were to say our goodbyes to Troy early as he was heading off before us, back to the US. (His own story during his travel back down to Qingdao could be made into an action movie by the sounds…) I know we will catch up with you again soon mate, as we had such a great time together off the flying field and on it too. We also, said our goodbyes to our translators Angela and Michelle, and presented them both with our Team Australia shirts, they were very touched by our small gesture, and we very thankful for their immense efforts for us. We also congratulated, and thanked Mr Liu Zhiping, and all of his wonderful staff for the endless work they all carried out to make the Weifang International Festival, and 3rd World Stunt Kite Championships the immense success and wonderful experience for many it was to be. We will certainly be back next year to meet up with all our friends again, and take in the friendship, high standard of honourable sportsmanlike competition, and great times we all had together in Weifang, the World Capital of Kites.
Steve Donovan
Team Australia