Thirty Years ago, the members of the American Kitefliers Association gathered for the first time. The original AKA "all member meeting" was a huge success, bringing together kitefliers from across the country and around the world. The reviews of the event stated, "a good time was had by all".
One thing that has not changed in thirty years, if you put hundreds of hard-core kitefliers together you have a good time! We will all gather in Ocean Shores to do just that. Whether artist, craftsperson, competitor, or educator — socializer or recluse, younger or older, newcomer or long-term enthusiast — there is some aspect of kiting that reaches all of us. Kiting is the common link that binds all of us together and makes us family.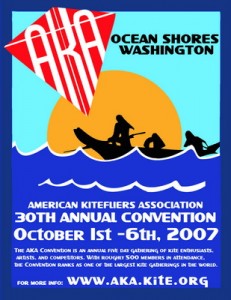 (click here for full size poster in PDF format)
On October 1st – 6th in Ocean Shores Washington we will gather for six nights and five full days of kiting adventure but even with all that time available you will not be able to do everything. There's too much! We've got workshops, demonstrations, competitions, mass ascensions, exhibits, parties, receptions, the Fly Market, auctions, awards and good old fashion kite flying for the sake of kite fling. And above all, we have kite people. The AKA Convention is a place to renew friendships and make new ones. There are no strangers — only friends that you haven't met yet.
People, flying, learning and having fun are the focus of the convention. But it is also a serious gathering with important business meetings that develop Association policy and an Awards banquet that honors deserving members. Share your opinions and help us make AKA even better. The Great Kite Auction is wonderful fun, but also pays for a significant part of our operation during the rest of the year. And remember, our convention is a co-op; all of the activities are organized and staffed by volunteer AKA members. You'll have a more meaningful convention if you get involved as a volunteer yourself.
So come join us the first week of October and enjoy yourself! We gather to celebrate the joy of kiting and the people who fly kites.
Susan Skinner
AKA President
president@aka.kite.org