The first time I visited the International Kite Museum in Weifang was back in 1989. I was impressed with the huge structure. But the displays were dusty and haphazard. And oddly, everything was for sale…
Things have changed in China.
Today the building has been gutted. Atriums and skylights have been added. The inside of the building (still huge!) is light, airy, and simply amazing for those of us that love kites.
The first thing you notice as you approach the riverside building is the large statue. Weifang claims to be the birthplace of kites, and this is reputed to be the master that first flew them here.
Across the street is "Kite Park" with memorials and enormous brass relief walls depicting the history of kiting. (Check out our Update from April, 2006, for more photos of the park.)
Inside the main exhibition hall, the walls are lined with exquisite traditional Chinese designs.
In the "old days", what you might have seen was an odd collection of Western Kites that had been donated to the Museum by guests. Now a few of those kites are displayed in smaller exhibit rooms.
The main spaces are used to present the best of Chinese kite art. The Museum also offers models depicting significant events in the long history of Chinese kiting.
The earliest written account of kite flying was about 200 B.C. when the Chinese General Han Hsin of the Han Dynasty flew a kite over the walls of a city he was attacking to measure how far his army would have to tunnel to reach past the defenses. Knowing this distance his troops reached the inside of the city, surprised their enemy, and were victorious.
Meanwhile, in other rooms, artisans demonstrate the art of cutting and bending bamboo, painting silk, or assembling finished kites.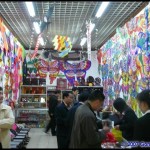 And where years before, everything was for sale – if you asked the right person — now there is a polished retail space as good as any kite shop in the country.
Well dressed sales women politely explain in halting English, "It is a kite".
And we respond, politely, "Yes – a very nice one.".
The Kite Museum in Weifang is a treasure.
If you get to Weifang, you'll find plenty to do. The festival, the factory, and the pageantry will keep you busy. But the Museum will offer a pleasant and quiet reprieve from all that kiting pressure.
And if you look hard, you may even find pictures of Susie and me there….
The Gombergs have three events back-to-back coming up in three different time-zones. We'll be in Grand Haven, Michigan; Wildwood, New Jersey; and Ocean Shores, Washington. Put on your Serious Kiteflier hat and come join us!
David Gomberg