Each month we'll be featuring one of the fine retailers who have been so supportive of Kitelife and other areas of the kiting community…The retailers you'll find here are established, proven vendors.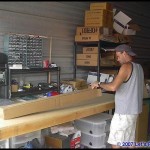 Let's Fly A Kite
14225 S.P.I.D. Suite #5
Corpus Christi, TX 78418
Phone: 1-866-949-4909
http://www.letsflyakite.com
Floor space:
800 sq. ft. warehouse
150 sq. ft office
Years in business:
Six years, Let's Fly A Kite opened for business in 2001.
Years advertising with Kitelife:
Since January of 2005.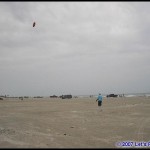 Owner(s) and/or manager:
Let's Fly A Kite was started in September 2000 by Tom Borges & Doug Reed…. Two guys in Texas who love the beach and flying kites. The brick and mortar store closed in 2007 when Tom left to pursue other interests. Doug maintains the on – line business with the help of his boys, Todd and Billy. Todd Tarno is the accountant and Billy Kane manages the warehouse.
Favorite food(s):
Depends on the day, today, its hot dogs cooked on the grill.
Last book read:
Ring of Bright Water – Richard Bach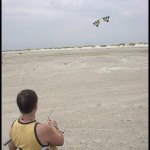 Favorite kite web site:
My own (that's the one I see most). And, of course, Kitelife.
Favorite flying spot:
Newport Pass, Corpus Christi, TX.
Specialty of the store:
We carry all kinds of kites…Even the ones with bow tie tails.
Motivation for opening a kite business:
Needed something to support my "habit". I had also just retired from repairing copy machines.
Most important advice ever received:
My Grandmother told me, "Honey, never disturb dust that doesn't show…. Go have some fun."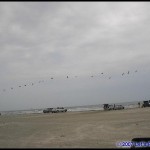 Nicest sale ever made:
Was to a woman who had recently retired. Now she had time to do things she had always wanted to try. She started with an inexpensive stunt kite and after a few months came back to get the biggest stunt kite she could afford because she was having so much fun! She thanked us for not letting her buy a single line kite.
Best fringe benefit as owner/manager:
Time to Fly!
Favorite issue of Kitelife:
All of them of course!