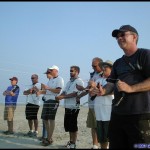 Wildwood. The birthplace of "competition" amongst sport kites and one of the longer running festivals in North America. Held on Memorial Day weekend and in many ways, the kickoff to the summer along the New Jersey shores with their boardwalks, amusement parks and family fun, stretching for miles. Put on by Sky Festival Productions, through the efforts of Roger Chewning, Beatrix Pelton and a dozens of other people, its one of those rare festivals that complete with its own set of stories, legends, myths and fables from festivals gone by.
Remind me at some point to tell the tale of our erstwhile Editor's time spent there, about 14 years ago, it's sure to raise a smile. But, in this article, I'm going to talk about what happened this year as opposed to dwelling on the past. Also, bear in mind, that as I went as part of iQuad, I'm –certain- I missed many of the happenings that went on the beach and up on the boardwalk, thus in some ways, this report is seen from that perspective. So, if I did miss anything or anyone in particular, I'll apologize in advance and promise to keep a better eye on the goings on next year.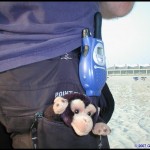 After scooping up the aforementioned Editor In Chief at the airport, we all barreled down the highway in our iQuad sticker'ed "clown van", led by a wonderful little GPS unit I'd fondly named Dora (no, this was not named after the cartoon explora' ). We made pretty good time overall and at about 9:00PM, we pulled into the town itself. Out of the four of us who managed to make the trip, solely John had been to Wildwood before, thus, it was now up to him to guide us to the convention center. After checking into rooms (I managed to score a particularly sweet location in the Super Eight, directly beside the "main" hotel and right across the street from the Convention Center), we did what we always tend to do as quickly as possible upon arriving at any festival. Get out the Revs and get down to some flying! Despite being directly beside a large beach, we settled for flying in the parking lot, due to it being well lit up. There are few things as frustrating as trying to setup a Rev in pitch black darkness, so having a lit up parking lot seemed like an actual luxury!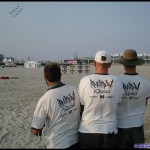 Given that the main motel had many kite flyers with rooms overlooking this parking lot, within a short amount of time, more people wandered out until we ended up with a good 20 people outside, seven of them playing with Revs while the rest simply chatted away with each other on what their own particular plans for the weekend were. With a festival of this size, you can find nearly any kind of kite diversion you could wish for and only a long weekend with which to accomplish that. Eventually sufficiently worn out and tired, most of retired to the bar for a nightcap and called it an evening. The morning was going to come very early and some of us were needed out on the beach at the ungodly hour of 6am in order to meet a regional TV crew who were going to be filming various different types of kites to sprinkle throughout their morning newscasts. Any rumors with respect to iQuad holding a 3 am practice session out on the beach are utterly unfounded and likely to become yet another one of those Wildwood "fables". * cough *
You know, 6am is a pretty silly time of the morning to get up and fly kites. At this time of the morning, none of the boardwalk coffee spots have opened up, so, off we trundled down to the beach looking a little bleary eyed from the drive the day before, but, ready a keen to get some flying in regardless, at least until the coffee places opened their doors. One thing to keep in mind, all of us are from the west coast, and thus, the sun rises in the east, and sets in the west, just like anywhere else in the world, however, on our side of North America, the sun is never over the ocean and burning into your eyes from glare off the water at 6am in the morning. I can safely say that one of my sharpest memories of flying that morning was having John direct us into a ball formation which basically had us all staring into the sun. Ow. But, was it fun? Sure it was and I know the TV crew got some great footage, including one Mr. Jim Cosca teaching one ex Miss New Jersey, now into a TV career, how to fly, plus some great footage of some really sweet single line kites that the brave souls had dragged down to the beach. John Barresi spent some time teaching a local weather man how to fly on camera as well! It was a light wind, but, an entirely flyable one and the mood on the beach was a pretty happy one for all involved.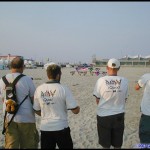 As the "first" day of the festival began (including a full on "opening of the festival" done by Roger with various local dignitaries) more and more kite flyers began coming down to the beach, unveiling more and more kites that were popping up into the sky. By lunchtime, the sky was gradually filling up with kites and more and more spectators were beginning to make their way down the boardwalk to see more of these "kites" that they had heard about. There were only a few specific events lined up for the Friday itself, and it was just a nice, relaxing day with some really nice weather and some equally nice wind while people settled in, took care of their registration and started putting kites together on the beach. Friday evening brought us the Night Fly, where against a backdrop of some beautiful single line kites (including a flock of Barry Poulter's beautiful Comets) and The Pirates of the Caribbean music, iQuad flew up against the boardwalk for an hour or so, entertaining crowds as they strolled down the boardwalk.
Saturday morning arrived and bang, the festival was ON! The morning saw the start of some of the competition for the 22nd Annual East Coast Stunt Kite Championships. Thirty people had signed up to compete in a large variety of events, which were stretched over the Saturday and Sunday. On the other end of the field, the sky was quickly filling up with a huge assortment of single line kites, from a nice pack of octopi to the east coast debut of Peter Lynn's new Crab, shown off by Dave Gomberg. As the day went on though, it got hotter and hotter and with that, a drop in the winds which had been perfect in the morning, down to nearly dead by 1:00pm that afternoon.
The single line field had more ripstop lying on the ground than you could imagine but, one or two would pop up here and there. Some of us decided to get a break from the heat and head over to the indoor flying for a while. If you have not been to the Wildwood convention center before, this facility boasts one of the finest indoor flying spaces I have ever seen, it was simply HUGE with ceiling that were easily over 40 feet above your head, if not 75 feet. Regardless, iQuad felt kind of small on our 12 foot sets in such a large space, but, its really a nice place to fly in and nicely air conditioned as well. Some really great demos were put on by a bunch of people, showcasing many different kites and individual styles for the crowd who'd also figured that some relief from the heat might not be a bad idea. Unfortunately for me, I managed to really pull my calf in the middle of the iQuad demo (which I followed up with a nice break on my leading edge as well to round out the display) which set me to limping through the last half, naturally, the half where all three of us fly at once. Ah well, it gave me my first chance call my mom and say "hey, I finally for a sports related injury!" After spending some time with a lot of ice on it, I did manage to limp my way back out to the beach for some more flying, the winds had come back up so I could fly without having to move too much in the sand and we were starting to assemble a larger quad team so, how could I miss out on that?
Saturday night is traditionally the WIKF Auction party, featuring both a silent and loud auction. There was some wonderful pieces up for grabs, including a one of a kind Revolution done by Scott Skinner (that went for just a hair under $1000 and alas, no, it wasn't to me!) and one of Barry Poulter's Firesprites. I would have been a more energetic bidder but, I still couldn't stand up very easily…
Sunday brought another beautiful day of weather after a little morning fog and none of Saturday's heat so we were blessed with great winds most of the day. The sport kite competitions ran the second day of events, and wrapped up with some great demos by both John Barresi and Ron Graziano/Shawn Tinkham flying as the pairs team Full Throttle. The north end of the field was again filled with the huge inflatables.
At one point, we managed to count more than 30 Revolution kites sprinkled all over the beach and there was a large amount of dual lines in view as well. Someone suggested at one point that while the number of kiters was down a little bit from last year, the sheer amount of kites up in the sky was definitely up, so, from a crowd perspective, I'm sure everyone was happy. There was also further demos indoors as well much of the afternoon and they were as well attended as Saturdays. In a nutshell, you would have been hard pressed to find a kitting style that was not well represented out on the sands and in the convention center that Sunday afternoon.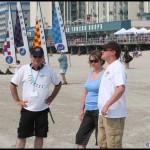 But, as the afternoon wore off, kiters began nipping off in order to get their "evening wear" all ready for the Pirate themed banquet being held that night at the convention center. It was quite the raucous banquet and tremendous amounts of fun were had with tables trying to one up each other with balloon bouquet heights and general pirate like activities all night long. To wrap the banquet up, we huddled around the our table and watched some fun videos put together by Curtis Smith and Andrew Albosta, showcasing the various events that happened around the festival over the weekend, including a few minute stretch of iQuad-specific footage that managed to draw a tear or two out of all 4 of those quad flying delinquents. And to wrap the evening up, Dodd Gross had put together a band that included Dennis Smith and a few other people to rock the Blue Parrot pub like it hadn't been rocked in years!
Alas, for me, this was also the point where I had to make my way back to the west coast due to a previous commitment the Monday night but, from what I heard from John Barresi when he returned that I missed just as much fun on the Monday as the previous days had been, including a very popular Tricks Party, won by Ron Graziano, and the pairs portion take by Ron and Shawn Tinkham, flying as Full Throttle. Another event of note on the Monday was a quad mega fly consisting entirely of Revolution's Masterpiece kites, including three of the artists responsible for those kites, Ron Gibian, Barry Poulter and Jose Sainz.
Next year, I'm planning to stay for the Monday as well but, I can safely say that the three days I was there for may be the best festival time I get this year. Great people, great weather and a great location all add up to make for a GREAT FESTIVAL! Thanks again to everyone involved!
David Hathaway