Mike Agner and I are just back from the huge German festival of Lunen.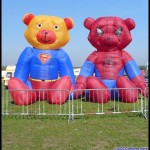 What we found was a festival where the beer budget for staff exceeded the total budget of most US events. There was precious little to eat if you were a vegetarian or counting carbs. And through circumstances I prefer not to detail, we learned that many German men shave their armpits….
Just about everything was hard-driving, well-organized, and serious German fun!
Most of the kiters arrive in campers, trailers or with tents and set up along the edge of the field. Imagine 500 fliers with as much gear as they can drive onto a festival, surrounded by banners, pole-displays, kites, bags, and kids.
The arena is a large glider field and all meals are centered in the nearby hangers. The festival is normally held in October and is frosty cold. (The Germans call it "ash kalt" – referring to a tendency to clinch your buttocks when shivering.) Fortunately, the date was moved up this year and the skies were clear and warm.
A highlight of Lunen 2007 was the German Kitemaking Championships. The competition offered a delightful variety of techniques, materials, and styles.
We saw exquisite multi-faceted stars, intricate figure kites, asymmetrical designs (which didn't fly well), flare kites with overlapping sails (patterned after sailing schooners), perfectly crafted Cassagene Crowns, washi paper creations, historical reproductions, a wild lattice della porta called "Strings" (or in English – "Thongs"), a German-made reproduction of a Chinese Dragon (with hand-shaped bamboo and each cell painted with a different image), and an incredible inflatable dragon with a 40 foot wing-span.
Entries were divided into Flat, Cellular, Inflatable, Trains, and the Open Class. (AKA divides kites into a dozen categories.) They were judged based on artistry, craftsmanship, and flight. (The AKA rules consider artistry, craftsmanship, flight, and appearance in the sky.) What this means was that scores were weighted toward how the kites looked on the ground.
I was privileged to serve as one of the four judges. The judging took seven hours with each kite being considered up close and then being flown individually and introduced to the public by a commentator who had joined the judging panel to learn more about each kite and kitemaker.
Saturday afternoon, the crowds streamed in to see the show. There were easily 30,000 people on hand. And as the sun began to set, anticipation of the night show grew.
European Night Flys are traditionally a choreographed combination of kites, music, and pyrotechnics. Spotlights illuminate the kites as they are pulled across the field in lighter winds. Portable leaf-blowers are used to fill the inflatables before flight.
When the night-flying is through, everyone retires to the hanger to warm-up. Loud music is playing, the tables are packed, and the bar is open.
Someone once described the AKA as a "drinking club with a kite problem". And actually, I've seen Kitefliers party hard all over the world. But until you have played with the Germans, you can still claim an amateur ranking.
One of the games Saturday was to drain small bottles of Plum Schnapps and line the empties up on the long tables. Then we'd tip the first over and tumble them like dominos. The record is over 300!
Some of the kiters drank until dawn. But I've been traveling like this for nearly twenty years and am getting too old to try and keep up. I left the hard-core crew to stumble back to their tents while I took the shuttle to my hotel earlier.
The breezes were light on Sunday.
Our kites were piled into a Hummer and driven to the corner of a marked field. A few meters away, throngs of children dragged kites though the grass in a variety of directions. We launched and re-launched our larger showpieces off-and-on all day. Then late in the afternoon, we stuffed everything into crunch bags and compressed them for the trip home.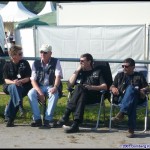 The organizing team was catching their breath and thanking each camper with lollypops as they drove off the field. Then we all headed out for one last (and relatively tame) dinner together.
The wake-up call was at 4 a.m. I'm heading back to Oregon now – seat 42D on Lufthansa's direct Frankfurt/Portland flight. Susie will meet me at PDX and I've got two days to catch up before flying out to Niagara. AKA is right after that!!
See you on the next field!
David Gomberg