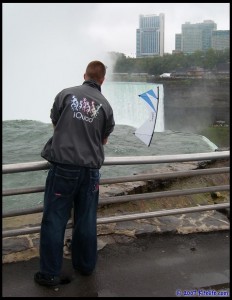 Fall greetings to all our readers, and welcome to another issue of Kitelife! We came off the presses a day late with this one, with our web staff in transit between the Niagara Kite Festival and the AKA Grand Nationals (AKAGN) which begins this week in Ocean Shores, WA… Click here for daily updates (Tue-Sat) from the AKAGN, complete with photos, competition results and highlights!
The next two months will have me visiting Japan and Australia for the first time ever, and making a return visit to Arentina to reunite with my friends from last years Wind Party in Buenos Aires.  This past year has been simply amazing, meeting so many people in new places… Every trip reinforces my belief in kiting's ability to bring people together, even in the absence a common spoken language… I'm proud to be a part of such a community, and am looking forward to what the future has in store for kiting, as a sport, an artistic medium, and as a lifestyle.
As you'll no doubt notice, this issue is a little lighter than usual, purely due to the shortage of actual working time with our extensive tour schedule this year. With that in mind, I'll be accepting inquiries for a new production position with Kitelife, someone to handle the basic web work (thumbnails, formatting, etc) for our bi-monthly issues… My goal is to dedicate more time to gathering content, and to have someone to draw up the new pages with it.
If you're interested, have some experience in visual web design with Dreamweaver and Fireworks, can spare 30-50 hours every couple of months and would like to lend your skills to a worthwhile cause at a pretty fair wage, please contact us by clicking on my name below.
Cheers to all, thank you for your patience with this issue, and for your ongoing support, we look forward to bringing you more and more variety and quality in our content as each year passes!
Cordially yours,
John Barresi
Publisher/Editor
Kitelife Magazine
Next Prize Drawing to be held October 15th, 2007!