Susan and I are just back from South Africa. This was our fourth trip to support Cape Mental Health. These are good people doing good work for a great cause. And over the years, many have become dear friends. But flying is different in South Africa. Most of you know we don't let kids around or under our stuff. But in Cape Town, we made an exception.
This little fellow came up and wanted to hold the line. We let him grab one and then gave it just enough of a boost to lift his feet off the ground.
The smile his face was as big as an Octopus! He gave Susie a big hug when he was done. And it wasn't until he was walking away that we realized he had been so excited he had "soiled himself". Susie laughed and then hugged me!
The flight from Washington DC to Johannesburg was 14 hours long and crowded. Susie tried to sleep while I flipped channels on the entertainment system. The seat was tight and hard. By the end of the second film, I was starting to turn numb. In Jo'burg we learned that half our baggage didn't make the connection. We cleared customs and ended up running for the next flight over in the domestic terminal. Two hours later, we were flying into Cape Town and a stunning sunset over Table Mountain. Old friends Keith and Barbara Mould were there to greet us and help handle an unexpectedly light baggage load. After a great dinner, we went straight to our base at the Homestead Inn and fell hard into soft beds.
Early the next morning, we were picked up and drove to nearby Township of Kayleshia where we did a show for some of the CMH clients. That's a polite way of saying, disabled kids from single-parent families in the slums. Hard flying in heart wrenching conditions.
This was our fourth visit to Peace Park. We eased the cattle out of our flying space and took stock of the situation. Winds were blasting at 50 kph (30 mph). Anchors were sparse. Kids were starting to gather. And all we had to fly was one big kite!
We pulled out the Big Bear and tied him off to a soccer goalpost. Susie took the main line and I organized the kids to help hold things steady. The turbulent winds dragged us from side-to-side and tossed children everywhere. As we packed things away, I marveled that no one was hurt, damage was minimal (one small tear quickly patched), and that we weren't more battered and bruised.
Our bags arrived the next day and were taken straight to the nearby seaside resort of Muizenberg where the main festival would be held. "CMH" argues that kiting lifts the spirit and brightens ones outlook. So they have worked to organize an international festival each year as part of their overall mental health message. The event offers what we think is the best program for children we've seen anywhere on our travels.
A month before, they send kite skins to local schools and invite classes to decorate them based on a general theme. Then on 'kite day', the classes bring the sails to the festival where they are assembled by volunteers into arches. Kites are judged and awards given to the winning schools. Then the arches – 50 to 70 of them – head for the field. Instead of 500 kids running in 500 directions with line and battered kites dragging behind, you get an organized and successful group fly.
At the opposite end of the field, we lofted a collection of showpieces and sat back to watch the crowd stream in. The festival was fenced and a 10 Rand fee ($1.50) was charged for entrance to see the kites, enjoy the displays, hear the music, and shop the craft booths. I'm told attendance was roughly 7000 each day.
As we travel our exciting planet, Susan and I observe that kiting "success" is relative. Cape Town may not be the biggest event we have ever attended, but it was the biggest ever held here. And judging by the faces of the kids spread across the field, it was the best time they had ever had.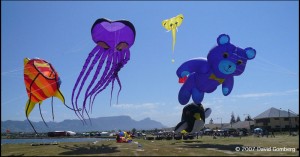 Our first day in Cape Town we were taken to a radio station to talk about the kite festival. But with the Rugby World Cup finals just two days away and South African SpringBok poised to confront the English, no one was thinking kites.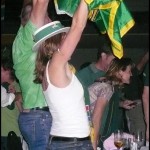 "So Susan" said the interviewer, counting on Americans to know little, "do you think Percy"s foot will be on form Saturday??"
"Montgomery is an exceptional player", replied Susan." But he is no Joel Stransky, and at age 31, I worry that he doesn't have the distance. Look to a younger player like Steyn for longer kicks. The British have been weak the past few games – barely beating the Americans. But Wilkerson is back now and that will improve
their play. Still, I fully expect the Bokke to donner them Saturday night in Paris…"
Well, that is almost what she said. And besides, you aren't supposed to say "donner" on the radio.
Susan and I had wanted an "African Experience" after the festival, but this was something unexpected. Being there during the Cup Finals was a special treat. The country was brimming with pride and enthusiasm. And when the Bokke won 15-6, the whole country went wild!!
Speaking of wild, we spent two days at the Aquila Game Reserve this trip. It was not as extensive or emotional as past excursions further from Cape Town. But with limited time, the closer park seemed a worthwhile option. Better to see things than not!!
Aquila had a good variety of animals, but not the larger quantities we had seen in other places. But that was fine. Four Rhinos is plenty when they are running toward you!
The standard tour included two "game drives". The second was at 6 in the morning, and came complete with a light dersert rain. Before showers and breakfast, we spent some time in the Cheetah enclosure. Cheetah, it turns out, are the only large cats that can be domesticated. I wonder how they found that out…

We rented a car and drove through the Southern Cape, stopping for lunch at a winery and exploring the majestic vistas with the help of a GPS unit. The GPS didn't stop us from being an hour late for dinner with friends. We'd misunderstood the directions and turned into some neighborhoods where the residents were as surprised to see us, as we were uncertain to see them. But that's a longer story for another time.
See you on the next field!
David Gomberg