Perception is a funny thing. Growing up in Western New York State, on the US–Canada border, I always consider myself as being from the Northeast; albeit from the Northeast United States.
Driving further Northeast for almost 1000 miles (1600 km) towards the Canadian Maritime on a recent road trip with good friend, Vaino Raun, and his 'special' friend, Karen, it quickly became apparent how ridiculous and myopic that silly notion was.
The spectacular shoreline of Atlantic Canada's Bay of Fundy, carved by millions of years of erosion displayed magnificent overhanging sea caves, cliffs, and was interspersed with quaint covered bridges nestled in the majestic Canadian forest as we twisted, turned, and maneuvered our way to the Dieppe Kite International event in New Brunswick.
The Bay of Fundy is 170 mile (270 km) ocean bay that stretches between the provinces of New Brunswick and Nova Scotia on Canada's East coast, including a small section of the state of Maine. It is the highest vertical tidal range in the world, with a tide that is five times higher then the Atlantic Coast average and where the water can rise 6 – 8 feet (1.8 – 2.4 meters) in an hour until it reaches an average height of 50 feet (15+ meters). The highest vertical tide recorded was over 68 feet (21 meters).
Each day 115 billion tons of seawater flows in and out of the Bay of Fundy during one 12.5 hour tide cycle, more then the combined flow of all the world's freshwater rivers.
It was incredible!
In Mi'kmaq lore, it was a giant whale, who angered the god Glooscap and created such a splash with his mighty tail that the water sloshes back and forth to this day.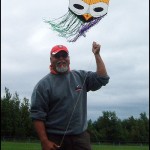 Vaino, Karen, and I continued on and splashed our way to the 3rd Dieppe Kite International arriving a day early to set up the Kite History Exhibit. The actual festival ran five days; Wednesday through Sunday, 15 – 19 August 2007. For the record, all three of us did not always agree on the route, but Karen always keep her cool, never missed a beat, and simply recalculated our new approach as we went along. She was a trooper.
Several years ago the town of Dieppe saw a need to plan an event to promote their local region around the world. Dieppe Kite International was launched in the goal of organizing an exciting original event on an international level that encourages exchanges among French-speaking countries.
What makes this International event unique is the cooperation between the sister cities of Dieppe, France, and Dieppe, Canada, in organizing the events. Dieppe in France (6 – 14 September 2008), will host the festival on even years while the festival will take place in Dieppe, New Brunswick, on all odd years. This collaboration makes it possible for organizers in Canada to benefit from the expertise of their more experienced counterparts in France. 2007 marks the 3rd year for Dieppe, Canada, while 2008 will be the 15th year for Dieppe, France.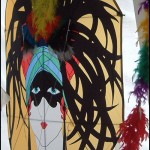 The organizing committee of Dieppe Kite International chooses a theme for each year of the festival that always includes the kite making contest.
The theme for 2007 was 'Mardi Gras in the Sky'. Judging criteria for the contest was: suitability of material used in making of kite, quality of construction, innovation and creativeness of the kite, and flight performance.
The first place prize was an invitation to next year's Dieppe, France kite festival. This year it was awarded to Bas Vreeswick of Holland. Second place was an invitation to the next Dieppe, Canada kite festival. This year it was awarded to Jose Sainz of the United States.
The international flavour of the event was apparent along their 'Embassy Row'. In a straight line at the edge of one of the many kite fields was a row of over a dozen 10' x 10' tents. Each tent had a tall flag pole and flag corresponding to the sign hanging in the open front announcing the represented country. There were South Africa, Germany, England, Australia, Canada, USA, France, India, Italy, Mexico, Netherlands, Switzerland, Tasmania and Wales; as well as tents for the sister state of Louisiana, other Canadian Provinces, and the local kite club.
Inside each tent was a kite display representing either kites from that country, kites by the artist from that country, or both. Also included was kite festival information from that area; plus other culturally significant items. It was a week that had something for everybody.
The kite flyers and kite makers who accompanied these tents were among the best in the world. It was a terrific group. A partial listing with additional festival info is at http://www.cerf-volant.ca
The festival had a large tent that housed the Kite History Exhibit and Kite Making Workshops. There were Rokkaku battles, huge show kites, some really lovely art kites, and everything in between. The Windjammers from Detroit flew their beautiful stacks of Dyna-Kites; which always are absolutely stunning in the sky.
The festival was at Dover Park and had four large separate kite flying fields with walkways in between. A large beer tent was adjacent to a big outdoor stage area that had nightly live music.
The Night Fly on Saturday evening was very successful with more and more of the flyers making kites that are specifically used for the Night Fly and spotlights.
The week's weather was a bit of everything! We had hot and sunny days, we had high wind days, we had rain and cold days…we saw it all that week!
The Sunday evenings dinner preceding the auction was cooked, amazingly so, by a Cajun Chef brought from Louisiana. He was beyond talented. He was an Acadian food god.
A special focus is placed on promoting the diversity of the Acadian Culture to the national and international francophone community.
Acadia was home to the first permanent French settlement in North America, which was established at Port-Royal (Nova Scotia) in 1604. During the 17th century, about sixty French families were established in Acadia. They developed friendly relations with the aboriginal Mi'kmaq, learning their hunting and fishing techniques. The Acadians lived mainly in the coastal regions, farming land reclaimed from the sea through diking.
According to Acadian Memorial…"They were prosperous farmers of grain and cattle. Their fertile fields, ingeniously reclaimed from the tidal marsh, attracted Britain's envy. Their staunch neutrality incurred Britain's wrath.
A cruel twist of international politics cast most of them out of Acadie and into exile in the American colonies, Britain and France. Between 1764 and 1788, shiploads of desperate Acadians sailed to New Orleans. Settling in South Louisiana with aid from Spain, they were the brave pioneers who founded la Nouvelle-Acadie or New Acadia. Here they served as forebears of Cajun culture."
http://www.acadianmemorial.org
It was a wonderful festival; stunning landscapes,engaging cultures, and a great group of flyers. Oh yeah, and Karen, Vaino's GPS unit, who never let us down!
M. Robinson-Albers