Planning for The 2nd Annual "Kites Over Granbury" festival started on September 4, '07 with a short e-mail I received from Stephanie Gaines of Family Fun Kites which stated: "I finally got the okay on fields for my kite festival. It's scheduled for October 20th & 21st! Someone please help get me started." Apparently, no one ever told Stef that kite festivals take MONTHS of planning and preparation! With less than two months before the festival was to take place, we had a lot to do!
The festival was a fund-raising event for "Kids in Crisis" with proceeds going to the "Children's Advocacy Center" of Hood and Somerville Counties. Stephanie Gaines of Family Fun Kites, at "familyfunkites.com", owns the only walk-in kite shop in the Dallas/Fort Worth spread. For the fliers in this area, it's the only resource – outside of ordering online.  Granbury is a small town about an hour southwest of Fort Worth. With a population of just over 6800, I'm very excited to say that this event raised over $4,000 for the charity.  Hearts are big in Texas, and the family of kite fliers wears them on their sleeves.
Our biggest fear was that there would be no wind.  Ha!  Be careful what you wish for!  The forecast was for winds of 15 to 20 mph.  Our opening ceremony was scheduled to include paratroopers from the nearby airport (a quarter mile away, and who graciously gave us a 150' ceiling).   On their final pass, the winds were gusting up to 40 mph!  They had to abort the jump, due to the high winds.  On the ground, it was blowing about 15 to 20+ mph. Once we knew they couldn't make the jump, the kites went up.
This may have actually been the 2nd Annual Granbury Kite Festival, but it was the first real one!  Last year, it was much smaller, but this one has all the makings for a grand festival!  We're learning the ropes and everything is in place to make this a tradition in the future!  With that being said…
Austin's "End of the Line" (EOL) was set up and ready to go.  Troy Gunn had his stack of Revolutions poised and set to amaze.  Banners and ground displays were in place.  Beaudreaux, the 98′ Octopus of the Woodul household, lead off in the Big Kite Field sponsored by Quicksilver Resources.  The sound ystem, sponsored by Beck's Tire & Roadside Service, kicked in with Warren Harris as M/C.  Talk about a hometown coming together to make things happen, I have to acknowledge all of the businesses and local folks who chipped in and helped out!  I also have to express our gratitude to Gayle Woodul for all of her support and guidance in chairing my first event.  OK, I know that there are a bunch of others who need recognition, but this is about the festival.
We had Jumpy Things, a Petting Zoo, Pony Rides, and Bar-B-Que for everyone.  Stef canvassed the local vendors and we had more give-a-ways and raffles than we could ask for; everything from kites, jewelry, free dinners, to free tattoos.  Kids were flying the kites they made in the kite-building tent that were as colorful as the designs painted on their faces (thanks to Robbie for the face painting).  All for the common good of benefiting the "Children's Advocacy Center".
Even with the high winds, EOL – both collectively as the team and as individuals, put on a great show flying various routines and demos throughout the day.   Troy Gunn amazed the spectators with his Rev stack performance, which always led to many questions.  However, I have to give a special thanks to Chris Schultz from NewTech Kites for his "Eveready Bunny" energy.  When Chris wasn't flying his Mirage Warbirds on the demo field, he was on the sidelines tirelessly teaching kids how to fly!
We also dedicated some time to offer the novice/new flyers the demo field for performances.  These folks, most of whom have never even seen a kite festival before, went out and flew in front of spectators and did a terrific job!  We handed out sign-up/bio sheets for them, they gave them to Warren, and specified what music they wanted.  So, I'd like to mention them and thank them for their participation:
Brendon, age 12, has been flying dual lines for 2 years.  He thinks flying is a lot of fun and his major dislike is "no wind" (we have something in common there). Tanner, age 10, has been flying dual line kites for 2 weeks.  He's in the 4th grade and only had one word to say about flying kites: "FUN." Billy Shelly is 12 (most importantly, 12 & ¾).  Billy has been flying duals for 1 year.  When asked what he thinks about kite flying; "It gets you great exercise for your arms."  (Billy just happens to be a Kite Lady's grandson).  "The family that flies together, stays together." Dave Ross, age 49, dislikes shifty winds…(don't we all J).  Dave also contributed to the buggy demos.
Tye, age 10 out of Acton Texas, had only been flying for 4 or 5 hours.  When asked what Tye thinks about kite flying, "It's pretty fun and I want to go further!"  Tye doesn't have any dislikes (isn't being 10 years old wonderful?). Buddy Martin, age… "still flies kites" and flew a TOTL that he originally bought.  Buddy came out to learn about how to have a festival for his church.  We're there to help you Buddy, and you did a great job flying!
Henry Kitchens, age… still has the kid in him to fly! I first met Henry at another local festival during the year and flew a little dual line pairs with him.  He also went on to place in the Great North Texas Kite Festival as a novice dual line competitor this past April.
Thanks to everyone for helping to keep the flying field busy.  After a Saturday full of events, we all gathered around the grill in the courtyard of the Granbury Inn & Suites for some hot dogs and fixin's.  It was a time for reflection, friendship, and relaxation!  This is the time that makes all of the work put into a kite festival worth it!
Sunday presented the same challenges with the wind, but that didn't stop anything.  Some of the folks had to head back out of town, due to other commitments.  But, there's no way we can express our appreciation for their contribution to the festival.  One of our sponsors came out to the festival and Ron Schultz and Troy Gunn treated them to dual line pairs demos.  Troy then proceeded to fly his "pairs routines" by himself, and also did some demos with his Rev stack.  Thanks, guys, for all that you did!  The sponsor later approached us about doing more next year.  We also had folks from a neighboring town, Stephenville, request our assistance with holding a kite festival in their town.  I guess you could say that we planted some seeds in an area that, before Granbury, had no idea of what a kite festival was.
We, meaning everyone, would like to give a special thanks to Brent & Melissa Sutherland and brother Derek.  These folks were a great help with all of the back breaking labor, but were just as much fun to watch on the flying field.  They provided buggy demos and showed folks how to fly traction kites.  When they were all flying their NPWs, it looked like a Jellyfish type Sumo wrestling match.  I don't know how else to describe it.  They were so much fun to watch.  Thanks guys!
I can't thank everyone enough for all of their help in making this a wonderful event.  Stef went above and beyond to make this happen.
As for myself, I set up a kite and never got to fly it.  The only kite I flew was the Sky Hook used for the candy drops.  There was just too much going on for me to play.  I did put up a couple of kites on Sunday, but the day ran out before I could get much time in the air.  It was probably for the best, as we were all pretty tuckered out by then.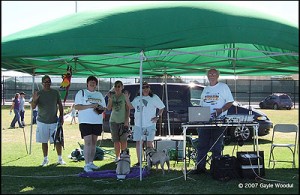 Next year is in the works; no more of this last minute planning stuff for me.  It took me about 4 days of recuperating before I could even think about another festival.  But I had already made reservations for the 11th Annual South Padre Island competition which was coming up in two weeks.  More on that festival another time.
Keep an eye on the AKA calendar for next year's schedule!
Dallas Oliver