The Cygnet's Centennial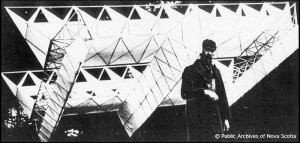 I've been extremely fortunate, I've have had many very special moments during my kite flying life; in many incredible places around the world. Yet nothing came close to the profound and deeply moving experience of flying my kite at Beinn Bhreagh on the same patch of grass that Dr. Bell flew his kites 100 years ago.
Dr. Alexander Graham Bell's Cygnet kite celebrated its 100th anniversary in 2007.
Bell's 3,393 celled tetrahedral kite the Cygnet was the fruition of years of pioneering kite experiments that he devised and researched at his Beinn Bhreagh estate in Baddeck, Nova Scotia, Canada.
To mark this occasion, the Drachen Foundation, in collaboration with the Canadian Kite Federation and the Alexander Graham Bell National Historic Site, hosted a private event on August 20 & 21, 2007 for a number of kite enthusiasts. This event was held immediately following the Dieppe International Kite Festival in New Brunswick, Canada, so the kite flyers and historians could attend both events in Canada's Maritime Provinces.
The truly privileged flyers began arriving at the Bell Museum in Baddeck Bay mid day Monday Aug 20th and set off on their own self guided tours prior to the symposium. It was a real treat to see many original Bell kites and cells, as well as the family photos. Hugh Bell Muller, Bell's great-grandson and current Kite House resident at Beinn Bhreagh gave us the official welcome.
The afternoon's symposium, which proved to be interesting and informative, opened with an overview given by the museum, followed by Mr. Muller's presentation on Dr. Bell, Baddeck Bay and Kites, and then culminated with the Drachen Foundation's program nicely presented by Scott Skinner.
A private dinner in the Bell museum, following the symposium, with members of the Bell family in attendance was a wonderful treat and memorable ending to an already very memorable day.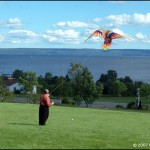 Most of us stayed at a quaint place in Baddeck Bay called the Silver Dart Motel. It was directly across from the Bay, up slightly on the side of a hill with an incredible view of the Bay from every location in my room, including my bed! It was obvious why and how Dr. Bell and his wife Mabel were instantly infatuated with the lovely town and surrounding area.
Tuesday, August 21, 2007, was an absolutely magical day. Our group assembled for our tour and kite fly at Beinn Bhreagh.
It was extremely apparent from the very second we arrived in town and went to the Silver Dart Motel to check into our rooms, that we, the 'special' invited kite flyers from around the world, were unique. They told us so. As we approached the front desk they said…."oh…you MUST be the 'FAMOUS' kite flyers here to go onto the Bell estate!"
Of course we proceeded to give each a major hard time about who was the famous one among us, and why did they keep it a secret from the rest of us!
The lovely woman at the desk, Hildy, explained to us that the towns people of Baddeck Bay do not EVER get to step foot on the infamous Bell estate. Of course there are a few employees from town, but for the most part it is private property and off access. Not unreasonable considering it is a private residence and property.
Hildy went on to say how she thought we were the luckiest people in the world to get to go on the property of Beinn Bhreagh! She wondered aloud if we knew how lucky we were?
Then it became clearer; it was the honor of being allowed to enter the gates of Beinn Bhreagh that deemed us 'famous and important' kite flyers.
It was touching as she confessed how envious she was and how she dreamt of going through the gates of the infamous estate. She said it had been a lifelong dream. Of course it would be terribly impolite of me to try and guess her age in this article, I will say though, she has adult children.
It was at that moment that Hildy said…"there goes Dan, the Silver Dart's manger, he is being allowed to go with your group to Beinn Bhreagh and the rest of us are begging him to take us along!"
It was an automatic response. I moved and acted without a second of forethought. Before I knew it, I was standing next to Dan introducing myself. I said, "Dan, I have a brother named Dan, he's my favorite, hey Dan, I have a favor to ask you? I'm one of the flyers scheduled to fly on the Bell estate tomorrow and I have a problem. I have hurt my sciatic nerve and could really use some help. Could I possibly borrow Hildy for an hour to take to the Bell estate as an assistant?"
Hildy joined us kite flying at Beinn Bhreagh the next day with a smile so broad I'd swear it touched both of her ears.
Tuesday, August 21, 2007 was an absolutely magical day. I know I said that already. It bears repeating.
The weather was perfect; the sky, a strong deep blue, temperatures comfortable, winds were a wee bit light and challenging, but we hardly noticed. About 45 kite flyers from around the world flew on Alexander Graham Bells private flying field…the location where, 100 years prior, he did years of research, inventing, and creating advancements in all forms of aviation and various science disciplines.
T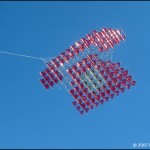 here was surprisingly little talking as most people flew with their own private thoughts that morning.
The CBC carried the event live on television as it beamed coast to coast, across the entire country of Canada. The BBC carried it on their evening national broadcasts, as well as all the Provincial and local stations. The followings day's newspapers had it front page, above the fold. All of the news outlets referred to our visiting the Bell estate as a 'rare' occurrence. The four members of Alexander Graham Bell's family who came to do interviews, watch us fly and talk to us as we flew on Beinn Bhreagh were Dr. Bell's great grandchildren. They said the cousin who had actually been held by Dr. Bell, the last one to have physical contact with Dr. Bell, had just recently passed away.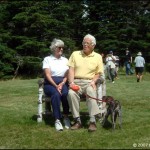 It is difficult to express how genuinely warm, welcoming, and gracious the Bell family members were to us kite flyers. They were incredibly kind and generous with their time, knowledge and praise. At one point Hugh Bell Muller turned to his beautiful wife Jeanne and said "Jeanie! Why didn't you tell me kite flyers were so much fun?"
Certainly the family members did their duty, gave interviews, and accepted the plaque. However they also stayed hours longer then they were scheduled to, and had such a good time they invited us back again next year. I quickly found myself enamored with the 'life of the party', the families four month old wire haired Griffon puppy who stole my heart.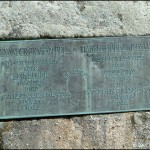 The view and peaceful serenity that surrounds the area of Mabel's and Dr. Bell's grave site is spiritual in nature, clearly a very special place on this earth.
I found it very interesting that Bell, who was born in Scotland, was buried in Canada, but had it carved on his tombstone that he was a citizen of the United States. He was certainly a citizen of the world; an early resident of the global village.
Gary Mark of the Canadian Kite Federation and the Drachen Foundation did an exceptional job putting this program together. I know superlatives are thrown around all too often these days, but this was truly a once in a lifetime event that I am proud to have been a part of it.
The Bell family presented Gary Mark with an original Tetrahedron cell during the ceremonies at Beinn Bhreagh. Gary was pleasantly surprised and very pleased.
To see, touch, and hold an actual piece of kite history is not an opportunity one gets everyday.
As I gingerly held the cell I was a little surprised at the size. It was a bit smaller then I would have thought. Bell had been a favorite of mine for a long time and details about him and the tetrahedron-celled kites flooded my mind from the previous article I wrote about him.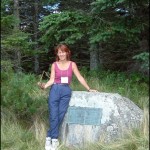 Inventing the telephone made Alexander Graham Bell independently wealthy. He and his family lived and traveled comfortably while he was provided the ability to experiment and research topics of interest.
It was in 1885 that Dr Bell and Mabel first discovered Cape Breton's Bras d'Or Lake, as they cruised to Newfoundland, and were immediately taken with their surroundings.
The landscape, climate, and strong Scottish culture reminded him of Scotland where he was born and grew up.
The next year, 1886, Bell bought some land and named it Beinn Bhreagh. In Scottish Gaelic 'Beinn Bhreagh' translates to 'Beautiful Mountain'. The land is located on a peninsula jutting into Cape Breton Island's scenic Bras d'Or Lake, Beinn Bhreagh forms the southern shore of Baddeck Bay and is located approximately 3 kilometers (1.86 miles) across the lake waters from the village of Baddeck.
Bell built a large estate as a summer home on the property, along with laboratories and workshops to continue his busy routine of experimentation and analysis. His imagination and wide-ranging curiosity led him into scientific experiments in such areas as sound transmission, medicine, aeronautics, marine engineering and space-frame construction.
Bell can be considered an inventor, an innovator, an inspirer of others and a humanitarian. Bell's activities at Beinn Bhreagh had a significant impact on the economic and social life of Baddeck. The estate provided work for men and women both in traditional service occupations and in jobs connected with Bell's experiments, such as production of thousands of tetrahedral cells for his massive kites.
The story of Bell's pioneering experiments on flight is also the story of the first discovery of the space frame. Bell was 49 years old when he turned to kites (1896). He joined numerous experimenters that, before and since, have used kites to pursue aerial flight. Bell's interest in flight was life-long. His famous assistant, Watson, remembered how he was anxious to move on to the flying machine while working on the telephone. In 1877, while on his honeymoon in England, Bell scribbled notes on bird activity and paid particular attention to their tails. The heading of the notes was "Aerial Aviation" and he sketched a crude design of a flying machine…ten years before the Wrights, Bell began actively working on flight.
Bell called kites "lighter than air machines" and motor-controlled crafts "heavier then air". Kites enticed him because they permitted experiment without risk to human life. As Bell wrote on September 2, 1901 "The great difficulty in developing an art of aerial locomotion lies…in the difficulty of profiting by past experience…a dead man tells no tales…"
Bell originally worked mostly with Hargrave's box kite that was developed in 1892. He thought it was a very sound design. In 1898, Bell had a Hargrave type kite built in his laboratory. This craft, named Jumbo, measured 15 feet long, almost 11 feet wide, and 5 feet deep. It was big enough to carry a man. Jumbo did not fly.
Simon Newcomb, an astronomer from Nova Scotia and Bell's friend, wrote an article entitled "Is the Air-ship Coming? ". Published in McClure's Magazine in September 1901, He said, "Let us make two flying machines exactly alike, only make one on double the scale of the other in all its dimensions. We will know that the volume, and therefore the weight, of two similar bodies are proportional to the cubes of their dimensions. The cube of two is eight: hence the large machine will have eight times the weight of the other. But the surfaces are as the squares of the dimensions. The square of two is four. The heavier machine will therefore expose only four times the wing surface to the air, and so will have a distinct disadvantage in the ratio of efficiency to weight". Bell wrote Mabel that "Newcomb's Law" had come as a shock, and had cast doubt on the possibility of configuring flying machines unless "a new principle of support – momentum-was introduced". It did not take long…by the end of the month; in Bell's 55th year he got around "Newcomb's Law" and had found a solution. Bell had begun the process he was best at…problem solving. He discovered the tetrahedral cell.
It started with the idea that, for greater lifting power, he should fly more kites instead of bigger kites. The kites he was working with at the time were his favored triangular box-types with cells of triangular section. The next step was to compound the kites, removing the extra stick where support sticks came together so that the compound kites had the same lifting power as the individual kites but actually less weight. Bell's notes of September 30, 1901 state "…Do not increase the size of the cell, but compound small cells into a large structure, and where the two sticks come together omit one, and in this way the larger kites will have less weight relatively to their surfaces than the smaller kites, and yet be equally strong." There was one more great idea needed, and Bell came through. It was pure Bell genius. The concept of a fundamental engineering structure basic to construction today all over the world…the idea of the tetrahedral cell and with it the mechanism to unite the cells together at the vertexes…today's universal connector…had struck him. He wrote on March 15, 1902 "Avoid rectangular elements-let everything be built up of equilateral triangles. Terminal surfaces will then be at the proper angle to make connection with other frames. Whole thing could be built up into a solid compact form of almost any desired shape…"
Summer and fall of 1902 found the laboratory at Beinn Bhreagh experiencing its greatest period of creativity and excitement. Workers constructed tetrahedral skeletons to cover cells and the connecting devices Bell sketched in his notebook. The construction of the large tetrahedral kites, true space frames, began. There were daily problems as well as daily solutions. Bell's notes from November 18, 1902 read "Two great successes today, both a result of suggestions from Mabel". "First suggestion. Instead of waiting for wind, attach kite to galloping horse. Tried it yesterday with small kites. So promising that we tried three of our large kites today in same way. Found I could study their mode of flight in the air as well as if I had wind…or nearly so…and could judge of their way of falling better than with wind." Mabel's second suggestion involved hairpins and sealing wax for linking tetrahedral skeletons, which Bell exclaimed was "just the thing". His notes are an unbelievable treasure.
Bell's further research produced the Cygnet, a huge kite made up of 3,393 cells and equipped with floats to enable it to land on water. It was designed to carry a man and a motor.
In October of 1903 Bell switched his spar material for his kites from black spruce to strong but light aluminum tubing. The large kites became much more buoyant and were maneuvered about with great ease. They also flew in a lot less wind.
Bell also switched the fabric color of his tetra cells. Originally made of white silk, Dr. Bell had them changed to a deep red silk when constructing the tetras so they would photograph better. The red provided more contrast against the sky in those days of Black and White Photography.
Bell continued to keep exemplary records of his experiments and kept a photographic record of all the laboratory activities. There was always someone from the lab who was assigned the job of "snapshotting". Although he may have been passionate about keeping scientific records he certainly loved the drama and impact his tetrahedral kites provided. He loved to watch them fly, especially on a clear sunny day, late in the afternoon as the sun was setting, 'Beautiful','Beautiful' he would say to himself. One day during the height of Bells' kite flying experiments he asked Mabel what she thought about a book composed solely of photographs of kites?
December 3, 1907: Tetrahedral kite Cygnet I flies unmanned at Baddeck
Then, as reported in many accounts: "On December 6, 1907, the Cygnet was taken out on a test run prior to the engine installation. On board, lying on his stomach in the center of the craft and without benefit of controls was brave volunteer: Lieut. Thomas E. Selfridge of the U.S. army.
The kite was placed on a barge and towed by steamer into the wind on the bay. It soon became airborne and flew flawlessly behind the boat for seven minutes before settling gently on the water.
But luck ran out. The crewmen, excited over having seen a human in flight forgot, to severe the towrope. The kite was dragged through the water and damaged beyond repair.
Selfridge managed to escape with only a frigid dunking. He would not be so fortunate in September of the following year.
The Wright brothers' plane, which he and Orville Wright were testing for the U.S. army at Fort Myer, Va. Crashed, making him the first fatality of modern aviation."
As this memorable event came to a close there was one last treasure this particular road trip had to display: Nova Scotia's Cabot Trail.
The Cabot Trail is a Canadian highway that loops around the northern tip of Cape Breton Island, Nova Scotia, 185 miles or 298 km long. This magnificent highway is carved into the sides of mountains that rise high above the shimmering waters of the Gulf of St. Lawrence. It is named after the explorer John Cabot who in 1497 became the first European explorer to visit the island.
The Cabot Trail is often described as the most beautiful drive in North America. I found little to dispute that claim!
It was very charming every step of the way. The lobster and seafood was delicious. There are small picturesque valley towns. Whale watching is prevalent and many small fishing villages are havens for birders.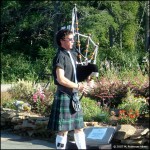 A wonderful Gaelic College is at South Gut St. Anns called the Gaelic College of Celtic Arts and Crafts;it was founded in 1938 as a school devoted to the study and preservation of the Gaelic language, arts and culture. As we pulled into the parking lot a man wandered around playing the bag pipes as the greeter
Alexander Graham Bell was quoted as saying, "I have traveled around the globe. I have seen the Canadian and American Rockies, the Andes, the Alps and the Highlands of Scotland, but for simple beauty, Cape Breton outrivals them all!"
Many of the Flyers had been at the Dieppe Festival in New Brunswick the previous week and were also planning on driving the Cabot Trail as a conclusion to a terrific adventure. With such a large caravan involved we played musical cars; switching who rode where with whom and when.
On more then one occasion as we stood and stretched our legs and backs at a scenic lookout, we smiled as fellow kite flyers pulled in alongside us. It seemed like the most natural thing in the world to run into our European Dutch friend Bas Vreeswick and his lovely wife Anna as we stood and took in the vast beauty of the North American Canadian Maritime shoreline.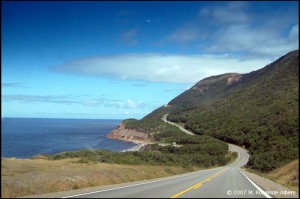 Beinn Bhreagh was my Mecca. Yes, I've been extremely fortunate.
M. Robinson-Albers