Each month we'll be featuring one of the fine retailers who have been so supportive of Kitelife and other areas of the kiting community…The retailers you'll find here are established, proven vendors.
Elmer's Flag and Banner, Kites Too!
1332 NE Broadway
Portland, OR 97232
Toll free 800-547-8795
Tel. (503)282-1214
Fax (503)282-2481
http://www.kitestoo.com/
Floor space
4000 square feet in store
8,000 square feet in separate warehouse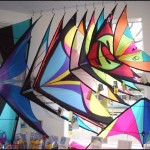 Hours of operation
8:30 to 5:30 Monday – Friday, PST
9:00 to 5:00 on Saturday, Closed on Sunday
Years in business
45 years in business
Years advertising with Kitelife
Two years of advertising with Kitelife
Owner and/or manager names, with age(s)
Michael Hale, Owner & President, 61 years old, 24 years with company
Jeff Litzenberg, Mgr
Favorite food(s)
My favorite food is any Middle Eastern
The favorite food of the company is Pizza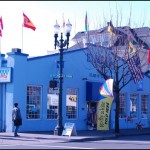 Last books read
The Kite Runner, on Audio Tape
The Making of Japanese Kites, by Masaaki Modegi
Favorite kite web site
Kitelife
Favorite flying spot
Hood River, OR
Specialty of the store
Full line of Prism Sport Kites, Family kites, Quad and traction kites
Motivation for opening a kite business
My step father opened the flag store in 1963. I later introduced kites to add the fun factor to an already successful business. It is great fun and we meet many wonderful people.
Most important advice ever received
Best advise I got about selling kites came from David Gomberg, who said, sell what you like and know.
Nicest sale ever made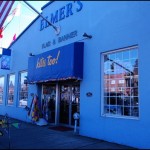 A fellow from Singapore walked into the store and immediately got a call from home on his cell phone. That person told him to go to a store he saw on line, our store. He answered he was already there. The other man, browsing our web site, while the man in store shopped. All the while they proceeded to talk over the cell for the next hour and buy dozens of large kites. Gives new meaning to electronic shopping!
Best fringe benefit as owner/manager
Somebody has to test all those kites to see if the are fit for sale!!! I also encourage all my staff to learn to fly everything in the store. And I enjoy opening this rather expanded kit collection, that fills th back of my pickup, with any customer who want to "fly before you buy".
Favorite issue of Kitelife
Now that is too hard to say. They are all great!