It all began in 2006 when a couple of Texas kitefliers suggested we do a fun fly for the Texas clubs at Rockport since we used to have a AKA Competition event here in May and everyone likes to fly here..  So we set a January 2007 date, sent out some Emails, put up some invitations in the respective message boards, and low and behold people showed up.   Our club cooked and served a BBQ dinner and all went home saying that they had a good time.  Soo….   Around comes 2007 and the Skypirates are asked if they would host it again, well being the "fly party animals" that we are; of course we will, how does Jan 12-13 sound??  That was the birth of the now Annual GREAT TEXAS KITE CLUB FUN FLY; and here's the report for the 2008 event.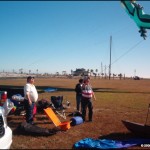 We always start things out with a Friday nite meet and greet time, and again we choose to go to the Poor Mans Country Club (a watering hole) that overlooks Little Bay and Rockport Beach Park.  Most of the group have just arrived after several hours on the road so we have a cocktail and some eats while everyone catches up on the latest gossip about kiting and who is making what, or just got that new item they had been yearning for.  Roger Horne is presented with a "farewell" gift as he is soon relocating out of the Region and will be sorely missed by all the Texas kite community.
Saturday morning breakfast at JJ's Burger Works/Café is interspersed with groups of kiters meeting up over eggs, pancakes, coffee, and "Gary's omelets" and on this morning discussions about the lack of wind.  "Oh well we will just have another cup of that Joe and sit here a little longer" —- Finally the coffee kicks in and we wander out to the Beach Park, kites are laid out on the ground all over the place and we amuse ourselves with attempts to get something up and flying—Michael and Deontae assemble an ultra lite sport kite and have momentary success with it, of course several flyers get to try their hand as well.  Finally about midday a breeze perks up, yea's and yawhoo's are heard all down the "flight line" and suddenly the sky starts to fill with kites from itty-bitty to over 100 foot long, everyone gets in on the action.  Winds dropped to nil again at about 4 Pm and fliers were soon packing up.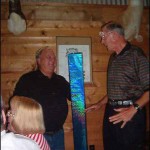 Following Saturday's day flying the participants group again at JJ's for an evening dinner.  What a celebration, everyone had a story to tell, and long-range friendships were rekindled!   Gary and Shaoli Billy and their staff served us a fabulously tasty four-course meal with our own choice of entrée after which some of the more hardy  (or less bright) of the bunch headed out for a night fly.  It had turned out the expected cold front had arrived and now the winds were near 20 and very cool, despite the chill there were experiments with different lighting and night video techniques that lasted for about an hour or more until the suggestion of a "hot toddy" at the Poor Mans would go down nice about now.  Mass exodus for the libations ensued and some of the crew did not get warmed up until midnight.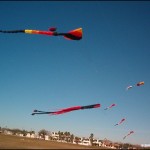 Sunday breakfast had a totally different discussion form the day before—the winds are now rather firm at 10-16mph and from the NORTH !!  This changes things a bit and nobody really hangs around long, out to the field right off!  Wonderful blue skies and firm breezes were enjoyed all day, anything we wanted would fly, so the skies were jammed the entire length of the beach from the big display kites at the entrance festival grounds, to clear in the back at the "kite circle" where Rick and other SHARK members were busy launching all morning.  Rockport has been named "One of the ten best places in the US to fly a kite"– by USA Today some years ago.  Our breezes are usually just right and the Rockport Beach Park has many great areas to fly, including the one specifically designated as mentioned above.  There were some "air traffic control" issues with some of the kites, bound to happen anytime you have that many kites in the air and we had a progressive wind shift from North to East occur.  Most were unceremoniously untangled without damages but the "Kite Eating Light Pole" next to the mid-beach pavilion got Gordon and Virginia again this year.   Gordon has since placed a Texas Landmark Plaque in "dedication" to the errant light pole. (see the photos in Skypirates Gallery).
Many locations in Texas were represented, Rockport, Corpus Christi, and Fulton fliers with Coastal Bend Skypirates  (CBS) hosted, guests came from Lufkin, TX; lots of members of South Padre Island Kite Enthusiasts (S.P.I.K.E.) from throughout the Valley and South Padre Island; the South Houston Area Recreational Kiters (SHARK) were well represented; Cloud Chasers had several members from Austin/San Antonio participate; and fliers from Dallas Area Kiters Organization (DAKO) came for the weekend to fly.  There were some  "Winter Texan" kite enthusiasts from Iowa, and Michigan, even contract workers from Wichita, Kansas too.   Fliers varied in age from young teens to full-time retirees and all ages in between.  Every kind of kite imaginable was flown at some point in the event, with the exception of kite surfers, the water temperatures are very cold this time of year!!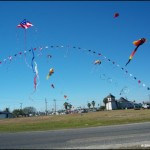 A vote was taken during our banquet whether to continue the tradition of this event and it was a unanimous YES!!  We Coastal Bend Skypirates will continue to improve on this event next year, firstly by finding and contracting a larger, newer, nicer host property to house as all, and secondly we are going to include a Kitemakers contest in the event.   We have a fantastic artistic populace here and we will use those local folks to "judge" the entries in respect to artful taste etc.   The contest rules will be written out and distributed well in advance of January 2009,  we will likely follow guidelines set up by none other than the  AKA  — go figure that??  We will post the "Rules"  on all the Texas club websites and message boards, and probably at Kitebuiler.com Forums with Steve's permission.  We Skypirates are glad to share our good fortune in winds and parks for those of you who can come, and although the event is TEXAS KITE CLUB FUN FLY all fliers are welcome to come and participate!!! Even if you are Yankees !!
Good winds always,
Dano Wright