Being A Part of Kiting History with the Drachen Foundation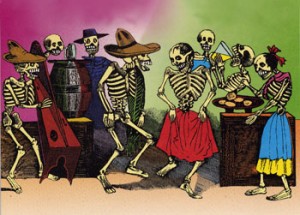 Drachen seems to always be writing about the past, but here is a perfect opportunity for us to talk about the history of kites and kiting which we are documenting in the present.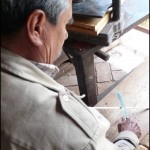 This fall, we invite all who are interested, to join us in witnessing and preserving a part of cultural kiting history in the area of Oaxaca, Mexico.  Current Drachen research has unveiled several cultural kiting traditions in Oaxaca, from decade old children's kites to that of an indigenous Indian village that uses kites to bring up large quantities of fish for their livelihood, as well as the tenth anniversary of hand papermaking for kites, by the internationally renown artist Francisco Toledo.  These amazing events will be presented during the Day of the Dead celebrations in Oaxaca, on October 27-November 3rd.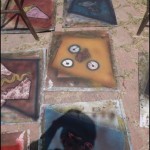 Francisco Toledo:A native of the Oaxacan area, this Mexican artist came to prominence when he was 19.  Combining his talent as an artist, his rich heritage stemming from growing up in a Zapotec family, he exhibits his talent of artisan and art traditions, evocative indigenous languages, and now, kites.  Creating a livelihood of paper making for a local village, he uses the quality of paper to make "childhood" style kites for sale to interested collectors.  These kites are special in many ways, constructed by hand, using the materials of the area, (their bamboo and the handmade papers of St. Agustin) and the original designs of Toledo himself.  (He has trained the paper coop to take his designs and reproduce them in quantity, using a stenciling and airbrush system.)
We will be hosted by Toledo and his staff in Oaxaca, visiting the paper/kite making facility outside of the city of Oaxaca, tour Toledo's works and his cultural facilities.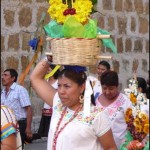 Kite Fishing of Juchican, Oaxaca: Through the research of Yale graduate and Drachen grant winner, Christopher Ornales, we will see first time film of the small fishing village, where people still make kites both for the Day of the Dead and uniquely, for fishing.  This area is extremely marginalized, even among indigenous communities, and peoples speak a language completed unconnected to Zapotec, or Mayan, known as "Ombeayuits" (our language) and the people call themselves Icots.
The Barrilettes Gigantes of Sumpango, Guatemala: The heritage of kite making is more than one area of Central American and we will bring two accomplished kite makers of Sumpango, Guatemala and their kites to Oaxaca for lecture and exhibition.  These barrileteros represent only one of the many kite groups who for decades have continued the tradition of making up to 18 meter circular kites out of tissue paper during the Day of the Dead celebration in Guatemala.
Join with Drachen as we take these tradition to contemporary times, conducing workshops in kitemaking with the handmade papers of St. Agustin.  Join paper expert, Hiromi Katayama connect the importance of these papers in kitemaking the world over.
This living tour of kiting will be offered to those interested on a first come first serve basis.  Sign up for the events will be done through the Drachen Foundation webpage, starting April 5th.  Log on to www.drachen.org and there will be a registration form to process your participation.
Flying your kites on the historical Indian ruins of Monte Alban:  Special permission from the government of Oaxaca/Mexico, will grant us a visit and kite flying at one of the most famous Zapotec Indian sites of Pre-Columbian times.
Did the Zapotecs have kite flying as part of their culture?  Speculate with us.
Contact:  Jessica@drachen.org
Drachen Foundation office:  206.282.4349