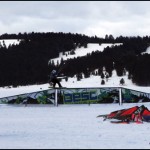 Did you know that there is a small group of kiteboarders who live in Bend Oregon, who call themselves The Bend Kite Crew.  So far, The Bend Kite Crew is made up of five kiteboard riders-Tim Carlson (Who knows how to cook delicious Mexican cuisine and grew up in Idaho), Steve Oshea (who is a shiztillian harmonica player from Australlia), Kirk Alan Patzlaff (who is originally from the Bay Area of California and is an awesome photographer, capturing kiters and majestic scenery where ever he adventures), Cale Benson (who moved to Bend from Hawaii and kites like a pro. His favorite jump is the method air) and Matt Willett (who is from Portland and jams hard on his mini guitar, which he plays backwards and upside down). They all met through NWKite.com in search of others who share their passion of kiteboarding.  These guys are crazy about kiteboarding and will drive for miles to find a windy spot to put up their kites and be one with nature.
During President's Day weekend, February 15th to February 18th, five of these adventurers crammed themselves and their gear in a truck and sojourned over 12 hours to Georgetown Lake Montana for the 5th Annual Montana Snowkite Rodeo.  They rented a cabin on the 2618 acre frozen lake that slept 11 people (6 other people met them there from Missoula Montana).  There are cabins all around Georgetown Lake, with awesome views of the festival that rent for $100 and up a night.  Georgetown Lake is bordered by the Pintler Mountain Range and the Flint Creek Mountain Range.  Snowmobile riders and ice fishermen  enjoy the frozen lake during the winter months.  During the summer you will find boaters, hikers, swimmers and campers frolicking around the lake in the Montana native sun.  To add a little adrenalin rush to your kite adventure daydreams, I can also tell you that it is windy during the winter and summer months, calling kite fliers, kite borders and windsurfers to the area all year round.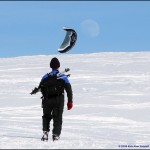 On Friday, when the Bend Kite Crew rolled into Georgetown Lake, there wasn't a trace of wind, so they hopped into the truck and headed to Mt. Hagen.  Mt. Hagen lies in the Big Hole Valley and is about an hour away from Georgetown Lake by car. Once again, they did not find wind at Mt. Hagen.  But, they did find huge fields of powder bordering the sides of the road, with no traffic, topped by a crystal-clear bluebird sky.  So, what does any crew of guys who have been packed like sardines for over 12 hours and are jonesing for some kind of perpetual motion on their kite do?  Don't try this at home!  They hooked their kite lines to the back bumper of the truck, strapped their snowboards on and glided through the powder as they took in all of the elements of the Big Sky Country.  Wind or no wind, adrenalin junkies will find a way.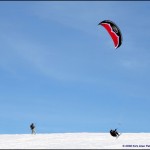 On the way back to their cabin on Georgetown Lake they stopped by the Sugar Loaf Soup Shack and devoured home-made chili, soup and fresh baked bread.  This little local best kept secret is worth the stop.  It has a simple, homey environment and everything they serve is home-made daily.  They have many hearty piping hot soup choices and mouthwatering fresh baked pies, including banana cream, blueberry and French silk.  If you decide to stop in and try the cuisine, you will need to go when they are open, which is Friday, Saturday or Sunday from 10am to 6 pm.  The number one best seller is their chili.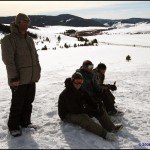 On Saturday morning the men woke up to the sweet sound of wind whistling by the windows and gusting on the lake.  It blew steadily at 15 mph with afternoon gusts of up to 25 mph.  It was the perfect weather condition to hold a kite boarding festival. The view of the huge colorful kites flying in the air against a breathtaking mountainous backdrop was a magical site to remember.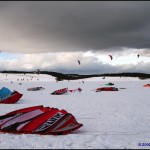 During the day, many of the attendees were satisfied by riding their kites across the expansive lake at their own pace, while others wanted a challenge and chose to compete.  There were 4 different competitive race divisions.  Brad Gordon from Washington was first place in the Men's Pro Ski, Dustin Smith from Montana took first in the Men's Pro Board, Maria Wirth from Montana was first in the Woman's Pro Board/Ski and Kris Hasbrouk from Montana took first place in the Men's Novice Board.
The kiters also enjoyed free demos from kite companies promoting their new kites for the year.  Sampling new models is a great way to see what kite fits your needs before you buy.  Kites for riding can range in price from $250 used to $1400 brand new. A kite boarder usually has about 3 to 5 kites in his or her quiver.  A certain size kite is launched, depending on what the wind speed is at the time, and wind speed can fluctuate too, making it tricky to decide kite size for a ride.  If the winds are strong, a smaller kite is used so that the rider is not overpowered.  If the winds are light, a larger kite captures more of the wind, which is needed to pull the weight of the kiter.  Whether a kite boarder has a small or large kite flying in the sky, if the wind suddenly turns off, the fun will be over when he finds he has to hike back from a ride with kite and board in hand.
There is a little bar called the Brown Derby, down the road from Georgetown Lake, that serves breakfast, lunch and dinner.  At night, during the festival, it is wall to wall kite boarders partying until 2:00 am.  You get the feeling that it is the most excitement the bar has seen in a long time, because everyone who kites is treated like a superstar. There are raffles for swag (free promotional merchandise from kite companies) and prizes given out for the people who placed in the competitions.  The Bend Kite Crew spent their evenings living it up at the Brown Derby until closing time.
On Sunday, the wind turned off at Georgetown Lake.  So, the Bend Kite Crew along with some other kite borders ventured back over to Mt. Hagan, where the wind blew lightly in Mountain Terrain all day long.  It was another majestic day of kiting with vast open land. The men sailed away through the snow and caught wind in their 15 meter kites as they jumped through the crisp clean air.
After the day's adventure, they stopped back by the Sugarloaf Soup Shack again and gobbled down gourmet piping hot soup with fresh bread.  A satisfying meal to finish off a more than satisfying 3 days of play in the wind and snow.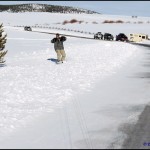 The Montana Snowkite Rodeo brought kiters all the way from Minnesota, North Dakota, Colorado, Wyoming, Washington, Utah, Idaho and Oregon.  Many friendships were started and will be maintained over the internet by email.  Nwkite.com is a kite boarding forum where kiters reveal where the best places are to find open land and epic wind conditions.  Kiters are thrilled to be the first pioneers in discovering new hot spots to enjoy.  Some do not want to post their great find in order to avoid an over population dominating the area.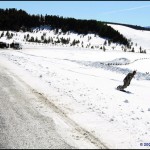 By Sunday night, The Bend Kite Crew were exhausted from 3 days of riding and 2 nights of partying at the Brown Derby.  Monday morning they repacked their gear and plopped in the truck, ready for the 12 hour commute back to Bend Oregon.  They all savored the memories of the beauty and hospitality experienced in Montana and plan on returning next year for the 6th Annual Montana Snowkite Rodeo.
Tanya Benson