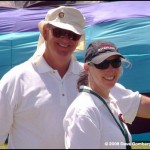 Regular Update readers have heard me rave about Guam before. Think of the best elements of Hawaii, Tokyo, and perhaps Arizona, and you begin to get the general idea. Great hotels, good food, great customer service and no tipping! But there is much more to this island territory than a Polynesian culture with Spanish influence where everyone speaks Japanese because of the influx of tourists from there. Guam also offers a near perfect kite event.
Start with a wide grassy plain at the edge of a white, palm lined beach. Then add warm, smooth breezes. You are at a historically significant national park – the site where US Marines came ashore to liberate the island in 1944.
The organization is run by warm, friendly, enthused people who actually listen to suggestions from guest kiters. It is a high profile event in the small community and everyone is aware of the festival. Both the Governor and national Congresswoman (yes – from DC!) attend each year.
The island is within reach of 20 different Pacific Rim nations, each with a unique kite culture. And finally, there is the cause – "Make a Wish" – that supports special requests from kids with life-threatening illnesses.
Wonderful people – great cause – perfect beach – international gathering — historical setting. It's perfect!! Oh, and did I mention the fliers get free fruit smoothies all afternoon??
This year, primary guests were Kevin and Linda Sanders of Australia, Bernhard "Drachen" Dingwerth and friends from Germany, first-timer Petra DeBack of Switzerland, Ray and Delores Bethell from Canada, Maasaki and Sachico Modegi of Japan, and Orlando Ongkingco, Larry DeGuzman of the Philippines, and Susan and I from "Mainland USA". The Sanders and Gombergs flew in direct from Thailand.
This was our fourth sojourn to Guam. It is an American territory, but so far from the States that you have to fly though Japan to get there. Despite the long, long trip, "Kites and Wishes" is one of our favorites. Ringing the field were more than 164 small banners. Each represented a "Wish Kid" from Guam, Rota, Tinian and Saipan. So many banners. It makes you stop and think.
Sunday night we gave the waterslide at the Outrigger Hotel one last workout. Then Monday morning we left for home. And thirty-some hours later we arrived home – still on Monday. Thank you International Date Line!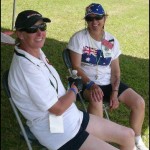 They say that Guam is where America 's day begins. When the sun comes up over the Mariana Islands on Monday morning, it is still Sunday Afternoon in New York. But packing to leave our hotel, we found ourselves wishing the day there would never end.
The extended Thailand/Guam Adventure presented a number of unique sights and experiences. But few were more startling than the semi-annual unveiling of my wife's legs. Note the tasteful color coordination between her calves and her shirt! But what is an Oregon girl to do when it has been raining for months at home and she finds herself on a warm, sunny kite field.
See you at a festival somewhere soon,
David Gomberg