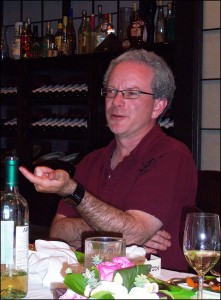 One of the things I have long enjoyed about reading this publication (before I stepped into my current role of Editor at Large…) has been the articles that show up from all over the globe. And this issue has that in spades with stops in China, Japan, Thailand, Guam, France and all over North America! And, I'm sitting here in Wildwood, New Jersey, putting the final touches on what is our 60th issue. Thats a pretty cool milestone!
Once I return home on Monday, I will have logged 14 flights in the space of one month, so for those who have helped get articles and pictures together for this issue, you have my huge thanks. A bunch of weeks at home is looking pretty good right now, but, you'll never find me complaining about kite fest travel.
For the last couple of issues in this space, I have mused on the lack of sunny weather and wondered when it would arrive once more and I think I can safely say that we are through snow and coldness, at least for 2008. Of course, I say this with my fingers crossed and by offering various platitudes to the weather gods of your choice. It was certainly a long winter for anyone located in North America, but, now that we are through it, it's time to dust off the kites and get some flying done! With that being said, of course we'd love to hear about where you have gone, what festivals or workshops you have attended and share the pictures from these happenings with the kiting world at large. Below under "Join the Team", you can find a good look at what we need with submissions and as always, we appreciate every single one of them. Without your input, this would be a small magazine indeed and I'm happy to report that issue by issue, the article count continues to climb, allowing all of us to experience what happens around the globe where kites are involved.
One of the things John has undertaken with his reworking of the Kitelife site is a unification of logins across all of the features. Now, you can login once and have your forum access, galleries, videos and all the other features membership brings with it. Maybe it's time to renew yours, or, as John is celebrating a birthday in June, any new yearly subscribers between May 29th and June 16th are being entered into a draw for a complete Revolution B-Series package! Check the Kitelife forum for further details on this giveaway, and always, check into the Kitelife Store to check out any new t shirt designs that may be lurking. And, more than anything else, we'd like to thank everyone for their patronage to the sites. Without you, there wouldn't be much point and we're grateful to every single one of you for your help over the years.
Cordially yours,
David Hathaway
Editor at Large
Kitelife Magazine
Next Prize Drawing to be held soon