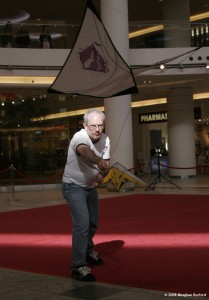 After a couple of issues of promising an exciting new look to Kitelife, voila! Welcome to the first issue produced entirely from scratch using the new design! John has been working his way backwards to convert all the old issues over to the new look, a process which we expect to take much of the summer but, in the end, a much more readable and easier to manage magazine! My hat is off to him, I know all too well just how involved this kind of conversion can be!
As I mentioned Summer above, I must say we have been reveling in here at the Kitelife offices as well, both locally and while we have been away at festivals. And in mere weeks, John and I are headed to England for two festivals, in both Portsmouth and Bristol, all part of Revolution's 20th Anniversary celebrations! We'll come back with full reports on both of these events and a huge amount of photographs as well.
While you are out at events this summer, think about submitting an article or some photographs for us to include in the next issue, our 62nd. The deadline for submissions will be September 15th and guidelines for submitting can be found here. We like to hear about any and all kite events, around the world so feel free to send in your own perspective!
And lastly, have you considered subscribing to Kitelife? Subscribing brings benefits, like entry into our monthly prize draws and better access to the large library of videos we have accumulated over the years! Plus, 100mb of storage for your own kite pictures! Details can be found here. And while you are at it, take a browse around the Kitelife Cafepress store as well, we've added a few new designs over the last few weeks, helping you to round out your summer kiting wardrobe!
Cordially yours,
David Hathaway
Editor at Large
Kitelife Magazine
Next Prize Drawing to be held soon!