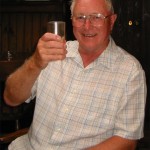 Editor's note : A true orginator in the world of kite design, David Davies invented one of the only quad line kites to be a completely different kite from the Revolution. Truly a joy to fly and now flown all over the world, this man will be missed by many. Below is from Con Engel's wonderful tribute to David, which can be seen here, including many more pictures and comments from David's friends around the world.
On Tuesday morning at 11:00 am on November 11, 2008, David Davies passed away. Present when David passed was his beloved wife Sue and family members at his home.
I came to know David in January 1997, when I attended the Kite Trade Show in Clearwater Beach, Florida. Walking down the beach that fateful January day, I saw a kite from a distance that instantly drew my attention… it was a Skydancer Black Rainbow quad line kite, with long flowing 45' matching tube tails. The way the kite flew, and interacted with the flier's input and control was truly amazing. As many fliers gathered around David Davies to talk with him about this new flying machine, they anxiously waited to have a go at flying it. When I finally had my turn at the controls of the Skydancer, it was nothing like I had ever flown before. I fell in love with the kite, and needless to say, I left Clearwater Beach with my very own Skydancer.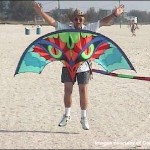 Over the next few months, I kept in touch with David, and started talking with him about sharing the joy of flying his kites with others in the US. And in the years to follow, I had the privilege of getting to know David as a business associate, a fellow kite flier, and most of all as a good friend. David had traveled to the US to promote his kites on only 4 occasions, but everyone who has ever flown, or had the pleasure of watching his beautiful kites dancing in the sky has felt his impact.
While visiting David and his wife Sue at their home in August of 2003, I had the chance to see a different side of David, as I had the chance to meet family members … One of a loving Husband, Father, and Grandfather. I also came to know that David had served in World War II, as a Glider Pilot. David was also an accomplished professional commercial photographer, which was his lifetime career before retiring. In the early '90s, David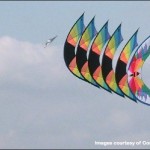 found a new love, and that was of kite flying, and making his Inter Active Kites, such as the SkyHawk, SkyEagle, Spectra, Enigma, Fijet, Bat, Ghost, Swift, his most famous Skydancer and many more.
David Davies was a dear friend and I will miss him very much, along with the many who have had the pleasure to get to know him throughout the years. My sincerest sympathy goes out to his wife Sue, and to all of David's family members. Although David is no longer here on Earth with us, I know that David will live on through his kites, and in the hearts of many. David was 82 years young!
In loving memory of you David!
Your friend over the pond,
Con Engels
Anyone wishes to send condolences;
here is info for David's wife:
Sue Davies
36 Lawrence Drive
Ickenham, Uxbridge
Middlesex UB10 8RW
United Kingdom