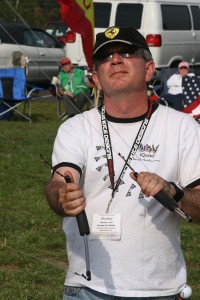 In a nice change of pace, this was one of the few issues I got to edit entirely from home without having to juggle being away somewhere with the "to do" list that accompanies the building of every issue, struggling with wireless connections and trying to efficiently edit all within one screen! Kind of a nice change given my travels wrapped up for the year once I returned from the Niagara International Kite Festival. And now? Nothing until South Padre Island. Maybe I can finish unpacking from my move now as well?
"Meet the New Boss, Same as the Old Boss" – And after this issue, I'm turning the reins of editing of the individual issues back over to John for the forseeable future. He's got some basic new ideas he wants to implement which will become evident in Issue 64 and he's got more time now so, back to him it shall go! It's been GREAT fun doing this over the last year and I'll still be around taking care of other editing duties as the official Assistant Editor. A huge thanks goes out to everyone I've worked with getting these together, without your help, articles and pictures, this would have been far harder.
And lastly, are you finding yourself stuck with what to get that special kite flyer on your list for Christmas? I'm sure you can find all kinds of inspiration in the Kitelife store, or maybe a membership to the site itself would make a good gift? Be sure to take time to enjoy your family and friends this coming holiday season and we'll be back in the New Year with all new articles, pictures and new features. Thanks again!
Cordially yours,
David Hathaway
Editor at Large
Kitelife Magazine
Next Prize Drawing to be held soon!