FlyNY 2009
There is a unique kite making competition in New York City this spring that is occurring outside of the kite world.
This is an extraordinary opportunity for some of our most talented kite makers to demonstrate to the outside world what a wealth of ability resides within the kite community.
FlyNY is an international kite design competition open to architects, engineers, artists, designers, and children. Participants will present their designs at a public kite flying event in Central Park on 18 April 2009. The event will include kite-making activities for community children, encouraging an inter-disciplinary conversation about the principles of design. A public exhibition and auction of distinguished designs will follow the event. Proceeds from the auction will benefit the New York Chapter of Architecture for Humanity.
Information, schedule, competition guidelines, auction, exhibit, contact, press, blog, and more are available at http://flyny.org
Initially I was thrilled at the prospect of a high profile kite making competition. Cross promotional events have great potential for the kite world. Then as I read through the web site and familiarized myself with the details, I became a little less thrilled.
The Competition Guidelines start off impressively enough by declaring:
"All kites must be of original design, conceived and constructed for FlyNY 2009."
"Kite designs can incorporate unconventional materials, recycled, organic, and biodegradable materials are encouraged."
"Kites can be any shape or size."
Then quickly lose all credibility with one single line:
"Kites should be designed with the intent to fly, but successful flight is not required."
There are also confusing statements like:
"Fighter kites will be immediately disqualified."
I'm looking forward to seeing how this event works out. I'm certainly wishing it well and hoping it will be a huge success. Sure there is room for improvement, but it's a great start!

SKYDOG

The 2009 KTAI Show (Kite Trade Association International) saw the introduction of a new kite manufacturing company by some old friends.
Alpha Dog Jim Christianson, formerly of Go Fly A Kite, Jim Cosca formerly of Premier Kites, and the real stalwarts of the kite world: Scott Sierakowski, Cheryl Morris, Frank Morrill, and veteran Dodd Gross have banded together to create Skydog Kites.
Skydog introduces itself as a new dog: "A new name with familiar faces, Skydog's team has over 100 years of experience in the specialty kite market! We have focused our passion and knowledge to create the world's best flying, highest quality, affordable kites and wind decor. Skydog Kites is proud to once again make kiting exciting and a regular scene on America's landscape. Healthy outdoor play is a major topic today and Skydog's products lead the trend."
Skydog has been thinking and acting green with its innovative packaging. Every kite comes in a reusable nylon carrying case with 300' of flying line and a swivel. Skydog kites boasts zero waste packaging with their products.
They deserve our best wishes and support. Skydog has an amazing amount of potential; they have an extraordinary amount of talent on board, an incredible amount of combined experience, and the absolute best logo I've ever seen!
Check them out at http://www.skydogkites.com

SILVERDART 100TH ANNIVERSAY
Like many inventors, scientists, and technology minded individuals of his time, Alexander Graham Bell was working single mindedly towards being the first to fly. Bell's team was eventually the first to fly in Canada, and theirs, as well as with other flight research, kites played an integral and valuable part in the research that led up to that flight.
Below is a brief account by Carlos Simoe of Ontario, Canada describing a rare and wonderful kite history opportunity.
25 November 2008
A group of kite fliers headed by Bob White recently visited the Russell Group Hanger In Niagara Falls Ontario. We went to get a look at the Silver Dart Airplane replica that is being built. The airplane should be ready for the 100 year celebration/centennial of the original flight of the Silver Dart on Feb 23, 1909. The Aerial Experiment Association was formed in 1907 to pursue manned flight. The team included Alexander G. Bell, Glenn Curtiss, Douglas McCurdy, Casey Baldwin and Lt. Thomas Selfridge.

Move almost 100 years forward to Doug Jermyn CEO of the Silver Dart 2009 Replica Group. Doug and a group of faithful builders have been working on this project since 2005. The plane should be finished soon for a test flight. The plane will then be shipped to Baddeck Nova Scotia for the Centennial flight on Feb 23, 2009. The replica plane will take off from the frozen ice just as the original Silver dart did some 100 years ago.

So sit back and enjoy the slide show of our visit on Saturday November 22, 2008. I have tried my best to be accurate with the captions. We are dealing with info that is over 100 years old. So some of the info is pretty accurate while other bits are best guesses. The captions may be a little lengthy but there is simply tons of history when you are talking about the first manned flight in Canada!
http://good-times.webshots.com/album/568888198aAAowH
Bob White has since updated us with news from Doug Jermyn, project leader, of the Silver Dart Replica Project.
Today, January 13th, we installed the rear rudder assembly and for the first time in 4 1/2 years the aircraft looks complete. The only work remaining is to lace up the center top wing panel and install the rudder and aileron control cables. We expect to complete that work on Jan 17. I've attached two photos of our "baby"! Our vice president Ray Larson is trying on the cockpit for size! Now we need the weather to cooperate so we can get our test flying done by the end of the month.
The replica team is working hard to ensure a "low level test flights that will be accomplished prior to disassembly and shipping to Bras d'Or for the projected Feb. 23, 2009 recreation flight for the 100th Anniversary of the original Silver Dart flight".
Bob White reminds us that:
…the original Silver Dart was constructed in Hammondsport NY and was test flown there by Glenn H. Curtiss and Douglas McCurdy in that area prior to being shipped to Bras d'Or for the flights with the Bell family in attendance. Glenn Curtiss and his staff were the primary builders of the aerodrome and Douglas McCurdy was the designated leader of that project. A number of improvements were made to the Silver Dart based on what had been learned with the June Bug, the predecessor craft of the AEA.

The June Bug had flown successfully on July 4, 1908. That flight, as you will recall, won the Scientific American Prize for a publicly witnessed flight over one kilometre in length. This was the first time such a public flight occurred and it exceeded all distances covered by the Wright Brothers to that point. Thus the AEA, using ailerons for lateral stability made significant advancements in the world of aviation for all time to come.

We are all pulling for the Silver Dart Replica team and we are anxiously waiting to hear of their successful flight!

THE ULTIMATE KITE SHOW
Peter Lynn's latest project is an attempt to circumvent the wind/weather issue at kite festivals.
According to their web site http://www.ultimatekiteshow.com
"Winds over 30 mph are a challenge but zero winds and rain do not faze us at all! "
The Ultimate Kite Show describes itself as:
"…a dynamic new specialised entertainment and promotional marketing company set up to provide professional displays on the ocean, harbor, beach (or park). Our unique display, using very large 3-dimensional creature and sea themed kites launched from and towed by powerboats, provides an impressive visual spectacle, stand alone or as support for existing events…"
The founding team members of the 'Ultimate Kite Show' come from various sectors of the kite world with impressive and unique skills.
Peter Lynn's November 2008 Newsletter describes the Ultimate Kite Show this way:
Our plan to escape the tyranny of wind (especially lack of) by towing big kites around behind boats- the 'Tow Show'-has now officially been named UKS- the Ultimate Kite Show.

Paul Reynolds is our general manager, Stefan Cook is operations manager, I'm the manager of silly ideas and our backers are the Al Farsi family from Kuwait. Plus, we have total support from Peter Lynn kites Ltd (Jenny Cook and Craig Hansen), and, we hope, all other large kite designers and makers.

We had been intending to develop this business in accordance with a detailed business plan in optimally organised stages; beginning with kite launching systems development during our NZ summer, progressing to test shows in selected locations world-wide from March '09 onwards and then to marketing and so on. We even have a budget- which is a new experience for me!

However, an opportunity came up to have a go at the Asian Beach Games in Bali, in October- before we were even officially in existence as a business entity.

Why not! So we did lot of the reason for our going with this opportunity was because Bali is just about the best place in the world to fly kites…
Peter's monthly newsletters are posted at http://peterlynnkites.com
The 'Ultimate Kite Show' team welcomes challenges and hopes to do both one of a kind projects and continual on-going events. They can design a program to fit a specific existing event or they can produce a high impact stand alone show.
They've had some minor setbacks, like when the camera equipment containing all the raw footage of the Asian Beach Games, for their promotional video was stolen! But they've taken these minor problems as opportunities and use it to do it better next time.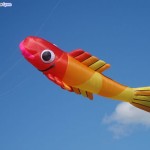 Bruce Flora and Kiteman Productions in Florida have done this sort of show for almost 20 years now at Disney, Universal and other locations. He has developed some unique techniques and has advanced the tow show concept a great deal.
Regardless of who is doing what where- the more kites that cross over and bring exposure to novel areas, while exposing new segments of the population, creates cross promotion and every aspect of kite flying benefits greatly.

KITE FLYING PRESIDENT
No matter whom you voted for this past presidential election, or what side of the isle you sit on…I hope we can all agree that having a kite flying president is a good thing!
While living in Indonesia as a child Barack Obama flew kites with his friends. From about 1967 to 1975 Obama then aged about 5 – 13 yrs of age wrote in his first book about his days as a kite flyer.
Let's hope his kite flying skills aid him as he untangles the current mess.

KITE BAN

Monday, January 26, 2009 Daily Times
Cultural events to mark Jashn-e-Baharan
* Home secretary says no decision taken to allow kite flying
* Kite flying association says Basant on March 1
* Organiser says event generates millions of rupees
By Ali Usman
LAHORE: Jashn-e-Baharan will be marked this year with cultural activities as the Punjab government has not reached a decision about lifting a ban on kite flying.
Home Secretary Nadeem Hassan Asif presided over a meeting at the Punjab Secretariat on Saturday. He said no decision regarding the lifting of the ban was taken. A source in the Home Department said kite flying was not allowed, however, Jashn-e-Baharan would be organised to welcome spring. He said sporting events, food festivals and cultural shows would be organised.
Chief Minister Shahbaz Sharif had sought a report on the arrangements for the event, but he had not given any orders regarding the ban, he said.
Basant: The Kite Flying Association general secretary told Daily Times that Basant would be celebrated on March 1. He said he had visited the offices of the district coordination office and the commissioner but they had not been available. He said the government should lift the ban, adding that many people earned a living by selling products related to kite flying and the festival of Basant.
Millions: Basant organiser Syed Zulfiqar said the event generated millions of rupees in revenue and projected a softer image of Pakistan. He said it would be sad if the event was eliminated and people were not allowed to fly kites.
Newsreel has been compiled by Meg Albers for Kitelife.com Jan 2009