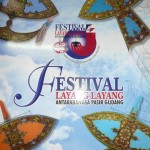 Getting to Malaysia isn't hard. It just takes time. In my own case, I flew from Seattle to Tokyo, and then connected to Singapore. That's about 30 hours of travel time. I arrived and linked up with the rest of the group at mid-night. Our driver arrived at three and we were delivered to our hotel at five – just in time for an early breakfast. That meant we could then shower and head for the kite field.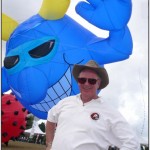 The great thing about these kinds of gatherings is that you see so many familiar faces from around the kite world. Good friends from China, New Zealand, Thailand, Japan, Germany, Italy, Australia, and Canada were already on the field.
The large grassy flying field was quickly filled up by 200 fliers. And that meant that all kinds of kite styles and traditions were sharing the same air space. Large inflatables mingled freely with art kites, Asian fighters, sport kites, and even buggies. It was a varied and sometimes challenging form of kite anarchy. Anything goes!
Our first piece out was the Giant Blue Meanie. She had not been flown since returning from South Africa but seemed none-the-worse for her adventure. (See "The Rest of the Story" from last December.
The theme of the festival this year was international peace. On our first flying day, a reporter asked if I thought kites could help promote international harmony. I replied that it would not be a bad thing if more politicians flew kites. After all, we were here on a field with dozens of different nations represented, different cultures and traditions, and different flying styles. Yes, we got into tangles. And when we did, we talked to each other, untangled things, and went forward as friends.
Dominating the vista were three new kites from Peter Lynn. We saw his delightful Tiger, a new solid colored Ray, and a menacing Crocodile. Several of the Fish had also been outfitted with extended tails to elminate the drogue and increase stability. (See above.)
The Tiger was obviously a variant of the Cat design and looked great. The Ray has been developed for Peter's new "tow show and is engineered for water based launches with minimal drag. The Crocodile adds a new head, claws, and texture to a Gecko platform. We jokingly called it the GecoDile. But we all admired the result.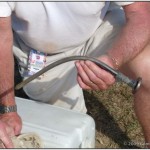 Winds remained hot and turbulent for four days.
We staked out a set of three Giant Spikey Balls which attracted a constant stream of couples posing for photos. Portable anchors on the field strained to hold the load. We supplemented them with heavy stakes which we'd carried from home. This held the show intact, but not without some effort…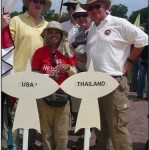 The festival peaked with a performance for the Sultan of Johor who met with each delegation. He then retired to a pavilion to watch the show and a Chinese team promptly dropped a large kite into the entourage.
Security men scrambled, the Sultan laughed, and the Chinese presented the big kite as a gift.
Procession
I'd been asked to sit in the "VIP" section which means I couldn't see anything, was blocked off from the slight cooling breeze by a bank of photographers, and didn't get to meet the Sultan. But I did get to be a VIP….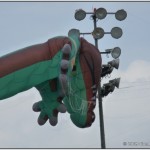 Later in the day, GecoDile snagged a lamppost. It stayed there through the afternoon until a crane could be found to disengage and lower it safely.
Some prominent fliers were missing on the field that day. An epidemic of food poisoning had ravaged the international contingent and many were back in their rooms stumbling back-and forth between their beds and the bathroom.
Sorry — no photos of that!
On the final afternoon, just as we were lining up for the Rokkaku Battle, the rain began. Fliers frantically pulled fabric under cover hoping to avoid taking heavy wet kites to the airport the next day. Our team packed everything into waterproof Wonder Bags and carried seven of them through the downpour to our waiting ride. We then retired to the hotel to dress for the final banquet.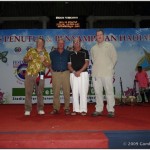 That night honored old friend Shakib Gunn of the Singapore Kite Association who had passed away the week before. Speeches were made, hugs exchanged, and awards presented. The GKPI Team was recognized for their "harmonious and colorful presentation". But we had no idea which of our kites the judges had liked…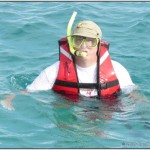 The festival allowed a bonus day and organized a side trip to the Sibu Island Resort. There we enjoyed great food, snorkeling, massages, and traditional entertainment. The night ended with a frightful round of karaoke. I sang Cole Porter's Anything Goes. I think the team was surprised to see a kite at the end of the onscreen video.
Our ride back to Singapore departed at 2:30 the next morning and flights to Japan lifted off at 7:30. We're now in the air and headed home. Susie should be waiting when I touch down.
Pasir Gudang was a great event and I'm glad I went. Yes, it was hot. The turbulent winds made flying challenging. And my singing leaves much to be desired. But these minor inconveniences were more than overcome by the experience, the fine organization, the professionalism and camaraderie of a great group of kiters, and the friendly Malaysian people.
Check back in two weeks when the Update will feature photos of the PG Kite Museum and the wonderful local kites.
At six a.m. Saturday, we fly to Texas for the Zilker Festival. Such is the somewhat crazy like of an international kite vagabond.