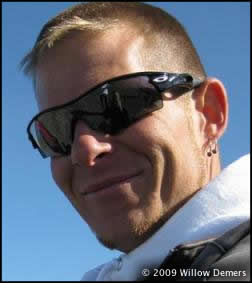 Wow, can you believe this issue marks our 11th year as an Internet magazine? Still run by kitefliers, for kitefliers like it was in the beginning, and while the variety and quality of content may fluctuate as it does with any publication, we've always tried to deliver a real "from the streets" kind of flavor, full of the personalities who are kind enough to share their personal insights, stories and skills, many of whom have years of experience in kiting.
One novel addition we've made with this issue of Kitelife is our new kite comics which are being created by Dan Thompson… It only seems appropriate for any publication to have a funny page, and we really look forward to seeing what Dan develops as he becomes more familiar with the subject matter kiting provides. We heartily welcome any suggestions, short YouTube videos or inspirational photographs that you think will make good fodder for a cartoonist, email me direct by clicking on my name below.
Also, I feel moved to remind our readers that there is an incredible wealth of information within the Kitelife web site encompassing a nearly infinite number of kiting topics, as well as hundreds of videos spanning from 1988 to present.
As you go through this latest issue of Kitelife, I hope you'll be pleased to see that we've stopped using the tiny square thumbnails for our articles (as seen in issue 64) – we were trying out one way to apply the new Lightbox system where when you click, the larger images fade or grow into your screen and have since found an easier way to use it on our end without compromising the thumbnail presentation.
You'll also notice that photos that are in a sequence (i.e. 3 across, or in a column) will allow you to slideshow through that particular group of images either with your L-R arrow keys or by clicking the "next" button that appears on grouped photos, all without closing the viewer… In the dedicated photo galleries at the bottom of each issue index, simply due to the larger number of images and no need for formatting, we're still using the quickest application of Lightbox we have available (which is also a little more feature-rich).
As always, I'd like to extend my heartfelt gratitude to not only our Kitelife sponsors (scrolling on the right), but to our loyal Kitelife Subscribers as well… The support and comments that come in from the kiting community at large never fail to move me, I value every bit of input and critique we receive, keep it coming!
Cordially yours,
John Barresi
Editor/Publisher
Kitelife Magazine
Next Prize Drawing to be held soon!