I first had the pleasure of meeting Paul de Bakker nearly four years ago in Lincoln City, Oregon. Paul was one of the "Invited Fliers" at the Indoor Kite Festival Lincoln City puts on each year, and we sort of hit it off so to speak. During that memorable event, Paul flew some of the most amazing dual-line indoor performances, with a style all his own and flying on a kite he'd designed and built himself – I was certainly very impressed with this fine young man!
Over those years however, Paul has "progressed" a bit, teaming up with Hunter Brown to form Focus Kite Designs in Wilmington, North Carolina. And the kites Focus is now producing are very well built and attractive, wondrous fliers, and there's a promise of more fine Focus Kites to come. So Kitelife has traded on a bit of friendship here and asked Paul to give us the solid "inside" info on himself and also about the beginnings of Focus Kite Designs.
Okay, Paul. Let's start this interview off the easy way. How did you first get started in organized kiting? When did that happen, what got you started, and what really grabbed your interest so that you stayed?
Well… It was the summer of 1992… Not so sure it was all that organized, haha, but that's when I first picked up somebody else's Speedwing. The silent speed of that kite, the control at my fingertips, it impressed me. Also the fact that all you needed was that kite, a bit of wind and some room intrigued me. It had a great simplicity/fun ratio!

Once you got rolling, who did you fly with and who acted as your teacher or mentor? Did you join a club, or hang out with a group of fliers, or just fly alone?
Initially, that summer and fall, it was the crew in Zeeland (an estuary in the South-West corner of Holland where I spent my summers) that I hung out with. A little bit later, I joined the Amsterdam crew since I lived there the rest of the year.
Sooner or later, you got to the point where you wanted to compete. Was that a natural outgrowth of flying, or did someone approach you directly to start competing? Tell us about your early comps, Paul.
The Amsterdam group had the more "serious" fliers and in that group I met Martin Baks and Alex Liu. The three of us started to fly together more often and in 1994 we all entered our first competition. Flying against and with the European legend Robo Spitters, I was horribly intimidated and finished gloriously last.

Okay – by this time, you're firmly entrenched in the Sport Kite competition scheme in the Netherlands. And about now you probably have gathered some sponsors, and be well on your way in that regard. Tell us how the sponsorship deals got started and what all that entails.
My first competition was late '94, we used the whole '95 season to learn and to get beaten some more and in the spring of '96, which later turned out to be the last season of official competitions in Holland for a couple of years, I managed to place second at the Dutch Nationals, behind Robo spitters (who went on to win the European Championships that year).
Then, in June, at the Scheveningen Kite festival, I met with the crew from Level One, who had come out in full force with a bunch of awesome freestyle fliers, Daniel Wolfinger being the most well known one those days. Apparently, their designer had been watching me for a bit and we got to chat. I was flying my own designs at the time, loosely based on the Edge kites and he had seen the kites fly, wondering what they were. Before I really knew it, I had their catalogue in my hand and the offer to pick some kites… It was, initially, a very loose and non-committal agreement, no contracts, no promises. Just a "fly our kites and have fun."

Of course, Holland is a rather small European country, so it probably wasn't long before you were competing outside of the Netherlands. Where did you travel to compete – what other countries? And when did you decide that you wanted to join the international competitions? So where else have you travelled to compete? The Caribbean? The United States? The Orient? What other parts of the world?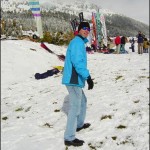 As I touched on earlier, the organizing body for the Dutch comps fell apart due to internal tension. That, combined with my new German sponsor opened the door for me to start visiting festivals and comps in Germany and Switzerland. We're talking '97, '98 now. Crazy fun those years, with some seriously and not-so-seriously crazy people. Of course, the fact that I was about 20 now helped as well, haha!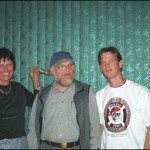 In hindsight, those years were my forming years as a kite flier and in many ways, as a person. I was starting to get better results in competition, but I wasn't a winner, a good flier but not a "killer". I have been called "the best flier that has never won" in those days. I have collected a long row of second places during those years.
Of course, for Level One that didn't really matter since I was very approachable for their customers, good enough to be better than they were but not so good that it was intimidating to them. In 1998, via Level One, I got a 6 month internship with Avia Sport in NC, perfectly blending my college education with the kite industry.

And eventually you're really pretty integrated into the competition scheme. What did the associations with other pilots, this "camaraderie," mean to you? And who were the "Hot" pilots you always ended up competing against?
The Level One crew was a very close group and to this day, I count the owner and chief designer, Jens Frank, as one of my few close personal friends. I was always the youngest one in the group so after I started traveling with them, I grew up a lot quicker, haha!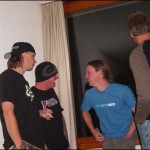 Some of the great fliers of those days… Jonas Seitz, Stefan Furter, Daniel Wolfinger, Robo Spitters, Patrick "Speedy" Guggenheim and Carl Robertshaw. I learned a lot from watching and hanging out with Stefan, Daniel, and Robo. Their style and the way they used the music and the kites was awesome and quite frankly, with one or two exceptions, I haven't seen it done better than what those three did.
Another inspiration to me in those years was Curtis Mitchell. Never seen anyone with his style and technique indoors.

What were your favorite festivals and/or competitions? Tell us a bit about them, please. And is there any event that you missed but would have dearly loved to attend?
Always loved to go to Germany. Great, well organized festivals with the competitions integrated, lots of fliers and competitors, great parties at night… yup… that was my scene… 😉 The Alps Cup in Switzerland, jawdropping location… The North Sea Cup in Holland, my first "big name" win in 2000… The 3 week tour through Colombia in 1999, flying demos everywhere, indoor and outdoor… and the Outer Banks competition in Kitty Hawk, NC. It was my first competition in the USA in 1998 and a historical location to have the festival and competition.
I was selected to represent Europe for the first World Championships in 2001, to be held in Malaysia. Turns out, they couldn't get the financing done and the event got canceled, fairly last minute as I recall. That was one event that I would have loved to attend.

Time to switch our focus a little bit – to designing and building kites. When did you first start designing and building kites? Presumably, you started to develop kites either as a less-expensive way of getting good kites? Or perhaps because you found you wanted to build kites with features that weren't generally available to you otherwise? What was the motivation – and how successful were you when you first started?
Grin, you guessed it… I had Speed Wings and a Stranger, which were great kites but not the best tools for competition flying. Of course, I was in High school and penniless.
The great American teams of the day flew with the Edges and Reactors so, based on pictures in magazines, I started making kites that sort of looked like those and after a bunch of trial and error, I had a standard and high wind kite that did really well for those days (and my experience level, it wasn't difficult for the kite to be better than me!).
It's not so much that the kites I built up to that point were that great but I developed my method of working. The way I do things when I set out to make a new kite was formed in those early years.

Soon however, you ended up making a name for yourself as a sort of "hobbiest" kite-designer/builder. When did you first think about designing kites for others instead of just yourself, and who did you work with/for to make that happen – and how successful were you? Eventually however, you found yourself involved in the creation of sport kites for manufacture/sale full-time, purely as a job and a "business." How did that all occur, and how successful was the business? Which kites were you involved with that made a real impact on the market? Which ones were/are your "favorites?"
After I got "signed " by Level One and my interaction with Jens developed, they realized I was very eager to help them and do more than flying, so they started to utilize me initially to give feedback on Jens' new designs. After he saw a video of me flying indoors with a reframed version of one of their outdoor kites, he decided LO needed a dedicated indoor kite and in a 3 week trip to Germany in 1997, the Amazing was born. From that moment on, I had my hand in literally every kite LO produced until 2001.
My ties with AviaSport had grown tighter and after I graduated in 2000, it was time to look for a full time job. LO couldn't hire me full time, so I chose to work for Avia and Cavaliers du Ciel from France, who were working together closely at the time. The most well known project there was the Ticket, which won best new kite award at the KTAI-show in 2001 and has been developed by Ken McNeill (of Blue Moon and Aerie fame) and myself.
All in all, from 1996 until 2003 I had been involved professionally with some of the most well-known and respected names in the business and it enabled me to have an invaluable learning experience, both in the kite industry, as well as in life.

So, that pretty much brings us up to date Paul, with only two exceptions – those being your decision to immigrate to the United States, and the formation of your own kite company – Focus Kite Designs. Let's take them one at a time… What was it that motivated you to relocate across the pond? What were the factors involved? And how long did it take you to actually make the move across the Atlantic Ocean, once you decided you wanted to move to America?
During my travels through the States, I had met a girl, who became my girlfriend and later my wife. From 2001 through 2003, we did the long distance thing and in the spring of 2003, she moved to Holland with me, where I had found an engineering job, outside the kite business.
Kites still were a big part of my life and I never really stopped playing and tinkering with them. I started thinking about starting my own label but didn't want to do it by myself. I really needed somebody to compliment me in the areas that I knew weren't my strong points.
I had been flying at festivals and competitions with Barry Zoet, an up-and-coming Dutch flyer and in him I saw the enthusiasm and fire of a new flier, with fresh ideas. Our friendship developed and we decided to start our own business in 2004. Sadly, it was not to be. Literally two weeks before our first official presentation Barry passed away totally unexpectedly. Needless to say, kites and the new business were not the most important things anymore for a long time. I did a couple of events, but my heart wasn't really in it.
A year later, at the 2005 Belgium Cup I flew my most surreal competition ever. In a very strong international field and with very little preparation, I flew to a first place Overall, at Barry's last event one year earlier. That weekend was a closure for me and the fire had returned again.
A couple of months later, after more than 2 years in Holland, my girlfriend and I got married and we decided to move back to the States. In June 2006 we made the move to Wilmington, North Carolina.

And how did the formation of Focus Kite Designs come about? Or perhaps the word "association" instead of "formation" is a more meaningful word? How and when did you meet Hunter Brown, and when did the two of you eventually decide that you wanted to create a firm to design/build/sell kites together?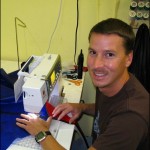 Hunter and I had known one another for years, him being a kite store owner and me a factory-rep, you're bound to run into one another at tradeshows and events. We had a memorable fly together where we both sat in the trunk of a driving Jeep and flew kites on the windless demo day of the 2001 KTAI-show in the desert of Nevada.
After my wife and I decided to move to the States, Wilmington and Tampa were the two options. We decided to take a two-week trip to both locations and check things out. Hunter welcomed us in Wilmington, we got to talk and it turned out Hunter wanted to start something similar to what I did two years earlier. The seeds for Focus and a life in Wilmington were planted and we never made it to Tampa…

I know from friendly one-on-one discussions that you're still in the infancy in some ways with Focus Kites. So tell us what still needs doing, and what's available NOW – including (a) product kites, (b) additional products if any, (c) "services" such as festival attendances or "demo" sessions, or kite "consulting" services, and (d) anything else Focus Kites offers to the kiting community.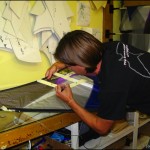 What still needs doing? As we are a growing company, we are constantly learning how to improve upon our designs, production and customer service. We strive to be the best we can be. Having said that, we are driven, experienced and pretty good in putting ourselves in the shoes of the customer.
We are growing in customer awareness and have the products to back the interest up. That, combined with us trying to do things a touch different makes us a unique company. We are ever improving and expanding our line of products, both in quality as well as diversity.
We will be starting a demo program so that folks who we can't meet at the events we attend, will have the chance to test our kites as well.
Focus "officially" presented itself last year at the convention in Gettysburg, after preparing for our launch for more than a year. We intend to continue attending as many events as possible this year and get to know as many fliers personally as we can.

Finally Paul, here's your opportunity to brag a little… Where do you see Focus Kite Designs going over the coming years? I'm assuming you'll continue to offer a competitive stable of products. I'll also expect that you and Hunter will continue to produce kites in-house until the demand for Focus Kites exceeds your ability to meet it. Give us your "best guess" opinions or "hopes" about how you wish/expect Focus Kites to grow.
We have sport kites, indoor as well as outdoor. We have single line kites that can be flown statically or dynamically in big and small variations. What I am getting at is that we like to be diverse and make an effort to cater to every kite flier, whatever their interest or the size of their wallet.
We make all our kites in-house and if it says anything about the manufacturing quality, at last year's National kite making competition, we decided to enter a stock, out-of-the-bin sport kite. We won our division. That is something that makes us very proud and something that is available to everyone who chooses to fly one of our kites. Haha, enough bragging already??
We can only hope to reach the point where the two of us can't handle demand by ourselves anymore and we are making preparations for that transition. In the meantime, your Focus kite will be made by Hunter and myself. From a product perspective, we are not done widening our line-up yet, so expect more and different kites in the future!
Also, where can interested people find Focus kites, who has them for sale, and are Focus "demo kites" available for a try-out? If so Paul, how do our Kitelife readers who are curious get their hands on one? Oh, and I suppose now is probably a good time to mention the website (www.focuskites.com) and ask if it's okay if interested kite pilots contact you directly…
Hunter and I have opted for a direct sales model, because we wanted our kites to be affordable and at the same time be "made in the USA." The scale with which we started out lent itself perfectly for that scenario.
For the time being, having every aspect of our business in our own hands works very well for us. We would like to work with retailers but in the current market, it's just not there for more parties to have a piece of the pie. It would thin the margin to an unacceptable and unfair level for both Focus, as well as the retailer. Having said that, we are honored by the many dealer requests we have gotten and are looking into ways of making it feasible for everyone involved to have a dealer program.
Also, as was said before, very soon we will have a demo program in place to cater to anyone interested in flying one of our kites.
So yes, please contact us directly, either by phone or by email. We look forward to getting to know you!

Okay, we always like to finish these Profiles with a few last questions about the individuals. So I've heard you say something to the effect that "Indoor Flying" is your favorite kind of sport kite flying. What is it about Indoor flying that interests or intrigues you? How does that differ from your flying outdoors?
Funny that you remembered that, Dave! Yes, I did say that. Although NOTHING beats a nice sunset freestyle session in a nice 7mph wind, on a competitive and demonstration level I see many advantages in indoor over outdoor flying.
For one, the lack of wind makes for equal opportunities for every flier, crucial in a competition. The element of material choice is gone too, no more stress about "what kite and what line to choose and what if the wind changes?" You are able to focus solely on your performance, which can only improve your flying.
From an audience perspective, the setting indoors is typically much more intimate. People can hear the speaker and the performance music better and, maybe most important, they'll see you and the kite at the same time, separated by 14ft lines only. That shows the connection between flyer and kite much better and adds the element of art to the sport. What the flier does, how he dresses and moves, becomes more important now and makes for a much more complete audio-visual "package." Ideally, flier, kite, and music become one and when that happens, the crowd is right there to "live" that dance with you.

Also, can you tell us how you – a Sport Kiter – came to design such a fascinating SLK (Single line kite) in the Skate? How did that design effort all come about? And, would you please tell us a bit about how the evolution of the original Skate SLK transformed itself into the fabulous new Manta? (I cannot wait to get my hands on one of those, Paul!)
And you know you will, too!!
The Skate was inspired by an old and forgotten concept by Curtis Mitchell. We started playing with it and in all its roughness, saw the possibilities of an active single line kite, indoors and outdoors. After several incarnations, and a final touch added by Hunter, it became the smooth and versatile flyer it is now, with its characteristic "skate" silhouette.
After being received so well last year, we knew that we had to expand upon the platform and after talking to original Skate fliers, we realized that there was a group of people that did not necessarily want to fly the Skate around all the time, but have it sit statically from time to time as well.
Of course, a 66" span kite disappears quickly on 300ft of line, so we decided to build a 10+ ft version.
Interestingly, development has come full circle, and we found out that the Manta will fly actively beautifully and gracefully indoors as well as outdoors.
And, have you any special Paul "favorites" among the kites you have created? Which ones stand out in your mind, and why? Which ones will always be there in your "A" bag, just waiting for the right time to fly away – and take your thoughts and dreams flying right up there with them?
Poetically said… Of course, I love every kite we designed, otherwise it wouldn't have been made the way it is. Every kite goes through so much testing, you can't NOT love them. It's really that simple.
But I have to admit that there are a few standouts for me. My outdoor favorite is our freestyle/trick kite the Hydra, my indoor favorite the Reflection, and for relaxed, non-focused flying and uniqueness, the Skate…
And to end it all, if I could magically transport you to the "perfect" kite-flying place – where would you like to end the Perfect Kite Flying Day? Location… Time of Day… Wind/Weather conditions… Other people around you??? (No – Kitelife will NOT be paying for your airfare and accommodations, but maybe we'd join you there if the opportunity all comes together somehow!)
Location? Any nice, wide beach at sunset with a steady 7mph from the ocean at sunset and 65+ degrees will do just fine, thankyouverymuch!
As far as people around me, so many people from the past and present come to mind, I really can't name them all but if you read this, you know I mean you!
I'll make one exception… If magically the opportunity would arise, I would really like the chance to have one last flying session with Barry, on IJmuiden beach….
Paul, thank you SO much! Kitelife is always pleased to feature the real "Movers and Shakers" in the kiting community, and your thoughts and comments above show that you and Hunter and Focus Kite Designs are already a strong, integrated part of that kiting community. And in addition (to add a personal note, here), I'm most delighted to count you as a friend, and also as a friend of all kite fliers everywhere. Best of luck to you and Focus in the coming months and years.
To our readers here at Kitelife, for more information about Paul and Focus Kites, please be sure to visit their web site.
Interview by David "Geezer Shattuck"