They say all good things must come to an end, but we sure weren't ready for this year's festival to end. It was one of the best if not the best festivals we've had on the Island. Normally, we have one good weather day to fly and one questionable or really bad weather day to deal with. This year we even gambled with adding a third day to the equation for the Rev Clinic with iQuad, and we actually hit the jackpot. Mother Nature smiled upon us with three gorgeous days of kite flying. It was awesome.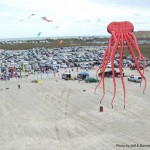 This was the 9th Annual SPI Kite Fest put on by B & S Kites, Bill and Susie Doan, on South Padre Island, Texas. It's held on the flats which are on the bay side of the Island just north of the Convention Centre. The kite fest has become a must-do event for our Winter Texans, and some come on chartered buses from their RV parks to enjoy the festivities. The crowds just keep on growing because the Winter Texans that have discovered the festival have started bringing their family and friends to see the extravaganza. Many of these Winter Texans have now become kite fliers, and several of them perform at our festival.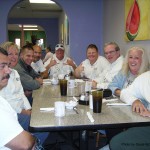 Friday Morning several of us ended up at the Grapevine, which has become the kiters' routine breakfast hangout over the years. It was a family reunion of sorts getting to see some of the kite gang that we only see once or twice a year. iQuad was there along with many of the Central Texas group of fliers. After eating, it was time to head out to the flats for our very first Rev Clinic held in Texas. We were all so excited. The ages of our group varied between 18 and somewhere in the 80s. I won't put names to the numbers, though, but it was a well-rounded group to prove that it doesn't matter what age you are to be able to go fly a kite.
Right before the Rev Clinic started, there was a big surprise for 18-year old Cali Shairrick who thought she was just there to watch one of her parents take the clinic until Mike Swaim handed her a Rev and told her to go fly a kite. She was thrilled, especially when she got some one-on-one instruction from John Barresi. The clinic was great, and we learned a lot from it. My greatest lesson was winding and unwinding lines. I always have a bird's nest made out of mine, but after they taught us the "trick," not a problem. We spent the afternoon in larger groups flying together and learning some team flying. It was great to see everyone laughing and enjoying themselves through that. The group actually did a good job. We did pass-throughs, and not a kite went down that I noticed. Way to go guys. Of course, the favorite move is always the Ball and Burst. They just look so great. When the clinic wrapped up, iQuad gave us a sneak peek at their new routine as they ran it a couple of times. It's a super routine guys. With the help of our Region 8 director, Gayle Woodul, and her iPod, we were able to crank the music up and enjoy. Oh, by the way, Gayle is now flying quads. She was right in the middle of the clinic learning it all.
That same afternoon while we were all busy flying our Revs, there were several people involved in a kite-making workshop. Sis and Dick Vogel did a workshop on making a kite arch. They had Sis, Carol Ellis, and Bill Doan manning the sewing machines. Each person was given a couple of kites to put together and sew onto a line. Can't wait to start seeing a lot of arches at our club flys.
After the Rev clinic and the workshop wrapped up, several of us headed to our local brewery, Padre Island Brewing Company, to unwind, eat, and catch up on what's been going on in everyone's life since we last were together. There had been quite a bit of news, as a matter of fact: marriages, engagements, hurricanes, etc. We also had to compare all the racoon eyes from the day. The direction of the wind had us looking into the sun the whole day. The winners of the best raccoon eyes went to Jeff McCown and Steve de Rooy.
Saturday began at the Grapevine for breakfast, then we were off to the flats to set up and stake out our land to fly on. At this point, there was no wind, which really made it easy to get all the banners up and kites laid out and ready to go. And just as if we had ordered it, the wind began to blow just in time for the festival to start. This year there were four fields roped off: one for our kite wranglers, one for the performance field, one for learning to fly, and one for iQuad's demo field.
Even though we had 15 inches of rain from Hurricane Dolly this summer, we are actually in a drought now. This caused the flats to be bigger and dryer than ever. I can't remember a festival ever that we had so much room to fly in. It also gave us a lot more room for parking. This year we even had a parking crew headed up by none other than Bill Doan himself. They really did an excellent job.
It was great to have Tom Chaffee back as our announcer this year. We had Geoff Clifton back in charge of our sound system. They make a great team.
The registration tent and silent auction tent were set up and ready to go with all our volunteers bright and early. We also had two food tents firing up their grills and ready to feed the hungry masses. In charge of the concessions were the Port Isabel Masonic Lodge #33 and the Laguna Madre Christian Academy. Austin End of The Line kite team had Michael Boswell's motor home parked up at the field with awning out and all the creature comforts of home. That's the only way to go.
Performances went on throughout the whole day. The crowd pleasers iQuad (John Barresi, Steve de Rooy, Barry "Bazzer" Poulter, and David Hathaway) would come over from the demo field and perform routines for everyone. Austin End of the Line, (Eddie Zihlman, Jim Cox, Ben Gray, and Michael Boswell) jumped out on the field several times to entertain us. The local Team SPI (Jeff & Donna McCown, Guy Blatnik, and Bill Seward) not only flew their dual-line routine but debuted their quad-line performance. They had been working through the summer building their Rev chops so they could fly with iQuad this year. Windjunkies (Jeff and I) also added a quad-line pairs routine to our package of performances.
There were a variety of individual performers this year. We had Ray Zuberbier, one of our Winter Texans, come out and perform for the first time ever. He bought his first sport kite after the 2008 Kite Fest. Terry Cornell, originally from the Florida area, recently moved to the Valley. We were happy to add him to our group of fliers this year. Then we had our regulars: Guy Blatnik, owner of Windchasers; Bill Seward, Brian Isaacs, Michael Boswell, Jim Cosca from Skydog Kites. Deontae Boswell was our youngest performer at the festival. We have enjoyed watching him grow up through the years and become quite a kite flier. He also spent a great deal of time on the teaching field helping out. Chris Shultz from HQ Kites demonstrated power kiting with his buggy. The McCowns and Mike Swaim demonstrated kite aerial photography, KAP, to the audience while getting some great aerial pictures of the crowd. Mike actually did some KAP and some pole aerial photography throughout the three-day weekend. Last count he had close to 3,000 pictures to go through.
We had quite a few kite wranglers with all their color they added to the sky. New this year to the SPI Kite Fest were Rod and Marti Milburn from Costa Mesa, California. It was great to see the beautiful kites they had made. Some of our repeat kite wranglers were Gayle Woodul and her Central Texas crew — Steven and Dyana Ploof, Derek Sutherland and Jenny — Rob Cembalest from New Tech Kites, Sis and Dick Vogel along with Art and Sherry. Y'all were super. They had several spectators come over for photo ops and to tug on a kite line or two. Doug and Linda LaRock, Phil and Barbara Burks, and Randy and Sylvia Ashley had a lot of color in the sky on the east end of the flats. They had four large Suttons with large spin socks and the rainbow octopus up and flying solid the whole weekend. Doug brought out his new 11-foot diameter cellular star he made recently. You could catch them flying stacked trilbys back in their kite-wrangling field occasionally too. Ben Dantonio spent a lot of time on the quad demo field answering questions, flying, and teaching quad flying.
What a great day of flying we had. Before we knew it, it was time to pack our toys away, go get cleaned up, and head off to the banquet. The banquet was at the Isla Grand. It was a Mexican food buffet. The room was full of kite people starving from a full day of sun and fun. After the meal, there were drawings for free giveaways, and then it was time for the kite auction. There were many kites along the wall up for auction, including several handmade, "one of a kind," kites. There were even carvings donated by Bill and Kitty Seward. Handmade kites were donated by Donna McCown, Sis and Dick Vogel, Bill Doan, and Doug LaRock. Doug should be beaming with pride. His kite brought in $1,000 for the cause. Wow. That's great!! You could see Susie almost in tears a few times throughout the evening. She said she looked around the banquet room and just felt a sense of family in the room. Our kite family has grown so much through the years, and it's a special group that we have.
Sunday started off — wait for it — at the Grapevine. Most of us were moving quite a bit slower this morning. Racoon eyes were getting even more prominent. The forecast had been for high wind for Sunday, so we expected the worse and were pleasantly surprised with what we got, which was great wind and sunny skies all day. It was beautiful. Everyone went off to their respective places and began setting up for another great day of flying. Tom kept the entertainment flowing and the performers performing. We added a few performers and performances to the field this time. LaMar May decided he just couldn't miss flying this year again, so he brought his square-dancing routine back for the crowds. Austin EOL had half of Team SPI join them, Jeff and Bill Seward, to fly their Fish and Shark routine that the crowds love so much. Jeff and Bill got to be the sharks. Tom added the color as he commentated through the routine. It was just too funny. The LaRocks and Burks entertained the crowds with their kite stacks. Linda performed with her 3-stack of trilbys, Phil and Barbara did a pairs routine with their 8-stack, and Phil and Doug both man-handled a 24-stack for their individual performances. They had to do some digging in and sliding, even sitting and laying on the ground, and what a spectacular show.
Well, to end the day, Team SPI, or as Jeff called us, Team SP want to be iQuad, got their wish. They got to perform with iQuad. John called the maneuvers, or I should say screamed, so we could all hear him over the loud sound system, and we did an eight-man quad team performance. It was awesome. As usual, the crowd loved the big ball and burst, and then, of course, the kiss. That always gets an "ahhhh." I know iQuad gets to do these things all over the world, but for us, it was a first. Here we are a bunch of dual-line fliers that decided to give it a try, and we're loving every minute of it. It's great to be able to offer both styles of flying for the crowds, but the mega flys are so much easier to pull off with quads. We ended the festival with one last quad mega fly, and then it was time for all to part ways, some to go see the Super Bowl, and some just to grab some sky and fly a kite. Ben Gray and his daughter hung around and flew when everyone else was leaving. Ben said, "This festival isn't over until we're done." No one wanted the end to come.
The most important element of the weekend was our crowd. There were lawn chairs stacked five and six deep in a line around the performance field. They are the warmest and most appreciative audience you can find just about anywhere. Of course, they are from everywhere. They're from Missouri, Kansas, Minnesota, Canada, etc. They are our Winter Texans. They even applaud when you're warming up on the field. You can't go wrong.
I would also like to give a special thanks to Beryl Isaacs. She was a tremendous help to me. I used to try to take photos, video, fly kites, etc., throughout the festival and realized I just couldn't do it all. Beryl has been taking pictures along with me for the past couple of years. This year she was kind enough to do all the picture taking for me. I was able to take some video, and Kitty Seward came to my rescue and took a lot of video so I could concentrate more on flying kites. Thanks so much, Beryl and Kitty.
We can't wait for next year to see everyone again and hopefully add new members to our family. If you're ever in the area on the first Saturday of the month, come fly a kite with SPIKE (South Padre Island Kite Enthusiasts) at our club fly which is usually held on the same flats as the festival. We hope to see you at the 10th Annual SPI Kite Fest in 2010 on South Padre Island, Texas.
Donna McCown