– Click here to read this report in Japanese –
日本語はこちら
Meeting up with George Peters, Jon /Karen Burkhardt, Clyde Cook, a few member of the Japan Kite Association (JKA), and Masaaki Modegi (president of JKA) at the Haneda Airport (Tokyo), JB and I were on our way to participate in the 21st annual World Kite Festival in Uchinada (Ishikawa prefecture) and the Hamamatsu festival (Shizuoka Prefecture) from May 2nd – 5th (separate Hamamatsu report in this issue).
The welcome party was held in the JKA Kanazawa branch secretariat that is located in a local sushi restaurant (Named Noriyoshi) on that night. Amazing! Dining on some of the finest quality food available in Japan, good sake, fine conversation punctuated with the humor of navigating language obstacles, and some truly enjoyable people. Moreover, the restaurant owner cut the kanji shape of "Kite" for this festival his hair, prompting another round of applause. He is a member of the JKA Kanazawa branch, too. George sketched a portrait of a few guests, and the finished sketch was presented to Modegi-san. It was a really happy, wonderful time.
The weather was excellent at the first day.
Lots of kite makers and kite fliers gathered from all over Japan, featured very well by the local Ishikawa TV station that helps sponsor this festival. They were doing interview coverage, doing on foot coverage of fliers and kites in the field, as well as a separate camera filming from a 50-foot lift. There are also kites for sale on the beach; so general spectators can also enjoy flying a kite. Anyone not flying was usually playing happily in the wind, enjoying the beach. It is a wonderful festival in which all members can participate.
The wind weakened in the afternoon, although a comfortable south wind blew from morning to noon. The kite flying (Single line) competition for children and "Sport kite Japan Sea Challenge 2009" individual competition disciplines were also completed.
A welcome reception hosted by Uchinada-town sponsors was held that night, opening with a demonstration of the Taiko drum, indoor flight of bird kite and JB's indoor Rev.
Recently, the Uchinada-town was recognized by the incorporated nonprofit organization as a "Lover's Sanctuary". So, we received blessings from the Uchinada mayor and which us both surprised and moved, since we hadn't heard about Lover's Sanctuary till then!
In the opening ceremony, the festival's wishes for global peace were expressed, including a peaceful declaration by Uchinada-town international exchange member's Jun William Senesac, key liaison and translator between organizers and invited guests. The World Kite Festival in Uchinada is also called "Peaceful world kite festival". The Uchinada coast was a cannonball test firing place of the U.S. military until 1957.? People still value the memories, although the Uchinada coast was restored to Japan through a protest campaign that is called an Uchinada struggle. The speech of Jun who has American's father and Japanese mother was really wonderful, referencing the values of both cultures and their relationship over the years.
Despite extremely low winds throughout the day, the team ballet competition began…. Three teams participated in Dual line team ballet, 4 teams in Quad line team ballet, all showing clear improvement over the previous year as a result of practice.
It was really difficult wind for team ballet, but there were some valiant performances… See competition results here
Novice Individual Dual-line Precision
| | | |
| --- | --- | --- |
| 1 | Tooru Sakurai | 61.53 |
| 2 | Yuko Takatani | 59.03 |
| 3 | Kazuyo Tsumoto | 42.00 |
Individual Dual-line Ballet
| | | |
| --- | --- | --- |
| 1 | Mamoru Higuma | 67.60 |
| 2 | Masaru Aoki | 66.80 |
| 3 | Ken Uchida | 64.20 |
Individual Dual-line Precision
| | | |
| --- | --- | --- |
| 1 | Yasuhiro Fujii | 68.43 |
| 2 | Tsuneo Miyagawa | 66.80 |
| 3 | Hirokazu Higashi | 66.60 |
Individual Multi-line Ballet
| | | |
| --- | --- | --- |
| 1 | Osamu Kojima | 75.87 |
| 2 | Komuro Tatsuya | 75.13 |
| 3 | Toyoo Takatani | 74.20 |
Individual Multi-line Precision
| | | |
| --- | --- | --- |
| 1 | Osamu Kojima | 70.80 |
| 2 | Toyoo Sakatani | 69.87 |
| 3 | Kazuhiro Higashi | 69.87 |
Team Multi-line Ballet
1
Wind Ripper
(1:Sakatani, 2:Kojima, 3:Iba, 4:Tomatsu)
76.00
2
Suitengu
(1:Shimada, 2:Miyata, 3:Nakamura, 4:Tsumoto)
73.40
3
Aile & Nest
(1:Higashi, 2:Murayama,
3:T.Miyagawa, 4:Y.Miyagawa, 5:Iguchi, 6:Mamiya, 7:Mandokoro)
69.00
Team Dual-line Ballet
1
Team Risky
(1:Tanahara, 2:Asaoka,
3:Kitafuji, 4:Minamoto)
79.13
2
Sky Angel
(1:Fujii, 2:Takahashi)
67.27
3
X-kites
(1:Emi, 2:Emi Jr., 3:Tagami)
40.00
And, Some fliers and some teams also demonstrated. Tatsuya Komuro , Osamu Kojima, Ken Uchida, Team Aile&Nest, Team Risky, Team Wind Ripper, and more…. The pilots flew very well, even in the lowest winds. Fliers gathered twice for Rev mega flies, reaching as many as 19 pilots at one time and gave a rousing performance even though participants were fewer than last year.  Hokkaido, Osaka, Kyoto, Shiga, and Okayama ??? Pilots who gathered from various places throughout Japan enchanted the spectators.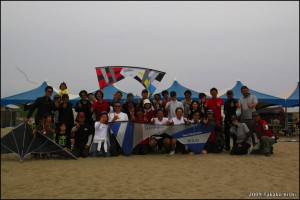 JB and I also demonstrated the pair ballet. JB and I wrote it in three days, we're looking forward to flying this routine with more practice.
Thank you to all the pilots. Uchinada is great festival. See you again!
Takako Kishi
Special thanks to… Yumiko Miyagawa, Osamu Kojima, Motoka Takahashi, Yoko Miyata, and Masanobu Komur