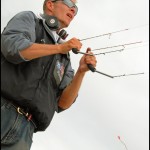 Held during the last weekend of July every year at Cesar E. Chavez Park in Berkeley, California… This event simply gets bigger and better every year. This was the 24th iteration of the festival, it's well established as one of the finest west coast events and manages to encompass nearly every facet of the kite flying world all in one area, from fighters, to the Berkeley Kite Wranglers and their spectacular display of Octopi, to the Bay Area Sport Kite League and their full roster of BASKLcompetition events.  For many sport kite flyers, this event represents the last chance of the season to grab some points before the AKA season closes on August 1st!
Since the beginning, the Berkeley Kite Festival has been run and organized by Tom McAlister of Highline Kites! I actually got my start in the Bay Area way back in August of 1990, and bought my first kite from Tom, flying on this field nearly every day for several years after that… One lucky day in Berkeley, Tom's service and customer care ensured that one young boy would get a good start with the right equipment, and I know for a fact I'm not the only one with this kind of experience.
Up on the inflatable field, The Berkeley Kite Wranglers, the Gombergs and others had set up shop, filling the skies with octopi galore! Truly a beautiful creation by Peter Lynn and one of a kind as well… Speaking of one of a kind, Nathan Sendan commissioned his own "super over large octopus" or SOLO, rumored to be four times the usual size, which was debuted on Friday of this event and flown at high points throughout the weekend.
A full article about the SOLO debut can be found here.
While the main field was usually filled with experienced performers on single, dual and quad line kites, over to the left of the demo field, both Prism and Revolution provided demo/lessons areas for new flyers to get an idea on just how easy it is to fly a kite. The Rev area in particular has people stacked up learning all day long! I know Ben and Lolly were pretty darned tired after a long day of lessons, but we had countless successful lessons and a good response back in the sales tent.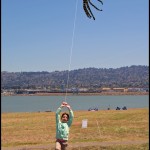 One other Japanese kite tradition that's always a part of this festival is the Rok battles! Rok Star Arnold Stellema has simply put together the best Rok battle conditions to be found in North America, having put together more than 30 separate Rok "sets" for the general public to come out and bash around, this may be many people's first exposure to flying their own kite. Me, I love sitting down at the end of the field, acting as a "catcher" for stray kites that come tumbling down from the sky. The ensuing mayhem of watching people scramble around the field trying to be the last one standing is ALWAYS amusing and this year was no exception. But, while these heats are always amusing, easily the biggest fun comes from Sunday's version of the Rok wars when the "pros" (said with my tongue firmly stuck in my cheek) or, established kite flyers take to the field in a chance to settle old grudges, make new ones or, spend their time and energy hunting done where multi-time champion and all-around Rokking kind of guy, David Gomberg may be hiding.
Noticably absent from the roster this year were Team iQuad and Ray Behell, both of whom were prominant parts of the the festival in 2007 and 2008… However, even in their absence, quad fliers gathered together for mega flies on both Saturday and Sunday, led alternately by John Barresi (iQuad captain) and Mark Lummas (Too Much Fun), the quad mega teams were made up of Jim & Lynn Foster, Dan Burnham, Mark Quirmbach, Ron Despojado, Jeanette Lummas, Joji Davis (first time team flying) and others, flying with up to 8 pilots at a time .
Often the people the most responsible for it's success don't end up flying at all. The people who run the scoring for the competition events themselves, the people who announce and keep track of who's up next on the demo field and the people running the sound equipment are key to any festival because without their help and constant attention to what's happening around the festival, sheer chaos would ensue! Someone has to keep things running and on track and a few people (with others of course) who have managed this very well, Jeff and Tracy Erzin along with Darren and Susan Skinner, all of who participate in running the nerve center of a festival, the sound and scoring areas. Thanks to you all for this service, it's one of the things that lets festival run as smoothly as it does and all of us are forever grateful for what's often a thankless task.
Of course, no event is complete with an announcer… Taking over this year was Don King, who did a tremendous job of stepping in and being our voice for the weekend, keeping the audience informed and educated, as well as promoting and inter-connecting each facet of the show, right down to the "learn to fly fields" and the sales tent… Great job all around Don!
One of the highlights of coming to this festival is actually the end of it, but, I don't mean it quite the way that sounds. The "final" event of the Berkeley festival involves a cruise around the San Francisco Bay aboard the Empress Hornblower boat. Starting just behind the park itself, the cruise takes you past Alcatraz, The Golden Gate Bridge and past the main wharf area, directly past Ghiradelli Chocolate stores! If you have an occasion to take in this festival next year, make SURE you also go on the cruise, you'll see San Fran from some angles you just won't find any other way. I know I'll be back next year, here's hoping you will be as well!
Rumor has it that the Berkeley Kite Festival will be celebrating it's 25th anniversary with grand style in 2010, working hard to bring back and showcase many of the exhibits and performers that have helped to make this festival what it is over the past 25 years… You can bet I won't be missing it, since I bought my very first kite from Highline Kites, it's always worth a trip home.
Thanks for all the years Tom,
John Barresi