I've been wanting to come to Columbia for years.
The events here are organized by Inez and Jaro Uribe of Yripa. Their organization promotes ecology and ethics in the schools using kites as a teaching tool. I'd been graciously invited before but political instability made the trip inadvisable. I knew people who had gone and had a wonderful experience. But when the US State Department said "don't go", Susie put her foot down.
This year was different. Conditions had improved and I jumped at the chance to come on a ten day excursion which offered full immersion in the local culture. Some festivals give you a field and a hotel and you never get close to the people you are flying for. Here the schedule was filled with small intimate shows, workshops and school visits.
I flew out of Portland on the overnight "redeye", connected to Miami from Chicago, and there met up with fellow travelers Kevin Sanders, Lisa Willoughby, Paul DeBakker, and Hunter Brown. Later we would also join Juan Miguel and Rafa Molina of Spain. The flight from Miami to Medellin was four hours, and there we were met with big smiles and a ride to the hotel. The Columbia Adventurer was underway.
Day 1: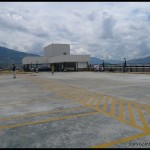 We're flying on the top parking level of a downtown shopping mall. It is eight stories in the air and about the size of a football field. Around us, the city stretches off into the surrounding hills.
Winds are hot and gusty. But people keep coming out of the elevator and taking seats to watch the show. So we walk kites the length of the pavement and enjoy the applause.
As the breeze comes up, a variety of kites fill the sky. There are sport kites, traditional Columbian Cometas, plastic kid's sleds, my inflatables, Rev's and even a 15 foot maneuverable power lifter.
Knowing that baggage was limited and space tricky, I'd brought one bag of mid-sized pieces and another of large Ghosts. The Ghosts were handed out to some of the guests and staff. Suddenly we had a show floating above the Mall!
We went from hot and gusty to a good smooth flying day. Great interaction with the public. But at some point, two Ghosts were cut free and drifted blocks away. And this is the most vivid impression of my flying in Columbia. Because within half an hour, both kites were returned to us on the top of the shopping mall!
We packed up as the sun set and headed for a comfortable dinner and good night's sleep. Columbia was off to a good start.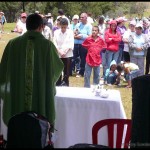 Day 2:
We are picked up early and bussed to a mountain top flying area. People from the neighboring villages are streaming in. The day begins with a Sunday Mass at the edge of the field. First time I've seen that at a kite festival.
The huge fields are well marked but that means nothing. Again, all kinds of kites are on the field. Kids swarm us and I start writing autographs on the palms of their hands with a sharpie. Some of their mothers want their bosoms signed as well….
Kevin shares kites on one side of the field while Hunter, Paul and Lisa float Skates over the center. Juan Miguel and Rafa do Rev shows and unveil some wonderfully creative quads.
Over in one corner, I launch a lifter and add parrots and frogs below. A local flier arrives with a huge flowform that easily measures 500 square feet. He's flying with no tail or drogue. Five times the kite goes up and five times it drops over my line crashing. I'm about to go find a translator and go have a constructive chat with him. But a few minutes later he walks over my way.
"Are you the famous David Gomberg??" he asks. "I read your Updates! Is your beautiful wife Susan here??" He then pulls a bottle from his pocket and offers me a taste of the local brew. Kite Detente at its best!
There has been a fair amount of confusion about Columbia this year. Traditionally, all the festivals have been organized under one organization. But this year, the main festival in Bogota separated and just weeks ago began issuing invitations. I literally received dozens of emails asking what I knew, and that was little. Bogota called and I told them I was on the other tour. They then asked me for recommendations for large kite fliers from the Southeast who could get reasonable air tickets. I suggested Jeff Burka and Jim Martin. iQuad went. And so did several others. I suggested we all exchange post cards. We were all far from home and in the same country, but would not see each other….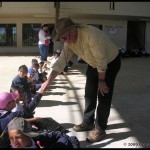 Day 3:
With the first of the main flying festivals behind us, we headed for area schools and a chance to get up close and personal with some of the local kids.
This was a special day in some areas where economic challenges made kite flying a rare anticipated treat. And it was special for we guests as well. What greater joy is there than sharing kiting with a child, introducing them to a visiting culture, and making new friends in a far off land.
The two schools we visited had covered outdoor areas which protected students from both sun and rain. They proved ideal for short-line flying exhibitions in near-indoor conditions. It was great for revs and sport kites and some ultra light single-liners. I found a fan and pumped up a large frog for the kids.
After two presentations, we all headed for a nearby soccer field and let everyone enjoy flying in a larger space. Many of the children shared deltas, paper diamonds, and plastic sleds. We let them take turns flying our larger showpieces. It was the kind of flying that no one wanted to end.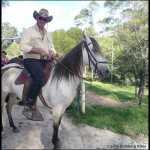 We finished Day three at Inez and Jaro's home in the nearby hills.
The group took turns riding their spirited horses around the property, and then retired to the solarium for food, drinks and fine company. Hunter, Paul, and Lisa were off for home in the morning.
After three days of flying and workshops, half of the Colombia guests flew home and the rest of us, Kevin Sanders of Australia, the Molina Brothers of Spain, and myself took two days to explore Medellin and the surrounding countryside. Organizer Inez Elvira Uribe took charge and made sure we got a good, well rounded tour.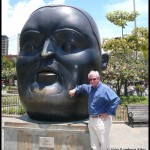 Day 4 and 5:
We visited public squares and galleries, rode skyways to the surrounding peaks, and toured huge fruit markets.
The gondola system is not just for sightseeing. It transports residents from the hills to the metro system below and crosses over many depressed neighborhoods.
Want to see a city up close. Try flying in low over the back yards. Interesting, it was not unusual to see kites being lofted from roof tops or sidewalks.
In the countryside, we visited a stunning lake area created behind a dam system. In the center, a huge monolith reached up high above the waters. We stopped for an informal kite show. It is difficult to see but a star system climbs nearly 20 stories above the parking lot. The view (and the climb) was breath-taking. But I decided to pass. The steps were steep and without rails or support. For a guy with mild vertigo, the cable cars the day before were enough….
Day 6:
On the sixth day, we rose early and joined a number of local kiters for a bus ride to Cartegena. The bus was late and smaller than requested. The roads were treacherous and sitting in the front seat, I got to see every tailgating maneuver, every pass on a blind turn, and every stop sign ignored. Driving in Columbia is different than back home! The trip was hot, cramped, and longer than expected. Sixteen hours later we arrived in the coastal city.
Cartegena is a historic gem on the Caribbean Coast. The city was founded by the Spanish in the early 1500's and served as the principal port for transferring wealth back to Europe. This means it was also a prime target for Spain's enemies.
Francis Drake sacked the port and later, defensive walls and a protective castle were constructed. Five hundred years later, the walls are a wonderful place to stroll, examine old cannon, and to let your imagination wander.
The streets within are narrow and filed with colorful colonial buildings, churches and cathedrals, , squares, hotels, stores, and cafes. The Old City has been recognized as a World Heritage Site. And we were going there to fly kites!
Day 7, 8, and 9:
Early on Day 7, we were brought to a marked area just outside the city walls. Wind was coming off the water. People walking the ramparts could look down on our show. At noon, I phoned Susie. "The bags are empty!!" I reported. "Everything is in the sky!!"
I generally choose kites for the flying conditions I expect. This trip I brought one bag of mid-sized inflatables ands one long bags of large Ghosts. (Usually I can carry three heavier 70 pound bags. But the airline servicing Colombia limited me to two fifty pound ones.) I lofted a school of Fish, a flock of Parrots, and a …. hmmmm .. what do you call a group of Frogs??
Kevin added a collection of his original Aussie Road Signs which flew very well and proved surprisingly durable when one was cut, fell into the roadway, and wrapped around a bus.
Juan Miguel and Rafa brought out a wonderful collection of Revolution Variants with creative shapes and graphics. It seems these two guys can fly anything with a Rev frame and four lines!
For three days we filled the skies at the corner of the city. People called out from passing traffic. The walls became crowded. And hundreds of kids added their own kites to the show. It was a great gathering in a special place and I was pleased to be a part of it.
Finally, Sunday night we packed for home. Fortunately, we were flying back to Medellin while many of our friends faced another long bus at night.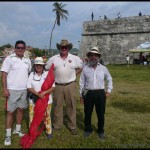 We checked onto our hotel; at midnight and asked for a 4:30 wake-up-call. We needed to leave for the airport at 5.
Inez and Jaro have my respect for organizing a good show and my gratitude for being wonderful hosts. I was proud to be a part of it.
I'm flying home now and should land in Portland at midnight. Susie will be waiting and we'll get home about three. While changing planes in Chicago, I received email from a friend in Austria with a newpaper photo of our Colombia flying show.
David Gomberg