Sometimes, you can go to a festival one year but unfortunately have to miss the next years version. In the case of the first time I wrote about going to the Frank Mots Kite Festival in 2007, I had a fantastic time in Milwaukee, however the demands of working a full time job meant that I could not make the trip. However, as you can see from JD Fabich's report last year, this ended up being ok as last year's festival was not a pretty thing with respect to the weather. At all!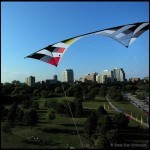 I'm a dedicated weather hound. Once I'm within 10 days of a festival's start, I'm refreshing the city's respective weather page and crossing my fingers as much as I possibly can. This time, 10 days out, the weather looked to be much the same as last year's awful time, and this stayed this way for five days. I was almost getting glum about it, but, overall I have tremendous luck with weather and sure enough, at 4 days away, things began to change and by the time we (I was with Steve De Rooy and Bazzer Poulter for traveling mates this time) landed on Friday evening, the forecast suggested sun, warmth, decent winds and noooo rain. Hoooorray! By the time we'd set foot in the hotel, it was early evening so any flying was off the agenda for the day so we headed off to a fantastic Italian restaurant we'd been to  in the past, called Buca Di Beppo's. It's nicely just a couple of blocks away and while there, we also managed to celebrate Bazzer's birthday a couple of days late. After that, a reasonably early to bed so as to be all bright eyed and bushy tailed for  the start of the festival.
In a rare occurrence, we (iQuad that is) found ourselves without our fearless captain! John had made plans to miss this festival this go around so as to be in Portland to possibly handle the final details regarding Takako, his fiancé, finalizing her immigration status. So, we took a vote and decided on the ground rules for the weekend. And we came up with only one initially. "Breakfast is at 7:30". That's certainly doable and afterwards, we headed down to the field to start getting setup for what was looking like a gorgeous sunny day. This was the 31st running of the festival at the park, which is an incredible achievment.
If you have never been to Veteran's Park in Wilwaukee, it's a beautiful location just outside of downtown and sitting on Lake Michigan. With huge grass fields and usually decent winds, it's a really great flying space with room for the large show kites that Yves Deforest had brought along, all sorts of spaces for smaller single line kites, and a full size demo field for sport kite flyers. I remain surprised that the AKA Grand Nationals did not end up here this year, so hopefully they will try again for the next Midwest Nationals in a couple of years, it's really a great location. And tucked down by the store itself, Gift Of Wings  was a learn to fly field, manned by Ben D'Antonio (or, as we like to call him, iQuad's fifth Beatle), Jim Cosca from Skydog Kites and further help given by Gino, Brett "The Kite Whisperererer" and Colleen "Jynx" Baker. While it's not an ideal end of the park to do this given the trees and buildings surrounding the area, they all made the best of it and the field remained busy all weekend long.
One genuinely nice surprise of the trip was finding Ron Gibian was on the invite list as well. Ron never fails to get smiles and laughs out of me and his unmistakable joy s a kite flyer and master builder is truly infectious. Ron brought a huge bag of kites with him and spent some time all throughout the weekend lofting up all manner of his creations, even borrowing Yves's Bora Bora Ron had built in 1998 to fly on Sunday. He debuted some new round kites as well that to the delight of anyone who saw them, didn't spin a bit, they simply sat there in the sky, much like a good stable kite should. Later on Saturday evening down at the raffle/auction/dinner, Ron also gave a talk/seminar/workshop regarding his work over the years. From his early years to discussing what was on his mind when he developed the Night Creeper for Revolution, Ron provided insight into his work, his processes and what design actually means to him. He touched on many specific events, much to the amusement of many of us in the tent that evening. A very entertaining look at a long career as a master kite maker.
Out on the demo field, there was no end of things to keep the crowd amused. Chicago Fire put on some really great demos and had some new music as well. They have really come together as a 6 piece unit since Zach has joined and it was obvious they have been working hard for the AKA Nationals in mere weeks. Also, I saw great demos by all the Gordon kids (it's amusing to still refer to Josh as a kid J), Zach, Josh and Elizabeth. Plus, Kathy Brinnehl and Paul Keopke as Fire and Ice, The Blues Brothers, Team Pegasus, O2 and Jean Lamoreaux from Montreal made sure the big crowds were well entertained. Scott Fisher goes to great lengths to give the festival more of a "show' feeling, with well handled intros and sponsor messages and a tightly run schedule handled by Ann Von Driska.
For myself, this was the very first event I've done with our group without John and well, you know, its odd flying to another caller at times! We stuck Steve with the duty of keeping us in check and, to say that he rose to the occasion would simply be an understatement, he handled the job with cool nerves and some good humor. You see, when John is on the mic, we've found that Steve likes to sing the lyrics to himself as we fly along. And he did the same thing a few times during routines too, which never failed to nearly have us lose our concentration due to snickering. All in all, it was a really fun experience, and one we'll repeat in Lincoln City in a few weeks with John being at Grand Nationals. We took some liberties and threw some new songs into the mix (when does this end? Soon, soon, wait, no, not yet, one more chorus, no, wait, RIGHT NOW) and even some new moves too! Oh the fun the mice will have when the chief cat is away…
All in all, the weather, crowds and flying more than made up for last year's rather awful weather. There were big crowds both days with Sunday's being the biggest of the two days, I'd hazard a guess that this was due to the sun being just a bit warmer on the Sunday. The kids all loved the candy drops! I noticed Mike Delfar and Dan Newman have rigged a slight change to the usual high tech bag candy dropper they use, they can now trigger two bags separately. Drop one bag, and then, the second one can drop right after it, allowing for maximum coverage of the field with candy. Nice work Mike and Dan!
As all things do, Sunday at 5pm, the festival had come to an end but, what a fine festival it was! A bunch of us retired to the Water Street Brewery for a big dinner and after that, I'm sure we were all fest asleep by 9pm that night, utterly exhausted. But, we had one more fun thing lined up before we flew back home on Monday afternoon. Colleen "Jynx" Baker had lined up a tour of the Harley-Davidson Museum for iQuad to spend their Monday at! I'd highly recommend this museum the next time are you in town and thanks again Colleen, that was simply fantastic!
Best Winds,
David Hathaway