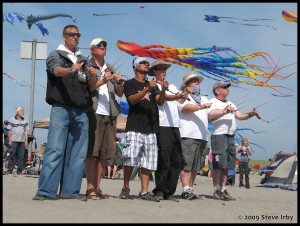 Times are 'a changing… Two major north american kiting organizations (AKA and KTAI) and their members are exploring their uncertain futures in a new social and economic climate with possible leadership changes in some areas, I'm getting hitched in the coming months and we're bringing another amazing year of kiting to a close with high hopes (at least here at Kitelife) for an exciting and prosperous 2010.
Even amidst uncertainty the "pulse" in kiting strikes me as being hopeful, and I think it's not so far off the mark with a surprising number of startup or "home grown" events all over the US… We're due for a shift, everything in cycles, I'm certain we'll see an increase in outdoor enthusiasts as the economy and political overtones begin to settle out, encouraging people to come back out into the world.
As always, we're in need of a few good souls to send us a bit of coverage or promotion for kite events and happenings, either as an author, or as a Directors-At-Large gathering submissions from other folks in your part of the world… We're still a magazine by kitefliers, for kitefliers, and wouldn't be half of what we are without the efforts of our contributors and staff.
The other folks who we couldn't survive without of course, are our official Kitelife subscribers who help support our ongoing efforts to archive and share kiting. One that note, we'd like to give a hearty congratulations to Ben Grey, who won a brand new Soul sport kite by Flying Wings in our most recent drawing… Next, we'll be giving away two 7′ Pyro deltas from Gomberg Kites, click here for more info.
Well, time to put this issue to bed and start gearing up for the AKA Grand Nationals in Rochester next week – and there is a chance we'll be doing daily updates, stay tuned to our mailing list, Facebook or the forums for info on this… I hope to see many of you there, please be sure to say hello!
Cordially yours,
John Barresi
Editor/Publisher
Kitelife Magazine
Next Prize Drawing to be held soon!