Hi everybody…I wrote some articles about this Festival and I would like to remind you where Rosario – Santa Fe Province is.
Rosario City is located 300 kilometers from DC to the North and it was built beside the "Paraná River". Without a doubt this is the most important City in "Santa Fe" Province and it is famous for its Flag Historical Monument – opened on June 20th 1957.
In this City took place at "Scalabrini Ortiz" Park the "9º Let´s Paint Rosario Sky" Festival and I'd like to share with you what happened on September 12 and 13.
It was a beautiful springtime days, lots of people come to participate and the organizers received us with great hospitality.
I arrived to Rosario on Saturday morning by my car. My funny role like in Colombia was fly Multiple Kite, Quad lines, chatter, takes notes and pictures to do my report.
The Festival started at 2 PM. We set our tents, banners, flags and so forth. The arena was divided one, for a big and single kites and another for dual, quad and power kites.
The same as years before, Ariel Carnevalli – Mundo Hobby´s owner, the "Municipalidad de Rosario" organized and supported it in collaboration with; BaToCo , Alto Vuelo, Rosario Vuela , Freaks Team , El Alma del Piloto , Contra Viento Team, Tension Team, Los Magnificos Revoltosos Team.
As usual in this Festival lot of people flew their kites during 2 days. WOW!
Great Audience, isn't it?
Ariel, keep up on this success!
This year, an intense programmed schedule was planed for Saturday and Sunday. The bellowed kids and their family could share the creative labor of making, decorating and flying their kites. Also, the audience watched: Rokaku battles in real competitive spirit, kite exhibition, where many participants showed their creations along the field, patriotic kites, big kites; team demonstrations, kite buggy, KAP, kite raffle and so forth.
Particularly, I ´d like to emphasize that Gustavo Sonzogni surprised us with its Dragon Kites from China that he flew at twice. If Gustavo had flown both at the same time, he had become into a new MKFlyer … Amazing!
Speaking about fly demos, enthusiast kite-mates flew dual and quad lines as:
Tension Team: Nacho Zúccaro, Frederick Pousadela, Agustín Arenella, Juan Cruz Basso –  Couch: LAlo Loescher.
El Alma del Piloto MKF: Me.
Alto Vuelo Team: Rodrigo Posada – Willy Borsani – Federico Polizotto.
Contra Viento Team – Ariel Carnevalli – Dardo Tacconi – Gustavo Zárate y Guillermo Perccoco.
Freaks Team: Fernandez Family.
Quad line demos: Hector Cesaretti – Pablo Macchiavello – Lucas Gonzalez – Melisa Gonzalez – Dardo Tacconi – Demian Licaveski.
Rombos Stack: Team Contra Viento.
"Tensaedro"  – BaToCo´s Proyect
Based on Graham Bell´s design, Pablo Macchiavello´s remix some ideas about the original and some BaToCo´s members made in order to set and fly like a puzzle. It can chain each part transforming from single to a mega kite.
Mini Kites Claris Sckosdopole and Borelli´s Glider at dinner
About 6PM was time to go to the hotel, have a shower, and take a little rest before dinnertime. It was a lovely evening, good friends, good kites, good dinner, good drinks, good stuff!
Sunday broke into a sunny day; the wind blew from East playing at hide and sick. Despite that the wind was better than Saturday.
The spirit was the same, get fun, get friendship, get a good time, having a sunbath during our fly.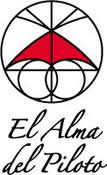 Dear kite-mates in Argentina you can find a bunch of enthusiast and fanatics friends; who wish to improve this sport in the land. You have a new opportunity to attend Wind Party in Buenos Aires that is coming on November…
See you and Good winds!
Best wishes,
Gustavo Di Si