"Mad Way South is a trans-Tasman challenge like no other – man and machine pitted against the harshest environment in the world at the end of the Saharan Summer – Two Aussies and Two Kiwi's racing in Kite Buggies across 2,500 km of the world's toughest terrain to claim the rights to be the first to have ever crossed this desert by wind power alone."

The Tasman Sea is the body of water between New Zealand and Australia. The adventure was the brain child of Aussie Geoff Wilson.
The initial plan was for a personal challenge, but evolved into a race when Craig Hansen of Peter Lynn Kites and his mate joined in the fun.
There came a point in the trip when the dangers out-weighed the competitive urge, and the teams needed to join forces for their security.
It's a modern-day, true life adventure with excitement and danger at every turn.
During the course of this amazing journey the team came into contact with; pirates, bandits, corrupt officials, landmines, to camels, broken bones, to broken kites, with sand and rain storms so severe they lifted the men and buggies off the ground.
I'm pleased to report that the boys not only made it home safely (relatively), but did so with two world records and $40,000 for charity!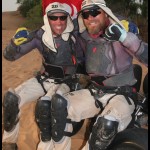 They hold the world records for:
-FIRST TO CROSS THE SAHARA DESERT BY WIND POWER ALONE
-LONGEST KITE BUGGY: OVER 2100KM (1305Miles)
To find out why Craig Hansen of Ashburton, New Zealand says of his exhilarating adventure…"I'm just not cured, I want to do some more. It was a fantastic experience,"
See two more articles, one written from a mid-trip perspective, and the other from interviews as they arrive home.
There are also links to their web site, their blog, and an amazing professional video.
Official Web site: http://madwaysouth.com
Official Blog: http://www.madwaysouth.com/blog.ews
Professional video:  http://au.tv.yahoo.com/sunday-night/#fop