The schedule was pretty relaxed today with comprehensive kitemaking competition continuing both indoors and out, with a number of excellent entries from both new and returning artists.
The morning workshops included "Kitebuilding 101 – Classroom sled (make and take)" by Richard and Marti Dermer, "13, The Lucky Region" by Bernard Fourniere and "Make and Take a Korean Kite" by Jeff Monteith who drove 3 hours roundtrip back to his house in order to obtain provide this last minute workshop when the original presenter was unable to attend at the last minute, .
Two other workshops that I particularly took interest in today were "Indoor Kite Flying, Past and Present" with Nelson Borelli giving a presentation on the history, techniques, presentation, dance, body work and other observations of indoor kite flying… Also "The Innovative Kite" by Mike Mosman in which he explored the use and understanding of right/creative left/analytical brain processes in kitemaking and innnovation, I wasn't able to attend, but did have an brief opportunity to speak with Mike about it directly over a cup of tea before he gave his presentation, interesting stuff indeed.
Also slated amongst these workshops was the annual Sport Kite Symposium, led by our current Sport Kite Committee Chair, Russ Faulk… I'm embarrassed to say that my alarm wasn't sufficient to wake me this morning, so I was only able to attend for the last couple of minutes but the general mood of the group seemed excellent.
Of course, the bag raffle continued with the beautiful addition of Charlie Sotich's stunning miniature kites, shown below.
Around midday Ben and I made our way out to the field where a handful of sport kite competitors were practicing while fighter kite jockeys held more skill competitions and comprehensive kitemaking judges finished up their scoring for the day… Skies were a little overcast, but no rain and winds in the 3-10mph range, very suitable for those who came out for a fly.
The Miniature Kite Challenge was also held this evening at which Dave Butler was recognized as the 2009 Miniature Grand Champion with a beautiful Celtic design… Next door there was also the Kite History and Memorabilia display with a wide variety of neat, classic items, as well as the Pin Challenge where cloisonne kite pin collectors spread out their collections for judging.
The annual AKA Fly Mart was noticeably smaller than years previous with just six vendors setting up booths with product offerings for attending members.
Gomberg Kite Productions Interational
Flying High with Charon
Happy Things by Barb
Wind Star Kites
Brooxes.com
AKA Cafepress
While there weren't a lot of booths, the content was good and the pricing was better, I saw a lot of fantastic deals on the tables in there… If you're a serious kite buyer, this alone is a killer reason to attend convention!
I made my way up to the bar very briefly for a brief decompress after the official activites came to a close for the night, then wandered right outside the building for a quick night street fly with my Rev… It's a real kick in the pants "surfing" the gusts and eddys offered by downtown flying venues, too darned much fun, done safely of course.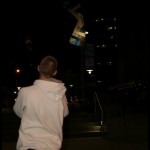 It's our pleasure to try and bring a little of the experience "home" you, but there isn't any subsitute for actually being here – for me, it's not so much about the wind, location or specifics, it's about the overall experience of being a part of this event, and the quality representation we typically see from all walks of kiting, both from North America and abroad… If you've never been, I encourage you to make a trip.
Thanks for your ongoing readership and patience!
John Barresi