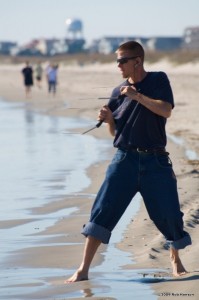 As we start heading into the wetter months here in Oregon, I'm looking forward to visiting some warmer climates as the new years rolls around, starting with events in Primm (NV) and South Padre Island (TX) in January… I am proud to say however, that I won't be going it alone any longer as Takako and I tied the knot in beautiful Yachats (OR) on the 14th last month (November), which officially makes Kitelife a full time husband and wife operation, take a look at the "Kites…Life" article in this issue for photos from the wedding and a little background on how we got together.
In between flight training, travel and daily life, we'll be working together to improve and expand the overall offerings here on the web site… Until then, it's time to hunker down here in the Kitelife offices and get some projects tackled that have been in dire need of attention including getting the rest of our magazine archives back online, bolstering the video archives and starting on an in-depth series of video tutorials for all kinds Revolution flying, as well as a few other fun things we've got lined up for the coming year.
As of this publishing, we've already restored Kitelife issues 26, 27 and 27a to our online library… And in all of our issues, you'll now find a "share" link at the bottom of each article which will enable you to share your favorite articles via a post straight to your Facebook page.
Also, we're looking for a someone passionate about dual line kites who is willing to do some article "farming" for us… It shouldn't require a great deal of time, just a matter of keeping your ear to the ground for one or two good articles every two months, covering new design trends, tips and plans, interviews with up and coming pilots, anything that might be of interest to the dual line enthusiasts reading our pages – so if you're game, please contact us by clicking on my name below.
Thanks as always for tuning in, hope to see you on a field somewhere soon!
Cordially yours,
John Barresi
Editor/Publisher
Kitelife Magazine
Next Prize Drawing to be held soon!