China's eco-friendly kites:
BEIJING – Plastic bags, the scourge of the environment, are flying high in Beijing, thanks to retired engineer 71-year-old Han Fushan who finds an environmentally friendly way to create his artwork. He is turning the waste into colorful kites.
Video – http://www.kontranews.com/323471/kites-in-beijing
Click here for the full story at China Daily, opens in a new window.
Location, Location, Location:
It's bad enough when kites are banned at a favorite site or local park, but to have them banned across the entire city, or country, seems hard to even comprehend!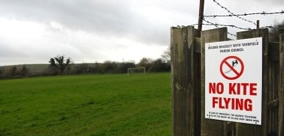 Kite Flying Ban in India:
Click here to open the article in a new window.
Click here to open the second article in a new window.

Kite Flying Ban in Pakistan:
Click here to open the article in a new window.

Kite Flying Ban Repealed in England:
Click here to open the article in a new window.

Children, kites flying high against the Taliban:
Air Force SMSgt. Rex Temple tells of his experience with Afghan fighter kites. Stationed at MacDill AFB in Tampa, Fla., Temple is on his 4th Middle East deployment tasked with mentoring the Afghanistan National Army (ANA) in Central Afghanistan.
Click here to open another article on this topic.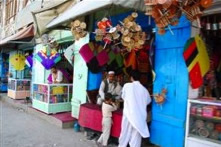 NBC News Producer shops for kites in Kabul:
We had been tasked by our bureau chief, Sohel Uddin, to "buy the biggest kite possible." For weeks now, we'd see from our bureau rooftop kites flying high above our heads almost daily at sunset. Sohel was determined to try his hand.
Click here for the full story on MSNBC.
Danish Wind Industry Association:
Click here for some interesting wind facts, opens in a new window.
France:
A couple of impressive sites from France, with a wide range of kite information covering all aspects of kites; history, science, art, calendars, and yes, revolutions.
http://revolutionkite.wordpress.com http://www.carnetdevol.org
England:
A very good source and well maintained kite calendar of international kite festivals, with an emphasis on European events.
World:
planet.kite.matrix.
kites, connecting the world.
"kites" – a symbol of exchange.
– transworld, transnational, transcultural.
planet.kite – a collection of
historical and contemporary kite culture.
– boundless skies in communication.
"kites have been part of cultural, social, scientific or religious life
in most societies or cultures since many generations"
a database about the kite, the flying and the knowledge – in dialogue.
science – tradition – crafts – sports – competition – religion – hobby – research
education – history – therapy – art – physics – business – architecture – leisure
http://subvision.net/sky/planetkite
University Kite Clubs:
It is with great pleasure that I report on an increase in the development of University kite clubs. The kite world desperately needs an infusion of young people and this is a great place to get it from. Even though many, but not all, of the clubs are for kite boarding/surfing, I believe many of them will find their way to the broader kite world as their families grow and bodies complain.

"The Collegiate Kiteboarding Association is an organization dedicated to uniting kiteboarders from universities and colleges all over the country. Our goal is to serve as the governing body for inter-collegiate kiteboarding competitions and to expose the sport in a safe and progressive manner to an untapped demographic". http://collegiatekiteboarding.org
The Collegiate Kiteboarding Association has several schools as members of their organization, for example; www.fsukiteboarding.com
Samplings of other schools with kite clubs are:
Northwestern University Kite Club

Ball State University

Aggie Kite Club – Student Activities at Texas A & M University

Oxford University Kite Surfing Club
Architect turns to KAP:
Makemagazine mixes art and science in this kap piece- Architect Charles Benton wanted sharp images of his buildings upper reaches so he experimented with kite aerial photography. Now a professor of architecture at UC Berkeley, Charles is still an avid kap-er, constantly developing new ways to rig remotely controlled cameras to customized kites for stunning results.
Check out Charles Benton's kap website:
http://www.arch.ced.berkeley.edu/kap
Kites continue to make the perfect educational tool:
Des Moines Walnut Street School:
The second-graders have been learning about air and weather in science. They made two different kites using the FOSS science kit materials and observed that kites stay in the air by either pulling the kite through the air or by the wind blowing against the kite. Then the students constructed their own kites. They wrote a paragraph explaining how they made their kites and then wrote a paragraph explaining how their kites flew.
Kites go neuroeducation:
A kindergarten project at the Institute of Child Study in Toronto offers a glimpse into neuroeducation, where kids use kites to learn by discovering rather than memorizing.
Story at:
http://www.thestar.com/atkinsonseries/atkinson2009/article/719317
Video at:
http://www.thestar.com/videozone/718174–letting-the-imagination-soar
Kite Business:
HQ Kites & Designs USA is relocating its North American headquarters to Powells Point, N.C., an Outer Banks community considered a hotbed for wind sports.
http://www.playthings.com/article/CA6706829.html
Kites in Prime Time:
Kites appearing in recent popular culture.
Big Bang Theory: http://www.youtube.com/watch?v=-YT4og9mu0E
Family Guy flies cow kite: http://www.youtube.com/watch?v=qOn4xWOJFlI
Scrubs "Mighty Kites": http://www.youtube.com/watch?v=swY8aLtHzGI
Our Cover Girl:
Kudos to Kathy Goodwind, who was commisioned by Microsoft to design and construct the 'Windows' box kite for the December 2009 cover of MAXIMUM PC magazine.