Arriving early in the morning on Monday, Takako and I took the opportunity to explore some of Las Vegas before meeting up with Ben D'Antonio, Joe and Dave Hadzicki later in the evening for our drive to the site of the 2010 KTAI trade show in Primm, about 40 minutes west of Las Vegas.
Day 1 – Tuesday
Primarily dedicated to exhibitor set up, various manufacturers and distributor spent the majority of the day setting up booths and product displays.
Attending exhibitors this year included:
Great Winds Kite Company
International Connections
Prismatex
While the exhibitors were setting up, retailers and a handful of manufacturer representatives attended two trade show workshops presented by volunteers from within the industry community:
Retail Boot Camp

Get some insider "Tips & Tricks" to attending the Trade Show and Convention. This fun, informal gathering of networking and socializing has a purpose!

This is a great opportunity for first time attendees to meet KTAI members before all the formal activity begins. In this informal session you'll get useful information (Where are the bathrooms?

Am I allowed to bring food into the workshops? How do I get the best value out of the Trade Show) and make a few new friends! So bring your questions and join us!

The Write Way

You know what to say when you're selling a kite to a customer, or promoting your business in the community. But does something get lost in translation when you put words on paper? Are you using writing most effectively to grow your business? From press releases to brochures to in-store communication, this fun, interactive workshop will explore ways to use the written word to increase your bottom line! You are encouraged to bring samples of your promotional materials for feedback and/or to share best practices.
Although the workshops and booth set up took most of the day, there were also product demonstrations being held outside the convention center and each kite exhibitor was solicited for one kite that they wanted volunteer demonstrators to use in their interactions with retailers… Steve and Carrie from Second Wind worked with John Barresi to introduce retailers to the genre of their choice, be it single, dual or quad line.
In the evening, all trade show attendees gathered for the Opening Reception to mingle with friends new and old before the official start of the 2010 trade show.
Day 2 – Wednesday
The second day of this eventkicked off with a Town Hall "Meeting of the Minds" to discuss the tough economic times that are affecting everyone, and most certainly those in the kiting industry… Moderated by the board of directors, this was an open floor for KTAI members to submit their ideas and experiences, as well as to provide input as to the direction of the association in years to come.
Some of the topics were recurring from previous years including the idea of co-locating with another association's trade show, as well as observances of the KTAI's financial status (difficult but holding), membership (2 more than last year), number of exhibitors (25 companies – up from 19 companies last year), retailer attendance (45 companies w/95 representatives) and the upcoming change in leadership with two directors stepping down for 2010 (Mike Hale and John Barresi).
With voting held on the spot, winners were announced to fill the open slots on the board… With a very close tally of no more than 5 votes separating four candidates, here is the 2010 KTAI board of directors and their positions:
Elaine Leitner (Second Wind) – President
Bill Dual (In The Breeze) – Vice President
Lolly Hadzicki (Revolution) – Director
Mary Ann McVay (Into The Wind) – Director
Cath Shook (Flying Smiles Kites) – Director
Corey Jensen (WindPower Sports) – Director
Also in the running but missing by a narrow margin were Kent Kingston and Christoph Fokken.
After our meeting, the trade show floor opened up for retailers to start browsing this years offerings for products that would work in their respective stores… Looking back on the past 2-3 years, I was encouraged to see a wider variety of new designs on display in all genres, single, dual and quad line.
We didn't get to see every new kite released this year but here are the ones we were able to get photos of in no particular order…
If you see anything you're interested in amongst these photos above, be sure to contact one of the fine Kitelife sponsors listed on our links page.
Day 3 – Thursday
The last official day of the trade show kicked off with a retail exchange where participants discussed products that were doing well in their respective stores… This had been an open topic in years past, whereas this year the two hour exchange was split half and half between kites and other items often seen in brick and mortar kite stores around the country.
Interestingly, the first hour which was dedicated to kite products actually ended up being composed heavily of discussion about kite-related items like windwheels, spinners, windsocks, "easy flier" type single line kites, visually appealing kites like Prism's EO6 and Flip, as well as tails, lines and bags… One key fact that came out of this discussion was that an average walk-in customer starts into sport kites at around $29.99 and very rarely spends more than $150.
In the non-kite area, some of the popular items mentioned included rubber band guns, Arrowcopters, games, puzzles and magic tricks… While I may have been quick to judge some kite stores in the past for their heavy lean towards items like these, a few years of attending the KTAI has made it abundantly clear that they have truly shifted to survive in this economy and major changes in tourist flow… Most of the brick and mortar shops who haven't evolved along this vein have not survived, putting the proof in the pudding.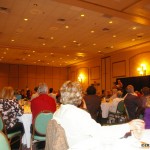 Having spent the previous day exploring the various products and show specials, attendees took to the floor and started to place the majority of their orders… The last day is always exceptionally busy as folks try to get a good deal and stock their stores for the first part of the year.
After the show floor closed, everyone headed back to their rooms to get cleaned up for the dinner and awards banquet… Speakers acknowledged the departing board members, volunteer efforts within the organization, and went on to present the KTAI awards as follows:

David Checkley
Lifetime Acheivement Award
Erv Crosby
Four Winds Kites
Retailer of the Year
Into The Wind
Wholesaler of the Year
Skydog Kites
Best New Kite
Black Dog
Skydog Kites
Best Booth
In The Breeze
Best New Product
Introduced At the Show
Flip Kite
Prism Designs
Best New Product
Not a Kite
Baby Bugs
In The Breeze
Best Wholesale
Promotional Effort
Team iQuad
Best Retail
Promotional Effort
www.cobrakites.com
Outstanding Kite Festival in 2009
Washington State Intl Kite Festival
Long Beach, WA USA
I'd like to give special recognition to Maggie Vohs and Maianne Eichler from Cameo Management for their incredible efforts in organizing this trade show every year – I've had the pleasure of personally observing Maggie and her team organize several KTAI trade shows and fifteen AKA conventions against all sorts of adversity, handling it with exceptional professionalism every time… I'm here to tell you, I don't believe anyone could do it better, they have my utmost respect.
In closing, I'd want to express my ongoing appreciation for the KTAI's existence as they represent the kiting industry at large, and are doing their part to help keep a cohesive and functional group of businesses as opposed to them being divided without consistent lines of communication and idea exchange… If you're a kite business owner and haven't been a member of KTAI or haven't renewed your membership in a while, now may be the time.
Thanks for reading,
John Barresi