Well, we're back at it. Off to Lincoln City, OR again… Since it's the end of March and it's still in the middle of winter, the Eastern half of the country is beset by all that late-winter snow and ice – so we're off for a weekend to go flying INDOORS… at the Lincoln City Indoor Kite Festival again. Yep – I picked up my old east-coast pal Scott Weider coming in from Boston at the airport on Wednesday evening and he and I are off on the 100-mile trek down to Lincoln City on Friday with a early-morning roll out of the driveway…
If you've been reading these Kitelife reports about this event that I've written over the years, you'll probably remember that the annual Lincoln City Indoor Kite Festival is truly "Unique" in the kind of "show" that Lincoln City puts on. And even if this is the first L/C Indoor report you've read, you might just be curious about a couple of the things that make this event such an unusual affair.
For one thing – Lincoln City approaches kite festivals in a rather unusial way. This "enlightened" community has a full time paid staff to organize, promote, and host the events that bring tourist business to their fair city – which is close to an "astounding" concept for such a small costal resort town of roughly 7,500 souls (2000 Census).
And the second thing that makes the Indoor Fest so unique is that the production is an hour-long "Show" that involves flying Indoor Kites in a planned, scripted, choreographed "show" akin to the type of events you'd expect to see in maybe a "Casino" show, or something similar to a European Indoor Circus production.
And finally, the Lincoln City Indoor Kite Festivals features top notch level pilots – Past and present AKA Grand National caliber pilots, and similar – folks who know how to fly, and how to entertain, and how to play to a crowd, too. Names like Jerry Canon, and Scott Weider, and Paul De Bakker, and some others who show up especially to fly at this festival because "the show" is just plain FUN to use as an exercise for their indoor kite-flying talents and skills.
So rather than just give you my normal old "touristy" blow-by-blow account, I'm going to make a not-so-minor departure from that and front-load you with some behind the scenes stuff about how an event like this one really comes together. Oh, you'll still get your "geezer blog" fix from me down below, but you'll also get some insight as to how something like this really happens, because – take it from me – it is NOT something that's just "thrown together at the last minute" by any of the folks involved.
It all starts on the desk of Maggie Conrad of the Lincoln City Visitors and Conventions Bureau – a rather "officious" organizational name for a bunch of folks that build events in their town as the city's way to promote themselves – and also as each individual's their way of making a living too, of course. And in the case of the three Kite Events she puts on every year, we're talking about the "Marvelous" Maggie Conrad. It all begins and ends with Maggie. She builds the budget, she coordinates the venue, she solicits the vendors (Yup – VENDORS – for an indoor kite-fly), she handles "promotion" – everything from posters throughout the community on up to radio commercials to build the "tourist" business… She solicits and organizes the community's resources for donations or reduced rates on food and lodgings to support events. And then there are fliers to "invite," and travel expenses to get covered, and – oh, a thousand other "details" that would probably seem "niggling" to us now – but they would be "huge" if they weren't attended to before-hand. She organizes a "kid's fair" in the Taft High School cafeteria to go along with the festival itself, and she also covers getting her events into the city-wide promotional materials for all the motels and resorts in this beach-side community… If it pertains to organized Kite-Flying in Lincoln City, Maggie Conrad is involved, whatever it is – that's just plain guaranteed!
So with the festival scheduled for the High School's "Spring Break" (this year it was on March 27th and 28th), she starts building the Indoor Festival in earnest starting right after New Years. Who do we want to invite? Where can we put them up? What vendors are available? How do we get them all here? What special equipment do we need? Do we already have it, do we rent it, or can we have someone "sponsor" it? Who do we need to "work" the event? Can we get them on a schedule? How about radio commercials? Who writes them, who tapes them? Who buys the radio time and who coordinates all the publicity? (And please be aware that the "Marvelous" Maggie Conrad is not just working on the annual Indoor Kite Festival while this is event is under construction – she might also have half a dozen other events in the planning, building, or execution stages – all running in different stages at the very same time!)
Oh, pardon me, but Maggie Conrad's business card does NOT say "Marvelous" on it anywhere… But everyone involved in Lincoln City's Indoor Kite Festival knows Maggie, and appreciates the heck out of her – not only just for the mountains she moves on our behalf – and they are legion – but also for the cheery demeanor, the ever-present gracious smiles, and the genuine "caring" attitude Maggie brings to everything she touches, just as a part of who she really IS! Yeah – one of those fabulous people that just nurtures and enables you… Hence the "Marvelous" appellation!
Then there's the Creative Production side of this "show" – which in this case means an outfit aptly named "Aerial Experience," which amounts to Lee and Debbie Park. So, "Aerial Experience" is a company headquartered down in the LA – Las Vegas area, where these gymnasts run a gymnastics talent agency, create custom productions for events around the world, and design, teach, choreograph, and display/demonstrate gymnastic circus acts, etcetera… (I'm sorry – that's the best way I can describe what Lee and Debbie do – though I'm certain that the description doesn't even begin to cover half of what they do.) Anyway, if Maggie Conrad is responsible for building the overall "event" – Lee and Debbie Park are equally responsible for creating, designing, adjusting, choreographing, and producing "The Show!"
And it all starts out with a simple creative idea from those three "minds" that is then developed, expanded, tweaked, refined, adjusted, and in essence "Created" – initially out of thin air, and then it evolves based on Aerial Experience's knowledge of the venue, the facilities, the capabilities they themselves bring to the show (because they are also exquisite performers and fine kite pilots), and the talents and skills of the other indoor pilots that come to fly at the Lincoln City Indoor! And Lee and Debbie coordinate with Maggie regarding any required equipment and for the use of the space and acquisition of things like the props and costumes and backdrops to support the show's production.
Well, why in the world would folks like Lee and Debbie and Kinsley take time away from L.A. and Vegas (where the big money is) to come to Lincoln City and mount this kind of production? So I've asked them this very question several different times! And they give 2-3 answers, depending on who and how you ask… They LIKE getting away from the "unreality" of Vegas and L.A. for one thing. They think the kite-fliers that come to Lincoln City are talented people who are a "breath of fresh air" in comparison to the people they are used to dealing with. And then, they can come to Lincoln City and try out some new and different things, too! Sometimes, it's the "tryout" of a new gymnastic routine, or maybe it's some different techniques added to their kite-flying, or some tricks in show "staging" to experiment with. So Lincoln City turns out to be something of a Lab Exercise sometimes, too… And they also look at Lincoln City as a place to keep current on available "talent" too, so some of these fliers have generated new ideas that Aerial Experience can take back and develop for other shows they will subsequently produce. But I think perhaps as much as anything – the Aerial Experience crew just enjoys the natural camaraderie that amateur kite-fliers have and share with each other, and that probably isn't much in evidence on the big-budget production shows where someone's paying a hefty bill as a natural result.
Finally, there's the kite fliers themselves. What brings them to Lincoln City at the end of March – to participate in an indoor "kite show" in front of a paying audience? To get gussied up in costumes, and wait for cues to go on stage and to fly prescribed routines and then get offstage again – only to do it over and over and over again? Some of them are relatively new fliers, but there're some "Past Masters" at the art of Indoor Flying, too. Some are current and "ex" National Champions at the game…
Well, for one thing, there's the chance to do something different – and all in front of an appreciative crowd. Believe me when I tell you that this indoor "show" requires different disciplines than those used to fly an Indoor Comp Ballet routine in front of a panel of seasoned judges who've already seen your routine umpteen times before. You have to "seduce the crowd," rather than "flying for points." You have to work with others for (hopefully) seamless transitions between different fliers. There are often multiple fliers on the floor at the same time – moving around the floor to different locations at different speeds – and flying Indoor SLKs and dualies and quads – all at the same time.
Sure – the ever-present camaraderie is there, of course. But this time, in this situation, you're working together instead of separately. You're in "costume." You're flying to music you didn't choose for yourself to highlight your special skills – music that someone else actually chose for you, based on how it fits in "the show" rather than whether or not you "clicked" with that particular tune. So, a major part of the attraction has to do with that "Actually doing something for the crowd using a Kite!" business… And while you are supposed to be "seducing the crowd" during the show, that big audience reaction and their approval can also be awfully seductive to YOU, too!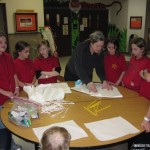 When all is said and done, you usually end up with hearty approval from the "organizer" (Maggie) – the "producer" in Lee and Debbie Park – and from the audience themselves. Besides – it's just more time on the floor – in front of an audience – doing something you simply enjoy doing – Flying Kites Indoors! So, by and large, that's the "attraction" for the Fliers.
Yeah, it's unlike most any other Indoor Kite event that I know of anywhere. And yes, it is planned, captivating, and stretches the boundaries a bit – and it can be an intense and "heady" experience for all concerned.
Hmmm…
So anyway, Scotty and I had stopped along the way to Lincoln City for a quick bite to eat so we arrived in Lincoln City in the middle of the morning. The gym was open for "free flying" by that time and friend Weider would chose to go "meet and greet" folks, and then fly for a while to "shake the kinks" out. Since we'd arrived nearly on time, about half of the pilots were already in the Taft High School gym, flying, talking, comparing notes, and catching up – or watching Lee and Debbie hang the set from the ceiling. Lisa Willoughby was there, in from New Jersey, along with Dick and Georgean Curran and Toby Arndt who were down from the Tacoma area. And so were Tristan Underwood, from up in Langley, BC, and Jerry and Marcia Cannon in from Auburn, WA.
Lee and Debbie had started setting up the stage backdrops, installing the props, and hanging their gymnastic gear the very first thing Friday morning. Then everyone got a quick intro into "the show," followed by some simple walk-thrus. After that, they would put it all together in preliminary walk-thru rehearsals, followed by several Flying "Dress Rehearsals." Time-outs as necessary to "adjust" and "tweak" and "reconsider," of course. Sound checks. Lighting checks. Costume checks. And so forth – Yeah, it sounds pretty "unstructured" – which certainly seemed quite true. Actually, the only real "structure" worth noting was the continual pressure to keep moving along as fast as possible to cram it all in. "Just Keep On Until We're Done!" seemed to be the operating requirement.
So they were still bringing in lights and stands off the truck when we had arrived, just a tad later than planned. The backdrop for the show was already hung and looked very professional, and Debbie Park was rolling around on the lift-cart, hanging her gymnastic apparatus from the roof girders (two "Tissue" falls and a Trapeze). And Bob Wendt was busy setting up the sound table and running a few sound checks – but soon most of the setups were pretty much done and Lee Park called all the fliers together for a quick meeting, and an explanation of "the show" – followed by all the individual flying assignments.
The "concept" was a painting, emphasizing bursts of "color." Hopefully, the audience would "get it" and see the empty frames hanging on the backdrop, and mentally use the color from the kites to paint mental pictures in their minds. Yes – it sounds like a bit of a stretch, but I personally watched to see if the concept worked (a) for ME, and (b) for the audience. By the time the weekend was over, it seemed to be working for me personally, but I was still unsure of the audience's reactions…
And, as a corollary, the pilots flying costumes all consisted entirely of black clothing – thus letting ALL THE COLOR for the show come from the colors of the KITES instead! At least that was the basic intent anyhow!
From the Indoor Kite Festival's "program" handout… I offer the following short poem:
THE CANVAS

You don't see a canvas… all you see is a frame…
Beauty and color… billions of stars…

You don't see a canvas… all you see is a frame…
You follow along… no reason or rhyme…

Nothing but sorrow… nothing but shame…
You don't see a canvas… all you see is a frame…

Let your mind drift… into the abyss…
Discovery more lovely than heaven awaits.

© Aerial Experience Productions – 2010
The early practice efforts consisted of scene-by-scene physical walk-thrus – particularly those portions of the show where multiple fliers were on the floor at the same time – and there are portions of this show where EVERYONE in the cast was on-stage at the same time.
In any case, there were the usual early "cues" questions and misunderstandings. Followed by the correcting adjustments to some of the mis-cues. We're tinkering very little at this point, mostly just letting the fliers settle into the sequence of cues and stage locations, per Lee's directions. We're not ready for actual kite-flight yet and certainly not ready for our stage-costumes and any complex lighting adjustments or changes. But the stage is in place, and the walk-thrus are in syc with the musical score as broadcast through the sound-system. So, while there're still a few problems, the cast is moving together on the program, and Lee is doing his very best to keep them headed that way as the show's director.
So on the "up" side, each run-thru is a little better, and the adjustments are quickly moving toward a "do-able" show. Perhaps time to add Kites, and actually fly – which occurred about mid-afternoon. But now, with the fliers getting their first chance to fly to the music, we're seeing some flight successes and also a few new "burbles," too. Adding kites misplaces the individual's concentration that went into the walk-thrus a bit, so the initial fly-thrus generated a few problems of their own.
Then by about 4:30 PM, the whole show started to jell and we all started to feel pretty good about this deal. We'd "get through it" somehow, and after that, each practice was better than the prior ones… YES!!!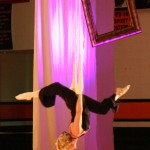 I wanted to recount this scenario for you to show that putting this kind of a show together is a whole lot about doing "theater," and group effort, and multi-tasking with a kite, and ultimately "romancing the audience" – and not so very much about hollering "IN!" and "OUT!" and flying your kite to your Ballet routine in sync with the music you picked and practiced a gazillion times… These "working together" disciplines are very different.
Okay, by about 6:00 PM everyone was busy worrying about their own little piece of the pie – and how their piece fit in with everyone else's piece. GOOD SHOW, folks. And, looking back on that effort, the cast had made HUGE strides over an incredibly short period of time – maybe six hours all told?
The cast finally broke for a quick on-site pizza dinner (Thank you, Maggie!), and returned to the gym again for some more practice. Apparently, the dinner hiatus worked well to fill bellies, settle nerves, and firm up concentration because a couple of more fly-thrus had the show actually looking pretty decent. Amazing!!!
Eventually, Lee called it done and everyone was released back to their various lodgings. I'm sure every cast member was more than ready for a shower and a change of clothes by that time – followed by a little relaxation and some kind of food.
The "digs" Scott and I had for the Lincoln City Indoor Kite Festival were a very nice unit at the WorldMark Condominiums at Glen Eden, OR, which we had both visited several times before, so it felt like it was "home" to us and we settled in quite nicely. Everything seemed just fine at the condo, save only that I was already tired of the perpetual rains we have in the wintertime in the Pacific Northwest. Yeah – I DO remember the kind of weather you folks on the East Coast experienced in March – which is probably why Scott Weider was so darned pleased to be out here with us on the West Coast. NO SNOW!!! Anyway, sleep came easy, and there really wasn't a thing to complain about at the condo all weekend long.
Anyway, Saturday morning found us up and at 'em early. Time to get our habitual "road breakfast" of eggs and cottage-fried potatoes over at The Beach Dog there in Lincoln City, but we were in kind of a rush to make the planned starting time at the High School gym by 9:00 AM, though we eventually figured out that it really didn't matter all that much. Lee and Debbie kind of expected some laggards (we were no more than 5 minutes late), and he only had a few short, non critical things to mention… Yep – they were still "tweaking" the show's routines a little bit as they went along.
Official Kitelife subscribers can click here to download and watch
a variety of indoor performances from this years LC Indoor Festival.
Well, if we'd thought Friday's "One Day From Start To Finish" show training schedule was aggressive, Saturday really wasn't much easier. We were back into the more "traditional" indoor-festival routines pretty quickly. Demos and Kiddies Kitemaking from 10:00 AM until noon. The first "The Canvas" paid-performance (for an audience) at Noon. And then Mystery Ballet at 2:00 PM, followed by one of Penny Lingenfelter's "Cast of Thousands" – Kids-Of-All-Ages performances, further followed by more demos and kid's kitemaking, until Hot Tricks started at 4:00 PM. And when Hot Tricks ended, everyone rushed like crazy to get back into costume again because we were straight into another "Canvas" performance starting promptly at 5:00 PM. And after that, it was still more demos until the festival officially shut the doors at 8:00 PM… Whew!!! And… Yes – I really did watch both events, and… and NO, I simply cannot remember who won the Mystery Ballet or the Hot Tricks competition this year.
And we do all this craziness for "recreation" and call it "fun?" Who put this way too aggressive schedule together?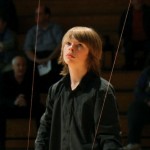 Well… I for one wasn't super thrilled about the idea of capturing all this crazy stuff on a camera chip (which is my normal "job"), so I chose to wander and stretch my legs a bit instead though, so I only captured "some" of this stuff in the camera. I'd done my homework this time, and with Scott Weider's able assistance (STUNNING photo-wizard that he is!), I'd finally achieved a few good images during the last practice sessions on Friday evening. YIPPIE!!!
But, it turned out that I was still having camera difficulties again – "nice" troubles, but they became problems nonetheless. I started shooting the first performance of "The Canvas" by cramming as many good shots as I could get 9nto the chip, figuring I might finally get some decent photos – then I could chose my "super-shots" from among them. Good thinking, but it turned out to be a bad plan. Why? Well, I ran out of 4 gigs of digital media about 2/3rds of the way through the first performance. So I waited until the show was over and installed another 4 Gig "backup" chip I had brought along prior to the second go-around of "The Canvas" – and this time I still got maybe 3/4ths of the way through that performance before I RAN OUT OF MEDIA AGAIN, and I had all of my additional spare chips in my bag back in the condo! YUK!!!
Still – there were things of interest to see out there and I will speak of a few of them here.
For those of you who might wish otherwise, young Tristan Underwood is back on track – steadily improving again. I've always been impressed with his natural ability with any kite he picks up, but I was frankly getting a bit bored with his "faster than lightening" hand moves to hard rock music. Well, Tristan is learning to vary his style of flying according to the mood of his music, so he's becoming a much more "mature" flier – yes, on both dialies and quads. For those few of you who were banking on being able to "Whup" on Tristan in competition based on his Super-Fast-ONLY flying speed/style – you should probably plan to re-think things.
But of all the competent and "growing" pilots out here, my hat goes off first and foremost to Connor Doran. He's been flying – what? Maybe 4 years now altogether? Did he ever pick up a kite before that? I can remember him as an awkward, leggy kid who was struggling like crazy to get and keep a small Cody kite into the air at a festival over in Bend, Oregon – his home town. And now – by dint of MUCH effort on his part – he's become one of those "sensual" fliers who can keep nearly any kite airborne, and fly it like an absolute DREAM. He's one of the few who can bring a tear of joy to my eye when I watch him fly – not very easy to do. Connor too will be a "force to reckon with" in the not-very-distant future! Yeah – I happened to catch him flying a Demo on Saturday, and I could NOT turn away from watching him – Yes, I was THAT mesmerized…
On another, completely NON kite-related, note, I was also absolutely delighted to see that the Burgerville Nomad (a big Motorhome restaurant-on-wheels) showed up at the Lincoln City Indoor Kite Festival this year. If you're passionate about your burgers (and I am), and you happen to live in Oregon or Washington (I do), and you go to kiting events (Obviously…), seeing Burgerville show up at any kiting event is a STUPENDOUS plus… They're certainly one of the top burger places in the Northwest. So I asked "the answer-lady" (Maggie Conrad) about them being at the Indoor this year. It turns out that THEY contacted HER, not the other way around. It seems like they had that weekend free, so they found out about the Indoor Festival, and called her up and asked to come out… and she said "Sure!" Well, bless you both, Burgerville and Maggie! My stomach REALLY enjoyed that special treat!
Finally, I'm fortunate to get to know a few of the very best Rev fliers in the world – John Barresi definitely among them. But I've also been lucky enough to get to know Scott Weider over the years too, and I have to say he's still one of the most impressive Indoor Rev pilots out there – as well as being a heck of a fine friend. I was quite lucky to be his chauffeur and roommate for this Indoor event, so Thanks a Bunch, pal!
Anyway, on to finish off Saturday at the Lincoln City Indoor Kite Festival – 2010, and we'll get to describing Sunday momentarily.
Following Saturday's last performance of "The Canvas," I took stock and noted that each performance was better than the one before it. Good. I'm sad attendance seemed off a tad, but it was good to see the cast improving and progressing.
After the performance, however, it seemed like nobody much wanted to hang around the gym, so we "eased" through the remaining few demos, and just shut it down instead. Everyone was tired, felt a bit "sweaty," and mostly wanted just to kick back, get a shower, and find something to eat.
All of the invited fliers received a coupon for a free Buffet meal at the Chinook Winds Casino, and some folks planned on heading straight home after the Festival shut down on Sunday, so everyone decided that it'd be fun to just eat together at the Casino on Saturday night instead of on Sunday. So we all headed over to enjoy the delights of the Buffet – which is always a good time. I had the Roast Beef, and enjoyed it quite a bit. Then I discovered a few empty spots down in my torso, so I went back and got the fine "custom cook" to make me a Shrimp Quesadillia too. WOW!!! That concoction beats any dessert on the planet! (…though I also had some excellent "flan" that night too! YUM!!!)
Then it was back to the WorldMark in Glen Eden and quickly headed for the bed with my name on it! And before I knew it, it was morning – and I was good for another day.
We knew the schedule now, and so felt comfortable e-a-s-i-n-g into Sunday. Scott Weider had no intention of competing, but said he would probably judge the competition instead – so he wanted to be at the gym before 10:00 AM. Okay, right back to The Beach Dog for another stellar breakfast (Because? If they did it right the last time – why change it, right?), and then it was on to the Taft High School again. Scott did end up judging the Indoor Competition, which got underway promptly at 10:00 AM. After it was all over, there were some surprises concerning the individual placings but nothing amazing or horrible in the scores.
And after all routines were flown and tallied, here are the placings for the Indoor competition:
1 Tristan Underwood
2 Jerry Cannon
3 Paul de Bakker
4 Toby Arndt
5 Conner Doran
6 Amy Doran
7 Wayne Turner
8 Jeff Reed
9 Dave Bradley
10 Lisa Willoughby
11 Dick Curran
Following the distribution of the Indoor Comps trophies, everyone got ready for the final "The Canvas" performance of the festival. And they were off and running with "The Canvas" within a few seconds of the projected 12:30 start time.
It is often the case that the second performance is the real "winner" at the Lincoln City Indoor Kite Festival, but that wasn't the case this year. The cast continued to improve, and the pressure to perform was off for the third performance. Oh, it wasn't astoundingly spectacular, but of the three, this was the performance to watch if you wanted to see the best one. Things were just a touch smoother. The performers were just a little bit more assured. People flew uniformly well, and they paid a little more attention to their entrance and exit cues, and there was a kind of overall "comfortable" feeling to this last performance. And finally, this last one was in the bag too! Good Job, folks…
The cast and crew and fliers and bystanders all huddled around to receive their trophies from the Indoor Comps, and everyone began to tear down and pack up gear and load up their vehicles. Those who had to make the long drive home did cut a few corners and squeaked out a little early. Those who were staying another night were less rushed in their departure from the school.
The folks who were staying agreed that they'd had such a nice meal at the casino last night that they aught to do it again, so a 6:30 meeting time was set and most everyone headed for the showers and a change of clothes.
Scott and I took the opportunity to do a little "visiting" instead. We thought it'd be nice to visit the kite shoppes in town, so we rolled over to the Tanger Outlet Mall and visited the Gomberg's "Northwest Winds" shop in the mall. It's a clean well-ordered place, just as you would expect. While we were in there, we were told that we needed to stop at their brand new "D River" branch too – so we did that. And while we were at it and still heading north, we also stopped in to say "Hi" at Winddriven Kites – the "other" kite shop in town. So we hit them all – said our "Thanks" for being there – and kept on heading north toward the Chinook Winds Casino again. Yup – the same nice group of kite people, in the same nice accommodations. The only thing different was that I had the Roast Turkey on Sunday night instead of the Roast Beef, and we hung around a little longer since there was absolutely no rush for anyone to get anywhere in a hurry – so we didn't even try to rush.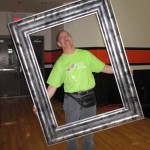 Then it was back to the condo to hang out with the rest of the folks. Watched a little TV. I jumped on the Internet and caught up on my e-mails. We slept in, and since The Beach Dog is closed on Mondays, we found somewhere else to grab a bite instead. Yeah – it must have made been an absolutely delightful place because the impression is totally non-existent. Yeah – probably "The Ho-Hum Cafe" or something similar.
Well… there you have it. Another fine Lincoln City Indoor Kite Festival in the books. Yup – they're NOT your everyday average kite festival, but they lay no claim in that regard either. Lincoln City has their own special way of doing things. Well, it works for me. I like attending that one!!!
And before I close this report down and send it off to Kitelife, I'd kind of like to ask anyone who's interested to email me at geezer@kitelife.com and tell me whether on not my explaining how he show is put together helped you understand the event a bit more…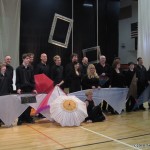 Finally – I'd be remiss if I failed to mention all of the people involved. And just so nobody is left out, here's the list of the people who are listed in the event's "program – shown below in alphabetical order…
Paul de Bakker
Ronda Brewer
Burks – Phil and Barbara
Jerry Cannon
Jerimy Colbert
Zack Colbert
Deb Cooley
Amy Doran
Connor Doran
Gombergs – David and Susan
Lindsey Johnson
Penny Lingenfelter
Park – Lee and Debbie
Jeff Reed
Bill Rogers
Ken Tumminia
Wayne Turner
Tristan Underwood
Scott Weider
Wendt – Bob and Donna
Lisa Willoughby
Warmest Regards, and I hope to see you on a beach somewhere.
Fair Winds and Good Friends –
geezer