Each month we'll be featuring one of the fine retailers who have been so supportive of Kitelife and other areas of the kiting community…The retailers you'll find here are established, proven vendors.
---

Midwest Kites PO Box 3735
Davenport, IA 52808
Phone: 563-823-8337
http://www.midwestkites.com
Hours of operation:
9am – 6pm CST   Monday – Saturday
Closed Sunday & Holidays
Floor space:
We are strictly an online retail business serving customers worldwide.
We've been avid kitefliers for the past 17 years, but started Midwest Kites just a few years ago.
Years advertising with Kitelife:
We've been advertising with Kitelife since August of 2006, issue 49.
Owner and/or manager names:
Rich & Lyn Donner (owners)
Favorite food(s):
We both love anything grilled outside.  Lyn prefers steak and I prefer chicken.
Last book read:
Neither of us have much time to read but when we do Lyn loves mysteries and I enjoy reading inspirational books and magazines.
Favorite kite web site:
Kitelife.com
Favorite flying spot:
We fly down by the Mississippi River in a small park in downtown Davenport, IA at a place called Centennial Park.  It's a high traffic area and the people can see our kites, not only the people on the IA side but also the people from the IL side of the river too.  Many people stop to ask questions and see the kites and when they do,  we always offer them the opportunity to give it a try with dual line or quad line flying.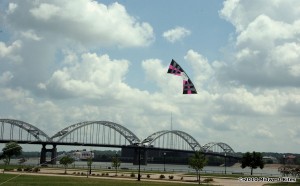 Specialty of the store:
We strive to maintain a very high quality of customer service.
Motivation for opening a kite business:
We both come from retail management backgrounds and combined our knowledge and experience in retail with our love for kite flying.
Most important advice ever received:
When I was first getting into retail in the early 70s I had a boss who taught me that customer satisfaction should always be your number 1 priority, period.  That has stuck with me through all these years.
Nicest Sale Ever Made:
It's really hard to just pick out just one sale, there have been so many nice ones.  The ones that we remember the most are when the customer lets us know that they are really happy and enjoying a kite we recommended to them and they send us pictures of them and their kites.
Best fringe benefit as owner/manager:
We are able to combine two things we enjoy immensely, kite flying and anything related to kites and retail sales.
Favorite issue of Kitelife:
We feel all of the issues of Kitelife are great but our favorite issue is always the next one, we wait for it.