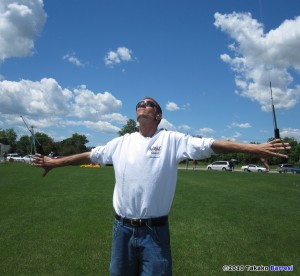 We're enjoying the peak of summer with many wonderful kite events going on, and we always look forward to reports from all over the kiting world which we in turn can share with our readers here at Kitelife… This issue is no exception, with submissions from France, Quebec and a number of North American events, some of which we're covering in our magazine for the very first time, along with a variety of historical and insight pieces sent in by our contributors.
In addition to those who sent in our fantastic array of material this month, I'd also like to acknowledge the significant work TK put into this issue – handling nearly three quarters of the production, lay up and editing on issue 73, she is rapidly learning the ropes and defining her role in bringing our publication to the web both this time, and in the future… That, and she has the misfortune of dealing with an occasionally cranky boss in close proximity, double kudos are most certainly in order.
As always, thanks to the support of our sponsors, we're continuing to draw some excellent prizes for our official Kitelife subscribers! This month, we'll be giving away a brand new SDT 2.8 dual/quad power foil from Skydog Kites on August 5th… We've got a bunch of other prizes lined up and it's never too late to sign up, your support goes a long way toward helping us expand and continue our efforts in the promotion of kiting.
We still have a number of events on the schedule for 2010 and are greatly looking forward to meeting/reconnecting with many of you over the months to come… Until then, keep on flying from the heart!
Cordially yours,
John Barresi
Editor/Publisher
Kitelife Magazine
Next Prize Drawing to be held soon!