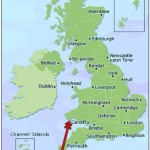 This worked well but as I got closer to the coast the rain started, as expected, and as I arrived at the campsite by 4.00pm, I was surprised at how many folks were already there.
As the rain had been predicted for the evening I decided, unwisely I might add, not to take my tent, but to sleep in the car.
What I had not bargained for was the amazing downpour we experienced all through the evening and night!
I rigged up a tarpaulin bivouac, which was OK, and started cooking my evening meal. It was only light rain and I was comfy and dry until the wind picked up whipping the heavier rain around the sides and making things pretty soggy!
It was time to abandon ship and mosey over to Dom Early's mini marquee. This doubles up as his event shop and it had attracted a number of other soggy waifs and strays! With a BBQ fire to provide warmth I have to say it was quite cosy, and we settled into a chat and drinking session that makes events what they are!
The minutes blurred into hours and before long it was 12.30…. it was time to go to bed. I had already set up the sleeping bag in the back of my mini-van, but with all my kit spread about the place, it was a tight fit.
I woke at around 6.45am having slept like the dead, I'm too old to sleep like a baby anymore, and the grey clouds scudded by but no rain!
Most of my cooking kit was a bit wet but I fired up the stove to get a coffee, and cook some breakfast.
The rest of the camp started to stir around 9.30'ish as the smell of tasty breakfasts wafted across the field!
This weekend was planned for the extra low tides, but his meant that the beach wasn't really ready until 12.30 noon. Plenty of time to get over last night, and prepare the buggy.
A short drive up to the beach car park and I found Tom there. We piled our kit into our buggies and walked on to the beach to be greeted with a great 15-18mph on shore breeze. We had to walk 1.5 miles up to the pit area (beach regulations!), and that blows out the remaining cobwebs.
I though the wind was stronger and set up my 1.8m Peter Lynn Core, but that was a mistake as I was way underpowered…I wasn't sure about putting up my 8.0m Ozone Access, so I had a rummage around in my bag to find my old 4.0.m Mk 1 Predator, the race kite of the 1980's. I don't think I have flown this for 8yrs!
As I set it up on the ground stake something is very obviously wrong, the right brake line is too short and the left power line is too long. A few minor adjustments ensued and hey presto! A slightly less wonky looking kite! (That will teach me to be better prepared)
The wind is really breezy but you just have to launch and hang on…..Oh! that wasn't that bad…right find the buggy and off we go!
For the next 2hrs Tom and I race up to the airport control tower, about 5 miles along the beach, and back, and then further to the river estuary, approx 8 miles and really wound it up back to the pits. I looked at my GPS, when I got back to see I've clocked 40.1mph max speed, no too shabby for 1980's technology! I also managed to cover 55miles today.
The rest of the day was just fantastic with loads of folks, buggiers, landboarders, blowcarts, and class 5 landyachts just enjoying the sun and cruising, jumping, and racing. What a day!
By the time I got back to camp it was nearly 6.45pm, and I was feeling ravenous! The club had surprised us by announcing a BBQ and drink that evening. So I made a cup of tea, ate some cake and enjoyed the sunny warm evening. Such a contrast to last night!
Tom and his dad had pitched their tent next to me and we discussed Tom's recent kite sponsorship from HQ Kites. He is now the only UK flier with the new Prodigy kite, as well as a new buggy he has had built for him.
By now a number of folks started milling around the BBQ and I wandered over to get some food. I had a chat with Ady Lavelle, winner of the PKA, UK Masters series about the forth coming European Championships. A couple of beers later and the sun had set, revealing a star spangled night that twinkling over our camp. The food and drink carried on well into the night. I wandered around the groups that had formed discussing the day and meeting old friends I hadn't seen for a while. A large group around the campfire, which flickered against the white marquee, carried on well beyond 2.00am
Fatigue set in by 10.30pm and I ambled over to my vehicle, clambered into my sleeping bag, and fell asleep.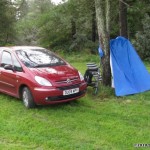 Sunday morning was glorious, wall to wall sunshine, without a cloud in the sky.
It was less windy but by 12.00noon it had picked up and as we walked onto the beach it was obvious that the direction was now northerly, down the beach.
I set up my Ozone Access 8.0m and realized that it would take a lot of tacking to reach the Control Tower today.
The run back was not as easy as it first appeared and caught a few out who chose a smaller kite. I needed to set off home by 5.00pm so by the time I packed up, I had buggied a further 22 miles and achieved a max speed of 35mph in 12+mph winds.
What a great weekend. The club had organized another great event, leaving everyone shattered but very happy!
Steve Walt Webb