30 issues. No, that's not the amount of emotional baggage I carry around on any give day, it's the number of Revisions columns I have written since signing on with Kitelife as a writer. Initially, I'd thought about writing an article like this on my 20th column, and when that zoomed past me, I then targeted my 25th issue to do something up for. And, then that went by too, so here we sit at column number thirty! To be fair, part of the reason I missed 20 and 25 is that these days, there's no end of neat things to write about at any given time. This hasn't always been the case however, so, let's take a look back at how far the Rev world has come in the last 5 years.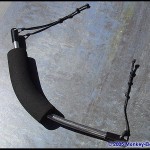 Five years ago when I wrote my first story (a look at tying custom leaders for handles, which when I look back on it now, I'd do it a little differently… ) Revs were a pretty small subsection of the kite world at any specific festival. I clearly remember WISKF in 2005, when the beach was vastly favoring the dual line kites. There were a handful of Rev flyers, but at any given point, you could like count the amount of Revs in the air on one, maybe 2 hands. John and I were becoming good friends, having met for the first time only a few months back at the Lincoln City Indoor festival. Be sure to ask John about that first meeting, it's a pretty humorous story… Those of us who were flying Revs then were just as dedicated but, certainly a little lonelier. It was very likely that with the exception of John, you were very likely flying a 1.5, complete with the "state of the art" SLE rod, which at that point, I still thought was one of the better inventions since sliced bread and canned beer. You probably had the shorter 1.5 handles, as the (as they were called at the time) Ultralight handle, the 13 variant that now comes standard with 1.5s, and the B series. John and I filmed what became a heavily watched video on Youtube, Rev Play, with him on his blue fade Rev 1, over a pond of water on the beach.
Over the five years so much has happened and I've written about so much. Ive covered different kinds of flying, from a few articles on indoor flying, 3D flying, competition, team flying, events, new Revolution products. From personal observations on what's going on, to reviews of products. I wrote about the debut of the B series kites, having been there all along from the moment Ben first approached the subject of a custom kite, way back years ago, to a few months later when the very first prototypes got into our hands. I remember clearly having my first flight with a B series sail, on a SNOW COVERED Long Beach of all places. Yes, it was very cold but the difference in kite performance was noticeable even when flying all bundled up and with big thick gloves on my hands.
I've extensively covered the rise of team flying in North America, whether it's been what iQuad was up to or what other teams around the world have been up to. And by far, one of the most amazing moments I can remember occurred just the other day, when I strolled up the beach in Singapore, kite in hand, joined in some team flying with Chua Lin and his team. With what has now become standardized calling of moves, I fit right in immediately and felt utterly at ease with people I had never met, half way around the world. Despite differences in language and culture, we spoke the same language, the language of Rev team flying. Thankfully, they called their moves in English… But, it was an amazing experience and one I'll remember for many years to come.
In 1997, when I first fell into the spell of Revolution kites, I had started a subsection of my Monkey-boy.com web site, which I titled "Revisions". At the time, it was one of the only sites and perhaps even the first site on the Internet dedicated to Rev flying. It began as simply a mailing list where I'd collect up the emails and then every once in a while I'd send it out to the entire list. Even now, you can go back across the archives (which are still saved on the original Revisions site) and find names that are still flying to this day and a myriad of tips and tricks. One of these days, I may even go back and update it some more to include some better information but, for the most part, I'm utterly satisfied with simply writing for Kitelife.
Rev flying has taken me all over the world now, meeting flyers on a few continents and from many different countries. I'm merely a couple of days away from landing in Bintulu, Malaysia for their 6th International kite festival and I have no idea where the kites will take me next but, one thing you can be sure of if that I'll continue to write about the adventures and the kites and the people I meet along the way. Of course, look for a long article on this trip to Malaysia as well next month, as I am taking notes as I go along and I promise to take many pictures as well, something I have been rather amiss in doing over the last year or so, mainly because any time I end up at a festival with iQuad, I spend so much time flying that my camera often doesn't even leave my bag! I promise to try and rectify that over the next few issues.
Of course, this is also a good time to thank the people who have helped me out over 30 issues as well. Ben D'Antonio and Lolly Hadzicki for example, who have let me write about new products in advance of them being released and their friendship over the years. I've known Lolly for more than 12 years now! To Penny Lingenfelter who was my first Rev "tutor" back in the late 90s. To my brothers (and new sister, TK!) in iQuad, who I've traveled extensively with and have built up a lifetime of amazing memories and stories, and last, but certainly not the least, John Barresi who first gave me the chance to reactivate the idea of Revisions with the pages of Kitelife magazine. John has taught me so much about flying, performance and together we have developed iQuad, which has led to the explosion of Rev team flying both in North America and around the world, taking the initial lessons we learned in Berck Sur Mer in 2006 and expanding, tuning and refining these into what's become a world wide phenomenon. And finally, every last person I have flown with over the years deserves a big thanks as well! Here's to another 30 issues, and I'm excited to see where Rev flying will go over the next few years!
David Hathaway