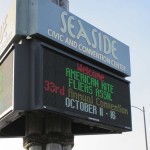 First day of AKAGN in Seaside, OR… Brings back nostalgic feelings, as this was where I'd first encountered more than my own regional kite fellows, same beach, same event, in 1990, coming to see all the pros I'd been reading about in the magazines for the very first time.
This is the fourth time AKAGN has come to Seaside, putting it in a solid tie with Ocean City (MD) as being the most popular AKAGN locations to date with spacious beaches, beautiful view, generally great wind.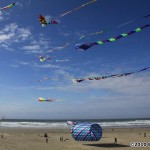 On more than one occasion, it's been pretty wet with thick ocean fog or ongoing drizzles… Today however, it was absolutely gorgeous with mostly sunny and steady 5-10mph winds right off the ocean, smooth as glass.
Folks checked into registration from 1 to 4pm today, and quite a few took advantage of near perfect flying conditions, regardless of what you had on the strings… Really, a good day for just about anyone on any kite.
Phil and Barbara Burk had some of their single line beauties in prime view from the promenade, Bay Area team Air Zone was practicing on the north end of the beach, I got to fly and chat with Will and James Sturdy for a spell, I also saw Eli and Tom Patterson a little down the way, also practicing for their comp events.
Also near the area I was flying in were Yuji Kujime, a visiting sport kite enthusiast from Tokyo… Spence Watson on his nearly trademark red/black combo Revs… Ben D'Antonio, working the passerbys with his Rev… Scott Weider, showing some action on both dual and quad today…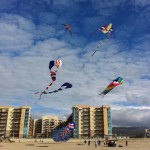 Quite a few other folks as well, although I didn't have a chance to see everyone or take as many photos as I'd anticipated today as the conditions were just too awesome to pass up – here's what I saw most of the day from behind my own set of wrist straps, earphones blasting away… So enjoyable, just what the doctor ordered, and with no fear of saying it too much, the conditions simply couldn't have been any better!
At 4:30pm, folks gathered at the Seaside Convention Center for the AKA Opening Reception with finger food, an open cash bar, a few announcements and raffle draws, with some great representatives from throughout all walks of North American kiting, and a few overseas as well… Good mood in the room tonight, great flying conditions today, excellent fliers and artists, it promises to be a good week.
Tomorrow is the start of daily workshops, outdoor competitions, mass ascensions, indoor competition, bag raffle, annual meeting, memberships forum and more… Not sure exactly where we'll be, but if the weather is good, it's likely to be a lot of time flying with some wandering time left over for hellos, OPKs and photographs.
Stay tuned for a little more coverage and photos, today was our settling-in day after a flight from Denver to Portland last night, we're just getting warmed up and are looking forward to the event as it builds ineria through the week.
Hasta mañana…
John Barresi