My morning started off with a quick jaunt over to the Convention Center for a peek into the various workshops, including topics from beginner sewing to the hobby of collecting kite pins… I enjoyed one in particular, the "First-Timers Introduction to the Convention" led by Richard and Marti Dermer… We might have had a dozen or so first-timers, and it was great fun to see them being introduced to everything happening through the week.
Based on forecasts from a few people, sounds like we might end up with around 200 people registered, might see 220 in all by Saturday night… It's not the 400-500 registrants we saw in the early 90s, but I definitely get the feel that this is still the real thing all in all, many fine kite fliers all in one place.
After visiting the workshops, I put some time on the beach testing out a new custom dogstake I picked up from my friend Mikey, then spent the rest of the day wandering the fields and free flying, switching between my new dual line on 80′ and my Rev on 120′ while mass ascensions were held in the first field, immediately north of the promenade.
In the second and third fields north of the promenade, the following sport kite competitions were held:
Novice Individual Ballet (NIB)
Experienced Multi-Line Ballet (EMB)
Masters Team Precision (MTP)
Open Multi-Line Pairs Precision (OMPP)
Open Individual Outdoor Unlimited (OIOU)
Experienced Pairs Precision (EPP)
Masters Individual Precision (MIP)
Experienced Team Ballet (ETB)
Just guessing, I'd say the best wind we saw was about 4-6 mph, another beautiful day but just barely below the ideal wind range at times… Winds were occasionally challenging for some fliers but everyone seemed in good spirit with smiles on faces in the stage-in area.
Seems to be a few new faces at this event (at least for me) and few familiar names who have traditionally been here are missing but it should prove to level the playing field and make for some exciting comp results.
Speaking of comp results, I'll be adding them daily as those as I find them posted in the main areas of the event.
Back on the south end of the beach, outside the marked off fields in open flying territory, Robert Brasington joined the field today with his gorgeous displays, as did Jon Trennepohl, Kathy Goodwind and several others… Bazzer Poulter and Steve de Rooy did a bit of practice on their 2 Rev flying (2 guys – 4 kites)… Ben D'Antonio was playing with the passerby on the promenade a good portion of the day, and looking all the way and down the beach it was great to see a bunch of folks on kites of all kinds.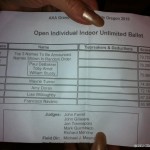 My evening closed with the Indoor competition and demonstrations held at the Seaside High School gymnasium… A spacious school venue, the competition was held on a full size court while fliers tuned and practiced on a second court upstairs from (and overlooking) the main one, you can find the TBA scores on the right.
A personal highlight for me, Connor Doran rocking the court with a really smooth and assertive performance on his single and 2-stack of Indoor Revs – it drew a standing ovation from the room… He did a good thing for kiting with his recent successes on America's Got Talent, just by being himself he brought indoor kite flying to literally millions of people over just a couple of months and four (yes – count 'em – four) stages of AGT competition.
My update was delayed today due to slow upload speeds on my Internet connection here in the hotel, I really wanted to do Connor justice and upload a video the excellent performance he put on for us… After three attempts over last night and this morning, it's just giving me no joy so it'll have to wait for now, terribly sorry.
Tomorrow we'll see more workshops, the comprehensive kite making and fighter kite competitons kick off, as well as additional sport kite disciplines… It's late already, I'm off to bed and dreams of flying tomorrow!
See you tomorrow…
John Barresi