Last day of AKAGN, I started off my morning with a visit to Ben Dantonio's workshop (Rev 101) covering the basics of flight and equipment choice, also presenting this morning was Scott Skinner (Drachen – Outreach to to the Professional Teachers), Steve Ferrell (Judging Handmade Kites: After the Competition) and John Pollock's (Yellow, Red and Blue, Oh! and Violet) workshop on painting kites.
Rounding out the last of the morning programs was Carl Crowell (Intellectual Property Lawyer) with a topical introduction to key aspects of patent, copyright, trademark and intellectual property laws as they actually pertain to the kite industry and community… While I'm tempted to try and convey the meat of the presentation it would be rash of me due to the importance of interpretation and accuracy, but if you're making kites I highly recommend you look into the essentials as they're likely to be closer to home than you imagine.
With the number of openly discussed kite copy situations over the past few years, especially those coming from certain manufacturers in China, it was heartening to see a fair representation from the kite making fields, kite manufacturers and retailers, as well as those interested in learning more about such a relevant topic… Such a high impact topic, just one of the many reasons I come to AKA every year – only looking at the off-field time, great insights from other kiters, new perspectives on aspects of kiting I'm not involved in (yet), a great many interesting seminar topics and all of it presented by kiters, for kiters.
Coming out of the Convention Center a little after noon, the winds had started to come in from the north at about 4-6 mph so it was time to hit the beach and work with some of the folks coming out of Ben's morning Rev class.
At the same time, the last of the mass ascensions and scheduled competitions were held on fields 1-3… Deltas, Ground Display Challenge, single and team rokkaku battles, Kiteapalooza: Bear Drop Brouhaha and the Member's Choice Open Fly… I didn't make it up there to look around today, but definitely enjoyed the show from downwind, also putting on a good show were the many other folks who had set up aerial displays of varying sizes and styles up and down the beach.
By 4:30pm the winds were pushing well into the 16-18mph range and temperatures were dropping fast… While much of the beach had cleared out, there were probably 15 or 16 Rev fliers still in front of the promenade doing both free flying and some mega team with novice, intermediate and master level fliers all mixing it up and bringing the newer folks along.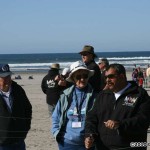 Being properly chilled to the bone and ultimately, deeply satisfied after a long day of flying both dual and quad in what turned out to be a full range of wind, I decided to call it good, packed away my gear, wished well and see you later to a few nice folks who had been watching the show and off I went in search of a hot shower before the annual AKAGN awards banquet.
One final return to the Seaside Convention Center for the evening dinner and awards banquet… This is always a highlight of the event for me because all the events and competitions are done and everyone is loose, many of the the best kites we'd seen all week long are on display around the room, a really familiar feel in the air as friends and playmates are both excited and sensing the imminent end of another great convention, it all brings a neat quality to the group.
As they do every year, first-time AKAGN attendees were asked to stand for recognition, after which everyone in the room is asked to stand up, then it begins… First-timers are asked to sit, then second-timers, third, and so on… As the years of attendance are counted upward we see faces disappear as they sit and the process feels to me like the remaining, living tapestry of American kiting history over the past 33 years as they offer grins, winks and nods to their colleagues, no doubt nostalgic with thoughts of great events worldwide, fantastic personalities and artists they've met along the way, and most of all – the friends they've connected with and remember in kiting.
This year, just one person was left standing when they reached 33… The AKA's resident bylaws wizard, Ted Maneiken who has attended every single AKA Convention to date.
Each year the AKA recognizes special contributors, volunteers, artists and enthusiasts for lifetime contributions and profound impacts on the kiting world… For 2010, the following people were nominated and awarded by their peers.
Kite Club of the Year
Westport Windriders
RD of the Year
Greg Lameroux
Volunteer of the Year
Bob Wendt
<no photo>
ee Toy Award
Dave & Diane Butler
Bob Ingraham Award
Mel Hickman
Steve Edieken Award
Peter Lynn
Following the most honored AKA awards, special recognition and competition awards were announced for the many kite making categories at this years Grand Nationals in which we saw a few of the usual suspects and a new faces as well… I don't have the category-by-category results, but here are some of the prime categories and their winners:
[threecol_one]Mixed Media
Alexa King[/threecol_one] [threecol_one]Best Use of Traditional Materials
Mineichi Oguchi[/threecol_one] [threecol_one_last]Most Innovative Kite
Mark Engbaum[/threecol_one_last] [fivecol_two]Novice Kitemaker Scores
Ron Bohart
Cari King
Donna Wendt
Most Innovative Kite
Mark Engbaum
Special Recognition
Ric Agar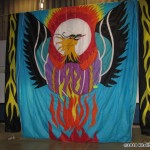 [/fivecol_two] [fivecol_three_last]Best Overall Scores (by criteria)
Visual Appeal – Walt Mitchell
Craftsmanship – John Pollock
Structural design – Will Sturdy
Quality of Flight – Sturdy/Trennepohl/Broder (3-way-tie)
Members Choice
Best Aerial photo – Pierre Lesange
BEst Accessory – Jose Sainz
Best Kite – Walt Mitchell (Phoenix)[/fivecol_three_last]
Rocking the AKAGN this year was 17 year old Will Sturdy from the state of Virgina… While he came to Seaside as one of the potentially favored pilots in sport competition, he didn't find his stride there but amazed everyone by beating out 2-time Grand Champion John Pollock for the award by roughly 1-1/2 points with a single line design, backed up by his first places in both the bowed and sport kite categories.
Following the tone set by Will, the top three winners of our sport kite championship competitions were announced with an unusual number of young pilots (20 years or younger indicated by *), most of them coming from the Northwest kiting scene… In terms of new, young blood, this is the best collective showing we've seen at one AKAGN in a very long time – very good to see, shows hope for a wave of new ideas and excitement going into the coming years.
[twocol_one]
Novice Individual Precision
1 Jared Haworth
2 Toby Arndt *
3 Eli Patterson*
Experienced Individual Precision
1 Michael Dirk
2 John Farrell
3 Jim Landers
Experienced Multiline Precision
1 Amy Doran
2 Steve Lewis
3 Michael Dirk *
Experienced Pairs Precision
1 Crepitas Et Incendo
Experienced Team Precision
1 Crash and Burn
Masters Individual Precision
1 Daniel Haigh
2 Aaron Champie
3 Paul Debakker
Masters Multiline Precision
1 Mark Quirmbach
2 Karl Berg
3 John Farrell
Masters Pairs Precision
1 Second Thought
Open Pairs Multiline Precision
1 Damn Yankee Quad
2 Blondie and the Old Guy
Masters Team Precision
1 6th Sense
2 Air Zone
Open Indoor Unlimited
1 Toby Arndt *
2 Will Sturdy *
3 Paul Debakker[/twocol_one] [twocol_one_last]Novice Individual Ballet
1 Eli Patterson*
2 Jared Haworth
3 Toby Arndt*
Experienced Individual Ballet
1 John Farrell
2 Jim Landers
3 Amy Doran
Experienced Multiline Ballet
1 Spence Watson *
2 Amy Doran
3 Connor Doran *
Experienced Pairs Ballet
1 Crepitas Et Incendo
2 Fusion
Experienced Team Ballet
1 Crash and Burn
Masters Individual Ballet
1 Paul Debakker
2 Jennifer Brown *
3 Wayne Turner
Masters Multiline Ballet
1 Dennis Smith
2 Lisa Willoughby
3 John Farrell
Open Team Train
1 Susie's Spouses
2 Heaven Help Us
Open Pairs Multiline Ballet
1 Parkway South
2 Blondie and the Old Guy
3 Damned Yankee Quad
Masters Team Ballet
1 Air Zone
2 6th Sense
Open Outdoor Unlimited
1 Amy Doran[/twocol_one_last]
This year we saw a grand total of 217 registrants and a little more than $21,000 in auction proceeds for the AKA… Not quite the 400-500 registrants that some folk remember from years past, the mood and collective attitude I saw during the course of the week was excellent – and the in-fighting we'd experienced particularly at the last two was apparently absent with minds and hearts instead focused on upward growth and an enjoyable kite event.
That's number sixteen for me, in the books… I have nothing else to say except that I can't wait for seventeen, and I hope to see many more of you there in Wildwood (NJ) in October of 2011.
Thanks for coming along, see you in the skies…
John Barresi