Ah, as the icy grip of winter begins to grip the Northwest (complete with snow!), I begin to wish that the summer was either still here or, at least coming a little sooner than the months away that it is now! But that doesn't mean that it's all doom and gloom, I do enjoy the winter and there's even a Rev-centric min festival here in Vancouver the first weekend of December. We refer to it as "Snow Queens" simply because we managed to have a pile of snow the first time it was held (and that hasn't happened since really though the pond was frozen last year, that counts!).
We typically get the Vancouver Island crew over, a bunch of Vancouverites and some people from the US as well. And planning is underway for my usual trip to South Padre Island for their February festival as well. So, it's not all a deep freeze in the Northwest… Now if we only had a decent indoor place to fly! That being said, the 10h annual Long Beach Windless Festival occurs in mid January, so there's another chance. In other words, if you look, there are things to keep you busy throughout the winter.
A few weeks back, I decided it was time for a quick trip over to Victoria to hang out with Mr. DeRooy, and I couldn't have picked a better time to go.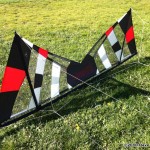 When we rolled up to Clover Point, the legendary Victoria flying spot (and, home field for the Island Quad people), it was beautifully sunny and rather windy. Windy enough that Steve pulled out not one, but TWO of the new XTRA Vent Revs that Bazzer and Revolution unveiled recently. Designed to be flown in high winds, ie, higher than you'd feel comfortable taking a full vent out in, I can quite safely state that the design objective achieved with flying colors. So to speak.
I'd guess it was roughly 20-25 with gusts (I no longer possess an actual wind meter…) going a bit higher. With a typical vent, you could expect to be pulled around a bit and at times it'd be a struggle to keep a firm grip on the kite but, I found that the XTRA simply flew without a huge pull on it. It doesn't feel as "light in the loafers" as a full vented Rev II feels in winds like that, but, it was definitely less of a strain than a 1.5 full vent. I –really- liked it. It felt solid and yet retained a good amount of precision. As we have come to expect (and DEMAND! Ha!) from Bazzer, it's impeccably put together as well.
While I suspect that if you were to ask Santa for one tomorrow, you likely wouldn't see it until the new year, it's always worth trying isn't it? As usual, there are stock colors to choose from and you can also order yours in custom colors as well though there isn't a colorizer available on the Rev site just yet. If you are one of the small handful of kiters who are lurking on Facebook these days ( I say this with a big snicker ), go track down Bazzer's profile, there are a bunch of pictures of both the XTRA Vent and many other Revs that he has done over the years, often with pictures of "work in progress" ones as well.
In other news from the Rev world, rumors continue to swirl around about a new smaller Rev, codenamed the B-2. I have yet to physically see one, so I can't comment too much on it however you can picture it to be much the same as a B-Series that has gone through the wash and shrunk down to Rev II size. For reference, the Rev 1 (and Zen are 9 feet across the top, the 1.5 (and naturally the B Series) are 7.5 feet across and the Rev II will be 6 feet along the leading edge. So, the B panel layout compressed down to Rev II size.
When the Rev II initially came out, it was meant to be a higher wind Rev (this in the day before vented Revs existed!) and it's always been an odd animal in my eyes. Noticeably quicker than the 1.5 or 1, this comes with it being a little twitchier too. But despite this, with some focus, it can be quite a controllable kite, and as I mentioned above, the full-vented version of the kite was quite a joy to fly in very high winds.
I remember the first time I flew one of the vented versions in a howling wind down at Long Beach and it felt light and happy in a 25 mph wind. And some of have had success with them indoors as well, most noticeably; the legendary Dave Brittain flew a stack of three of them indoors with ease, once equipped with a super light frame.
In fact, I used to own a super ultra light II which I loved flying on short lines. But, now we will be graced with the B-Series panel cut and proportions on the II sail. This will likely tighten up the handling a little bit, making it more stable and more able to cut a good straight line, much in the same fashion that the B series changed the handling of the original 1.5 sails. It won't be a HUGE difference but it should be noticeable.
I shall commence to begin pestering Ben to get one of these into my little monkey hands, hopefully before the next Revisions so, then I can write a bit more about it and present a few pictures while I am at it. I suspect it will show it's face at the Kite Trade Association annual event in Last Vegas mid-February so, you may even get a chance to see one at the South Padre Island event as well given that it's directly after the KTAI show.
But for the moment, I shall get back to shoveling snow and crossing my fingers that we still have some for the snow queens weekend. Nothing quite beats gliding a Rev across a frozen pond on its tips, it's an event I look forward to every year! I'll write it up for the next issue of Kitelife so you can marvel at the delicate flying and assorted hijinks that come along with the fun…
Here's to a new year of four lined fun,
David Hathaway