We've seen a lot of online posts lately asking about traveling with kites. And I completely understand. Between lost bags and damage, extra fees, and all that security, no wonder people are anxious.
Susan and I regularly go to the airport with six bags weighing 70 pounds each. We travel a lot! And I often say that it isn't because we're great kiters. We get invitations because we can show up with more bags than anyone else know!
Here's a few tips and secrets based on our years of experience.
Know the system.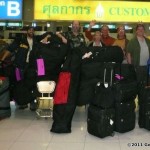 Every airline has their own rules, weight and size requirements, and fees. Understands that the rules are applied by the airline and airport where you start a journey – -even if you change carriers before you land. But if you start out on United and finish a trip on South African, that means you will probably start home again on South African. So think ahead to what you plan to carry and how you will deal with at the airport.
Tip: Sport equipment is treated differently from regular luggage. Some – like bicycles – is charged a higher fee; others – like golf – are exempt. That's why many kiters use a golf case. I know people that carry a single golf club in case they need to "prove" it is really a golf bag…
Pack creatively!
If you are allowed two bags, remember that two heavy bags cost as much as two small ones. More important, two oversize bags mean two oversize fees (in each direction!) So put all your long spars in one bag. Remember that you get checked and carry on. I always pack bulky clothing (especially coats and boots) into my kite bags and carry-on the rest.
Tip: Flying home from China, one member of our group got caught with an oversize bag. The airline wanted $200. I pulled a $3 spar out of the longest kite, broke it in half, and had the bag re-measured. No charge!!
Think fast!
Knowing the rules doesn't help you much if the attendant checking your baggage doesn't know the rules. So you need to be ready for unexpected situations. Airlines like to be consistent. So if someone wants to charge you on the second leg of a trip, point out that you were not charged on the first leg. Be ready to shift baggage contents. Dave's world
Tip: I've seen people in airports re-packing to meet weight limits. And they always seem to be pulling the most bulky things out of their bags. Wrong! Don't remove bulky items. Remove heavy items!!
Continue to think fast!
On a Thai flight, I was startled to be told that all of my carry-on would be weighed. And my stuff was heavy! So I pulled out my computer, book, and toiletries. They weighed and approved the bag. Then, right there at the counter, I put everything back in the bag….
Tip: There is no restrictions on what you wear boarding the flight. I once helped a friend in Florida avoid fees when he was flying home to France. It was 98 degrees at the airport. But he boarded wearing a sweater, coat, and boots!
Carry on Kites?
Security these days is supposed to be a consistent program. But it isn't. You never know how staff are going to react to something they aren't expecting. Like kites! So bring one to security and they may let you through and they may not. I don't carry my kites on. But then, a 90 foot Octopus won't fit under the seat anyway.
Tip: You can always ship a few kites to your destination in advance if you are going domestic.
Documentation.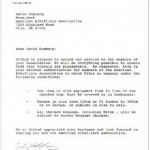 I continue to carry copies of airline regulations in case I have to educate check-in staff. Print out the rules from a web page and highlight the section saying what you were allowed. If you are promised a baggage allowance when you buy a ticket, ask the agent to note it "in your record". I still carry a letter from United which details that kites will be treated like other sports equipment. Download and carry a copy!
Tip: I once had an argument with a Lufthansa manager about the number of bags I was allowed. She said two. I showed her a letter from the Star Alliance that said three…
She said the letter was outdated. I showed her another list of "perks". She told me it no longer applied. So while she was weighing bags, I called Lufthansa on my cell and asked them how many bags I was allowed. They said three. Then I handed the phone to the uncooperative agent…
The folks at the gate are always in charge. You take a chance whenever you try to educate them. So remember to be nice.
Lost bags.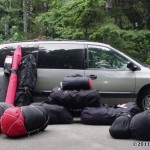 As often as you hear otherwise, bags don't disappear. They simply get re-routed or miss connections. In other words, they are delayed.
Most airports now have kiosks where you can check the location of your bag. If you sense something is wrong, and as long as you are standing around waiting at the luggage carousel, use the machine! That way, if something is delayed, you can beat the crowd to the counter!
Recently, there was a story online about Peter Lynn losing an important bag. He was having an epic battle with the airlines. I made some phone calls and discovered that the bag had gone to South America instead of to Europe. The problem was that the airline Peter was using only tracked bags when they were checked in and when they arrived — not at each point in between. The bag was apparently routed back to Europe on a different airline and then waited too long to be to be processed. Basically, it got lost a second time. Sad!
Tip: Always, always, always put your name inside your bag as well as on the outside. That way, if the tag is torn off, your bag can still find you!
Delivered Bags.
If a bag is delayed, tell the airline where you want it delivered. They are obligated to bring it to you. But remember that this can take time.
Several years back, my bags missed my flight into Michigan for the Grand Haven event. They would be on a late flight and delivered to our house at the lake. Now, the house address in on a main street with the front door high up on a bluff — 70 steps above. The better entrance was on the alley that connected right to the back door! I left detailed instructions, but no… About two am, we heard some poor guy dragging five oversized bags up the stairs….
Tip: If bags and time is critical, perhaps you may want to wait for the next flight, or have someone else pick up the bag rather than have it brought to you a day later. I once did an event where the Announcer reported that "David Gomberg would now be performing in field three if Air Canada had actually delivered his baggage…"
Bag Size.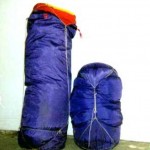 Fabric is bulky. We stuff it in big bags. But weigh your bags when you are done packing because it is easy to over pack a large bag. Similarly, we occasionally use compression bags to make big bags smaller.
On a winter trip to Canada, we ran into trouble at the end of the fly. The fabric was so cold and crisp it wouldn't compress! We had to take the kites back to the house and warm them before we could get the bags properly packed!!
Tip: I was in Beijing and the agent told me my bags were too big. I pulled the bag off the scale, turned it on end, and sat on it. Half a minute later, the bag was no longer oversize.
Tip: Carry your own mini travel scale. You can use it to check weight when you pack, or to argue with gate agents.
Eleven years ago, we were invited to perform at the London Millinium Celebration. When we arrived in England, our compression bag came out of the baggage chute completely un-compressed. I carried the eight foot lump out to the curb and stuffed it into our car.
Security.
Ugh. I know, I know, they are supposed to be keeping us safe. But frankly, I think airline security is more about intimidation and protecting us from the last attack than about preventing the next one. But I digress…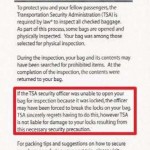 First rule of security is to do your complaining to your congressman and not at the airport. Go along and get along. And please, think about what you are packing. Don't put scissors, your Leatherman, or super glue in your carry on. I once had an eyeglass repair kite confiscated because of zero-tolerance of screwdrivers.
Don't be intimidated. But do use common sense. Check airline web pages for updates on the ever-changing rules.
Tip: Virtually every trip, TSA opens my kite bags. I know because they always leave me a polite note. So keep that in mind when you close up a bag. If the straps on a bag are intended to protect it, remember that someone else may be changing them. If it takes you and a friend to to zip up a bag, imagine what will happen if security opens it. Plan ahead!
I like to put my dirty underwear on top….
Security Scans.
Not all airports offer advanced personal security scanning. Some do — some don't. So you never know what to expect.
If scanning is available, you have your choice of what frequent travelers call a "nudie scan" or a "grope". Public opinion surveys report that 80% of Americans support these procedures. I'm convinced that most actual travelers are offended, intimidated, or embarrassed by being viewed naked or having their "junk" manually examined. There are all kinds of horror-stories posted at sites like FlierTalk.com.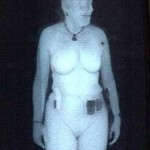 So if you plan to use an airport, choose your personal invasion. Knowing what to expect will save time and anxiety.
Tip: Gate security goes faster if you are prepared. I usually put my phone, pens, and watch into a zipped jacket pocket before I get to the machines. This minimizes the odds of forgetting or dropping something. Forget lace-up boots. Have your liquids in an approved bag and your laptop accessible.
Bulky jewelry or underwire bras can set off the alarms. But generally, I don't remove my belt. And never put your wallet on the conveyor!
The object is to get through quickly. Pack your shoes, your coat, your electronics, and your self-respect in the plastic bins and recover them all when you are on the other side.
Gate Check or Curbside?
I know some fliers that give their bags to a SkyCap along with ten bucks and all their problems disappear. I like to use the regular counter. But as a frequent traveler, I have access to priority lines. So use your judgement, and money, as you feel works best for you.
Tip: At small airports, you get to know staff quickly. Or perhaps they just get to know your bags. Either way, if they recognize you, most problems will be minimized.
A few years back, flying home from Malaysia, someone waived hello to me in the security line at Narita. It was a Portland gate agent on holiday. I took her to the Red Carpet Club and we are pals now. Always good to have a friend at the gate.
Frequent Fliers.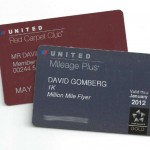 I try very hard to stay on one airline (United) or at least on one partnership (Star Alliance). Why? Regular customers get treated better than strangers.
As an executive flier with United, I get three bags instead of two. I get 70 pounds instead of 50. And I pay no baggage fees. Not bad! Dave's world
I also get bonus miles in my account when I travel, receive complementary upgrades when there is space, can use priority check-in lines, and even receive free drinks. Most important, if I have a problem, someone tries to help me fix it. So there are rewards for loyalty!
Status isn't everything, however. I've learned that a friendly approach and good manners help a lot too. In France last Spring, I was caught by the volcano that obliterated air travel for a week. My strategy? Go to where I could be ready to travel — the airport. Make a friend. And tell them what I wanted. When the first flight opened up, I got a cell call and a seat. I was even able to bring my buddy Ben home with me.
Tip: Even if you don't fly a lot, you can earn FF miles with an affinity credit card. That's why we charge everything!
Bottom Line — getting there is no longer half the fun. It is tedious, expensive, and nerve-wracking. But in the end, it is still worth it. And as I always say, life is about the stories! Maintain a positive attitude, and keep smiling.
I've included just a few stories and tips here. I have a full page of information on Kite Travel in our FAQ section. Look it over for more details and advice. And speaking of stories, next time you see Meik or Bernhard from Germany, ask them about the trip through the Portland Airport last year. Ask why they call me the "Airport Schliztor"… 😉
We're off to the annual KTA Trade Show Sunday night. Susie is excited! We sent all the gear on ahead so were traveling with only carry on! Luxury at last!!