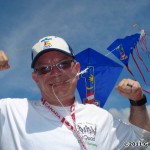 When I last wrote about my trip to Malayasia in the last Kitelife issue, Meaghan and I had popped around Singapore and Kuala Lumpur, well guided by the ever resourceful Chris Tan and we were just getting onto a plane with at least 49 other kite flyers from around the world. You see, Bintulu is a fairly small town on the Borneo Island side of Malaysia. There IS only one flight in and back out to Kuala Lumpur via Air Asia each day, so, if there's a group going, you know which flight they will be on! To be fair, as I found out in the trip planning months earlier, there are other ways in and out of Bintulu but, they all involve a few stops along the way, which for us became crucial to making our flight back home on time. However, that part of the trip is at the end 😀
Writing about the next few days becomes tricky though. Do I sit down and document every passing minute and the trouble we got up to or, do I do a general overview? Because, we're talking about four very FULL days of activity, it never stopped! Once we had landed at the Bintulu Airport, it began right away and the carousel didn't let up until we left. One thing that was odd in some respects was the lack of my usual merry band of troublemakers, the lads and ladies of iQuad! As I looked round the airplane, not a one of them! And honestly, very few people I knew at all beyond the ones I had met in Kuala Lumpur or Singapore. Myself and Gary Mark were the sole representatives from North America. Nicely, Mr. Mark came well equipped with an iPad and a "My Name is…" application… This helped fill in the gaps with regards to names and faces. By the time the bus rolled up to the hotel in town, a good handful of us were starting to get names down. And I'll say this now, despite knowing nearly nobody at the start of the trip, much as I have found at every single kite festival I have ever gone to, we surrounded by friendly people, eager to meet new faces and reacquaint with old friends! Upon arrival at the hotel, we all sat down for a quick briefing with the organizers. The usual "here's whats up, here's who to talk to if you need anything, here are your rooms, here are the organizers, type of thing and by the end of it, we all felt well sorted and ready to roll the next day.
A few things that happened were really daily kinds of things, ie, the breakfast buffet! Nicely handled by the hotel, it was great to simply be able to get up and pop downstairs and find a nice big room full of food and kiteflyers! My mornings would usually start there, getting a couple of coffees into me before we headed off to face the day. This morning, there were a few things on the agenda.
First up was a visit to a traditional Malay long house where the indigenous Inak people of Borneo lived. It was a neat experience to get a feel for what life on the Borneo Island has been like. A little odd in some ways, every home that was part of the traditional long house now has a TV set in it for starts, but, this is to be expected I guess, around the world. At one point we were sitting around a group of the tribe elders, going through one of their ceremonies of welcoming guests and I looked down in front of me. There was a box there. And inside the box, was a chicken. Quite a live chicken in fact. And thus, it dawned on me what the poultry's fate was about to become and I'm sure I went a few shades closer to white and I dearly hoped Meaghan hadn't noticed the box and it's contents… but, they did take the chicken out of sight before he met his untimely demise… A stop in at the Governor's mansion for a nice lunch and we were back at the hotel. The afternoon's event was to be an attempt to get the most train kites up in the air at once, and while we Canuckistanis did not come with train kites, Bintulu was more than prepared as various local businesses had sponsored boxes that were complete train kits. And minutes later, the three of us had joined in the fun. A bit later on and voila, the record had been established with over 100 train kites up in the air!
The festival itself takes part on the old Bintulu airport grounds, so, there's a nice, long flat runway to fly on, with grass on either side. And the winds are nearly perfectly predictable, day by day. We were duly informed that there would be next to nothing on any given morning. By the time it was rolling around to 11am in the morning, the wind begins to come up from the water down at the far end of the runway, at which point it will settle into a nice 8-10 mph straight down the runway.
This will continue all day long! Perfect conditions really. While the Friday afternoon it didn't quite come up to that level, for the most part it was very very predictably great! Just off of the runway area, a small fair gets setup for the weekend where all kinds of local crafts and food can be found. Most importantly, I had mapped out where the Sports100 drinks were sold! I'd alluded to the sheer amounts of liquids I needed each day to stay hydrated in the heat and humidity of the day in the article last issue and if I felt I had gotten used to the heat before I had arrived, I found it was even hotter while one is standing on an airport runway. A rough count of the intake on any given day would probably be about 10 bottles of water and 10 cans of Sports 100. If I did that at any festival over here, you can imagine I'd spend much of the day in the washroom. Not even once during the day at any point was this the case, I was processing all liquid intake at an amazing rate. But, it worked, I survived the entire festival with no sun burns and no dehydration. I treated it like some manner of endurance event. The idea was that survive all the heat and all the activity and the sole way to do this was to keep an eye on liquids and sunscreen, at all times. Mission accomplished!
Friday morning brings the start of the festival, with much of the pomp and circumstance one would expect with a very large international festival. Bintulu has been running this festival for 6 years now and every year, it gets a little bigger. This year, there were 24 countries represented with more than 79 kiteflyers taking part! How great is that? As I am in touch with the organizers for next year's festival, I can say that there will be even more countries and more people coming next year. There was also discussion of the kite train record the day before and then everyone assembled out on the runway to meet local dignitaries, take pictures, and get down to the serious business of…. Flying kites!
Nicely, they timed this so that as it was wrapping up, the winds would be starting to come in off the runway. Well, this was the plan of course… While we did get some wind during the afternoon, it never realy came up to a good flyable level. However, there was still a lot of fun to be had all around the festival. I had a great lunch with Gary Mark and Sia Jua Wen back in the town in one of the shop areas. I spent a bunch of time wandering around the vendor area of the festival, figuring out what I could take back for souvenirs. At one point, I wandered back to where I had parked my rev bag and I found Meaghan and Jacqui Mountjoy assembling some manner of Wright Brothers kite and someone asked about a Rev I had brought over. ½ an hour later and I had every Rev I brought with me out on the runway in a display. Lots of fun! Once I had managed to pack them all back up again, I popped into the night market to pick up a couple of beer and call it a day!
Once I got back to the hotel (which took seconds, it's right beside the old airport, nice!) everywhere I looked, there were people updating on Facebook with pictures galore. This was easily the most "facebooked" festival I have ever seen and at first I was somewhat confused but, I later found out that in terms of a per capita basis, Malaysia is one of the most "facebooking" countries in the world. It wasn't the quickest access I've ever been on and it was sure loaded down with people on the connection but, it worked and every day a new bunch of pictures went live often less than an hour after the event had happened.
Most of us took to hanging out in the lobby of the hotel in the evenings or we'd head over to some of the outdoor restaurants that were around the hotel. Or, over to the night market that just down the road. Or, straight to bed for a good nights sleep because, wow, it was a tiring day in that heat!
Saturday started a bit differently, a few of us decided we'd head over to a local space to do some indoor flying. Myself, Chris and a bunch of the Flying Wings guys headed over and it was a fun space to fly in with a huge ceiling. Given I know this kite is now released, I'll mention I flew one of Flying Wings' Laima indoor prototypes. What a fun kite to fly! Shaped like a bird, it really manages to glide like one as well! I made a mental note to order one as soon as they became available. We flew a bunch of the Ninja kites that Eric Siaw has developed as well, another great flying indoor/outdoor kite!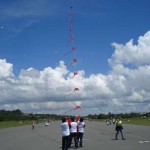 But, easily one of the neatest kites I saw was made by a Chinese gentleman. It looked like a small biplane and it was constructed from bamboo and paper. He controlled it with a large reel containing the line and the reel itself was capable of very fast line control. What he ended up with was a pretty convincing airplane kite! He'd bring it in for a good controlled landing, great takeoffs and even some loops! I was entranced with the kite and it was just as adept outside as well! If I felt I could have gotten it home in one piece, I likely would have done that however, I didn't figure it'd survive well in my kite bag. Monkeys in Malaysia
Upon returning to the runway, we found that the wind was behaving properly this time and the sky was filled with kites. There were groups of large inflatable's dotting the runway and a bunch of other single lines all over the place. There was some truly stunning art kites to be seen as well, many of which can be seen in this article's pictures. But, as I mentioned, you can pop onto Facebook and see quite literally HUNDREDS of pictures of all the kites that were up in the sky over the weekend. It's well worth a look. But, it certainly wasn't only the large or the pretty kites up in the air. The Flying Wings team, 8+ were there, flying both dual line team and quad team. Also, the Bintulu kite flyers had ordered a large amount of kites from Flying Wings, in custom colors and they managed to mount a great megafly with more than TWENTY of them! And I'm pleased to report, with no major crashes either! I had some fun that afternoon giving quickie rev tuneups for various flyers.
While I wasn't able to give the depth that gets covered in the Rev clinics we hold over here in North America, I still managed to give out a good download of informal information to a handful of people. Little mini one on one clinics. Maybe if we manage to bring more of iQuad over next time, we'll mount a "proper" clinic but, I know that the people I spent time with loved getting the information and I suspect that they then took whatever I had given them and spread it out to other flyers that they flew with. I was impressed by the rev flying I saw by the asians and I suspect that the skills will jump again by the time I get back there.
The only thing I consistently ran into was a large range of line lengths. I don't think I EVER managed to get a set together that matched up to the Flying Wings sets but, I managed anyways and I had a great time flying with Bell, Albert and the rest of them. One other nice thing that I took note of is that I didn't manage to see even ONE Rev copy that had been made in China. In fact, I spent a good amount of time talking with one of the Chinese rev teams who only ever flew "the real deal", right in the backyard of the copy cats. People were proud to fly "the real revs"!
One "tradition" of this festival has been an "International" guests party held on the Saturday night at the hotel. Due to local custom and a large Muslim population, there is no alcohol to be found at any of the "official" events held by the Bintulu Development Authority, so, a collection is taken amongst the International guests, and a bunch of beer is bought up and a party is held up on the roof of the hotel. I thought it was a great idea and indeed, it turned out to be exactly that! A fine evening of talk and stories with everyone ended up being a great way to bring the day to a close.
It was a beautiful view from the top of the hotel and we saw some of the Malaysians off back at the runway, having an impromptu night fly. While the kite part of the festival may have wound down late in the afternoon, the party went on well into the evening with live music on the main stage and the international party went on even later!
Early on the discussions regarding me going to this festival in the first place, we talked about train kites and I offered to bring a small Rev stack with me. Which then had promptly spent the whole time in my kite bag. So, the first job of Sunday (the last day of the festival) was to get the stack out! I couldn't bring it all that way and not get SOME air time with it. I had a great time flying it as well. At 4 kites, it's still stack but, it doesn't pull your arms out of the socket.
The lines were a good length so that I could remain on grass and come in for low passes right in front of the crowds for a good thrill. The large inflatable's continued their tractor driven ballet out on the runway, with new ones coming up all the time for the festival's last big display. I did manage to witness one colossal tangle erupt, from a tractor hauling one of the large anchor bags, complete with kites attached, that took an ill advised turn. Ooops! It sorted itself fairly quickly however. I spent a bunch of time flying with the Flying Wings guys, they had the idea that we could spell out BIKF and LOVE to a Frank Sinatra tune! And we did, a few times during the day, much to the delight of the crowds. A few of us did some demos to music later in the afternoon and Albert Chen and I had a great time flying some new kites for Flying Wings, the Vampire Quad. TONS of fun, much as every day had been!
As the day wound down, much of the afternoon was spent talking and laughing with our new friends while the general public took over the field with kites that they had made. Everywhere you looked, kite flyers were grabbing pictures with new and old friendsIt was a fitting way to close out the festival and it made for a great site to see 1000s of small single line kites in the hands of children all over the runway. With the day's flying done with, everyone headed back to tidy up and get dressed for the final banquet, back at the hotel. Great food, great company and a million pictures being taken made for a really fun evening.
There was some karaoke, some speeches and some great food. While it was a long festival by most standards, at four days, it felt like the time had simply disappeared in the blink of an eye and it felt odd to be saying good bye to so many people we had only just met mere days ago. It was all too short of a time but, I'll make sure to return for the 2011 version of this festival! A deep thank you goes out to everyone involved in making the trip possible, it was one of the best adventures I've ever had with a kite!
-David Hathaway